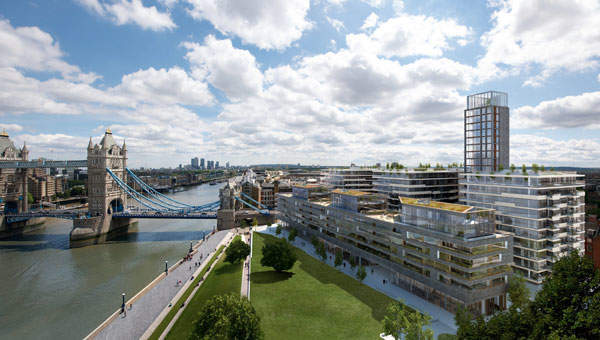 The riches are in the East for those looking for treasure – but this time we mean East London, not the legendary golden Orient. An array of luxury buildings in East London and increasingly in South London are hoping to act as beacon for HNWs turning away from the golden gates of Mayfair's most exclusive postcodes.
Canaletto, a tower on the City Road above Old Street roundabout, is selling one-to-three-bed luxury apartments at £2-5 million, while Roman House in Barbican, offering residents the chance to live right at the heart of the financial district, now has only one penthouse left at £4.5 million.
Mark Cobb, director of Hatton Real Estates, told Spear's why HNWs would be foolish not to consider buying East: 'Over the past decade, Shoreditch has evolved as a rival to the West End shopping mecca. Parisian label APC has recently moved in and top fashion designers like Giles Deacon and Christopher Kane have chosen the East End as their home.' Cobb also mentions the rise in Michelin-starred restaurants and private members' clubs.
Jennet Siebrits, head of residential research at property service advisers CBRE, points towards the more 'diverse appetite' of HNW buyers, suggesting that while Shoreditch might not see its first sheikh or duke for some time, it is already attracting entrepreneurs looking for views over the Gherkin rather than the Serpentine.
At least a part of this shift is attributed to the fact luxury towers, on the scale of Roman House or Canaletto, are simply not possible in Knightsbridge as well as the fact that such structures offer a lifestyle more suited to jetsetters who frequent luxury hotels, rather than London's older plutocrats who look for traditional townhouses.
That shift is mirrored south of the river. Following the success of the nascent Battersea regeneration, Berkeley is looking to attract HNWs to its One Tower Bridge complex. Having sold 300 units already with a starting price of £3.75 million, they're understandably bullish: 'People are beginning to realise that the quality and the location versus Knightsbridge and your "superprime" kind of areas.They're getting a bit more value by coming this way,' says Berkeley's Jacob Sullivan.
'In those high-end developments in central London people want the postcode. They'll pay three, four, five thousand a square foot for it but people are starting to realise they can get better value for money and a better offering of views and facilities in a location that's becoming more vibrant every day.'
In terms of views Sullivan isn't wrong as he speaks to Spear's on a spacious balcony overlooking the GLA's lawn, Tower Bridge and the Tower of London on the opposite bank. 'I saw Boris Johnson playing football in his lunch break out there the other day, still wearing his suit,' he says.
Penthouses in the Squire & Partners designed blocks will start at £16 million, be serviced by a Harrods concierge and have all modern facilities including an F1 simulator (since it's so hard to build up speed on London's roads, presumably). Despite the significant luxury and hotel-room look and feel, the sales pitch states this is 'a very London area' and in terms of transport and heritage it certainly has the edge over Battersea.
Peter Allen, sales and marketing director for luxury property developers Londonewcastle, sought to explain the overspill: 'The reality is that HNWs are moving already away from [Prime Central London] – fanning out in all directions as global UHNWs move in and prices increase.
Traditional established areas such as Fulham, Battersea, Notting Hill, Chiswick, Islington and St John's Wood have all benefited from this trend.' Allen also identified 'increasingly savvy buyers learning of the benefits of the East – especially those who work in the City – and are seeking out interesting properties and statement penthouses around the City Fringe.'
However, as foreign investors buying property in London only account for 7 per cent of sales, according to Savills, it seems Shoreditch will not rival Mayfair at the very top of the market any time soon, and certainly not when it comes to buying purely to add to investor portfolios.
Naomi Heaton of London Central Portfolio, which runs property funds, tells Spear's: 'It is definitely not realistic to compare the East of London to Prime Central London. PCL is a financial centre, an educational hotspot, an international playground and a "go-to" tourist destination, encompassing only six square miles centred on Hyde Park with little more than 200,000 households. London's West End is literally and metaphorically miles apart from the City and Docklands. The truth is, unlike the rest of Greater London, PCL is an international, not domestic market.'
Heaton's last point certainly seems fair given the astronomic price of certain postcodes but the likes of Battersea, Tower Bridge and Shoreditch's real strengths may well lie in their role as alternatives to a hyperinflated market.
With profit margins in places such as Clapham and Wapping outstripping PCL, they'll be high-risk. But better to get in on the ground floor of East London's new builds than find yourself squashed into a Mayfair studio at £5,000 a foot.