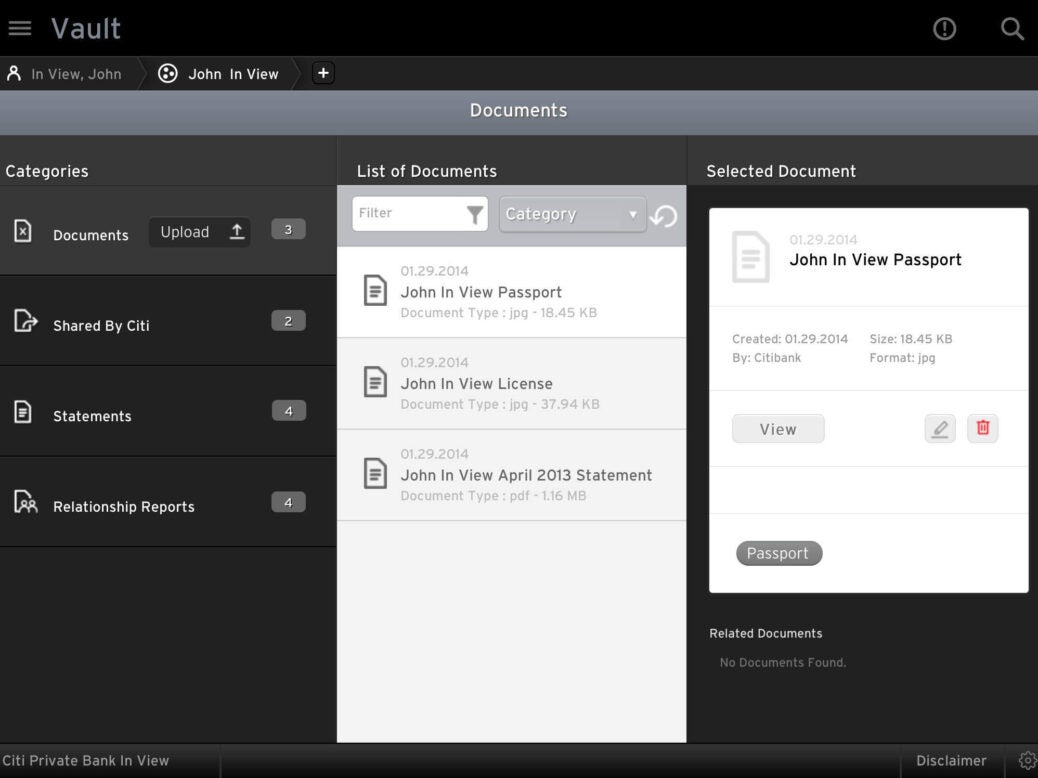 If Citi Private Bank aimed to improve its clients' experience in person with its sleek new offices in Stirling Square for banker-client meetings, it is now going for the digital experience too, with the launch of a cutting-edge app last week.
Called In View, the free app allows Citi Private Bank's clients to have a 'much more open and transparent dialogue' with their banking team, Dena Brumpton, chief operating officer at Citi Private Bank, told Spear's.
In View makes clients able to look at their portfolio at any time, including its real-time asset allocation, a list of the most recent transactions and an analysis of its performance. It also gives clients access to Citi's research reports, and descriptions of the products and services available.
Another tool is Vault, which is a digital folder where clients can store documents such as passports, birth certificates and wills, as well as bank statements and relationship reports.
As useful as this is, security concerns should not be far from your mind: do you want such private documents available digitally? They are then vulnerable to being stolen with your iPad or stolen from wherever they reside online.
Even if the system is secure enough to prevent hackers from having access to them (a big if, given recent security breaches at firms like Barclays, Adobe and Snapchat to name just a few), the NSA scandal taught us that it's not just hackers who are interested in our personal data. Maybe that's a feature that is worth using with caution.
In the following months, new features will be released, for example allowing clients to video-conference with their relationship managers. 'As clients are looking at their portfolio, they may decide they want to engage with their banker, investment counsellor or product specialist and they'll be able to see if they are available online and immediately speak to them,' Brumpton said.
'The platform allows clients to do a lot more on their own… but it's not designed to reduce bankers' time with clients. It's just complementing their time with clients to make the time that they spend together more effective.' (And that they really deserve those fees.)
Citi Private Bank hopes that it will be able to attract new clients thanks to the app, which is currently only available on Apple devices.
'We expect that this digital capability will attract new clients, particularly those tech-savvy clients and people who like to look at their own information but are always on the move,' Brumpton said. 'But also the very sophisticated clients who may be operating through family offices – In View is a great tool for the family office head, who will be able to do more in-depth analytics.'