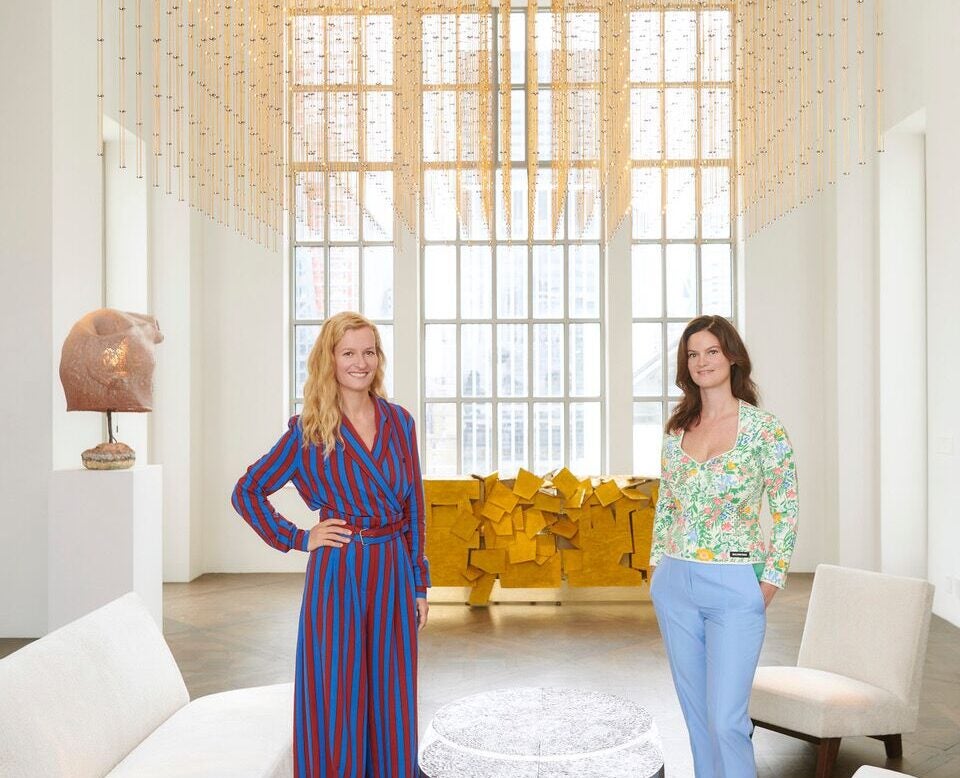 The Cultivist is one of the world's most exclusive art members clubs. Arun Kakar talks to the founders to get the inside track
One of the many takeaways from the recent UBS Art Basel Market report was that in an increasingly globalised, increasingly networked art world, there is simply too much art for any one person to see these days.
Take this stat, for instance. In 2000, there were less than 60 art fairs globally. Nowadays the total stands at a hefty 300. That's almost too much for any art adviser, and certainly too bewildering to a collector or enthusiast. And this is just the commercial art market. With approximately 55,000 museums in the world, the array and range of choice facing any art lover can easily become paralysed by choice.
Enter the Cultivist. Founded by former Sotheby's staffers Marlies Verhoeven and Daisy Peat, it aims to offer art-world accessibility through its exclusivity as a members club, giving its members entry into a high curated set of events, from gallery viewings to artist studio visits.
Spear's spoke with Verhoeven and Peat about forming the company, how it has evolved with its clientele as well as their tips for would-be members.
Spear's: what were some of the ideas that led to the forming of the business?
Peat: One of the things that was very important to us was to go beyond purely the 'access' and offer the educational side of things—we refer to it as 'meaningful access'. We don't just get people through the doors. We're not just a concierge that gives someone a ticket. We get them through the door, take them in, and then explain to them what's happening in there.
People always enjoy the things they know a little bit about, and this starts a process of wanting to learn more. Before long, you're an addict. You're obsessed with a certain subject. So that for us is really important in everything we do. It always has to have this educational side to it so that our members are learning, experiencing and having their lives enriched by being a part of the Cultivist community.
What does the 'privileged access' offering entail for your members?
Verhoeven: It differs from member to member.
These days I think the luxury consumer has a lot of access on their own, but for us it's about curating the information. You could probably Google everything about the Venice Biennale but it's just easier to read our insights and not-to-miss picks. Information is key, and curating that for the luxury customer in a way that they can trust and relate to is the essence of our model.
Secondly, there are our guides and travel services. Finding the right kid-friendly guide for a member traveling to Paris with their eight-year-old son can make their trip much more rewarding. That type of access for that particular person is worth a lot. We've done some pretty extreme things as well. We've opened museums on closing days for people who happen to be in town for just that one day.  We've done wedding proposals in empty museums. So it runs the gamut.
And lastly, we do a lot of events, hosting almost 250 per year in destinations around the globe. We've visited some incredible studios and hosted private tours at hundreds of museums. Some of our members only join for the events, so in these cases that's the access they want.
How has the business evolved with the interests of art enthusiasts?
P: We've seen that there is a growing demand for people wanting to travel with a purpose. There always have been people who travel for art, but in recent years this has become even more common.  People are really looking for these art-based experiences. A couple of years ago, we launched our international trips program, and we now do six trips per year to various undiscovered art-inspired places.
The other trend is family related, with members wanting to spend time with their families, doing something educational that their children can also benefit from. We've recently launched what we're calling the 'Mini Cultivist' program—focusing on family-oriented events for kids—which has been really popular. Kids can spend time in the studio with a contemporary artist, where they learn about the art and also create newly inspired artworks themselves.
How do you select and bring forward the right works and events to our members?
V: We have a programming team in Europe, America, and now in China. They really keep an eye on all the exhibition schedules before they are even announced to the public. We are in constant contact with hundreds of museums around the world, trying to find out what they have next.
We also keep an eye on trends to see which artists we think will be popular. It's not that we want to do only popular names, we also do the under-discovered artists. And often, things do come to us as well. People tend to find their way to us with opportunities they want to expose to the Cultivist community. We'll review it as a team, make sure it feels right for our program.
How do you get in?
V: We have an application form on our website where people can apply. As long as we understand people have a real interest in art, we will welcome them into our community. Our brand values are based on being accessible and friendly so we don't want the application process to be too intimidating. So really, we encourage everyone to apply.
Arun Kakar writes for Spear's