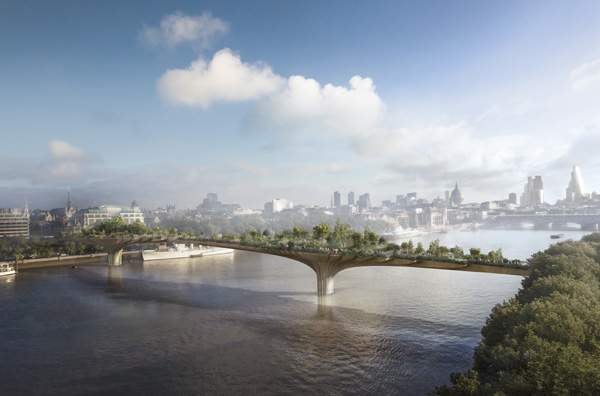 It's not too late to save the £200m Garden Bridge, the capital's proposed new 'floating garden' over the Thames, writes Alec Marsh
With winding footpaths offering unique views through the trees of London, the proposed 366m-long Garden Bridge across the Thames, which last week received a potentially killing blow from the Labour mayor Sadiq Khan, is a plum waiting to be picked by any ready philanthropist.
Leaving aside the crass, politically motivated short-sightedness of Khan's refusal to back the project by underwriting the £2-£3 million annual maintenance of the bridge ­– which as the trust working on the project points out would be met by private fundraising in any event, the fact is that a couple of million a year at most is just a drop in the mayoral budgetary ocean.
Indeed, we can also dispense with that other piece of political nonsense: that other, more worthy causes require the money. There will always more worthy and needy causes awaiting the public purse than projects such as this. Yet somehow we manage it. How would the Royal Opera House, the National Theatre and thousands of other vital arts organisations the length and breadth of Britain persist? They don't survive on the mercy of the market alone.
Not that the market would be an issue here since the Garden Bridge, designed by the great Thomas Heatherwick and backed by the appropriately evergreen actress Joanna Lumley, will surely be worth its weight in gold (perhaps without the topsoil) once it's opened? It might cost £200 million to build, but it will generate billions in tax revenues from visitors.
Every city needs to reinvent itself and to give reasons to return: well, the Garden Bridge gives the hundreds of millions of people who have already flocked to London a very good reason to come flocking right back, spending on average several thousand pounds per trip: add that all up and you can see that the bridge is small beer in comparison to its running costs, very small beer indeed. Looked at this way, the bridge is an investment in a new visitor attraction.
It's also an investment in the people of this great city, too. Yes, we have more green space than most big cities thanks to the collective bucolic bounty of Hyde Park, St James's Park, Green Park, Battersea Park, Regent's Park and Primrose Hill and so on, but as our population grows – passing the nine million point – so it's only fitting that our green space grows, too. And where better to offer that space than in the heart of our city so everyone can enjoy it's booming architectural wonder?
It would be unique. No other city in the world, and certainly not one of the first rank, boasts a garden such as this on a bridge such as this. This artifice of beauty would be the envy of the world; it would be a model to be copied the globe over; it would be bridge to tomorrow for this great city of ours. It would be the moment that the city goes one better that Tower Bridge; we see your Ponte Vecchio, Florence, and raise you; we see your Golden Gate Bridge, California – and we stack it with Rhododendrons, Elms, Oaks…
So far the government has already spent or pledged £60 million on the Garden Bridge; another £69 million has already been promised by private backers. This means the trust behind the bridge needs only another £70 million to get the job done. It is confident of achieving this, so to cover the running costs on top oughtn't be an issue.
But without the mayor of London's backing to underwrite maintenance costs, this great structure will not get planning permission. So someone else – whether it's central government (which, along with other public bodies, has already spent £46 million on the bridge) or another individual or company – needs to step in, and fast.
We can't let Khan rob London of this great architectural potential wonder and wondrous, unique public space. If the government lacks the will then it's up to the people to make it happen, so either we need to kickstart the world's most audacious crowdfunding campaign or more likely wealthy individuals need to step in. The Garden Bridge is a superb idea that will help make this city an even better place. Let's not let small-minded political point scoring extinguish the spark of something that would be truly magnificent. HNWs of the world, London needs you.