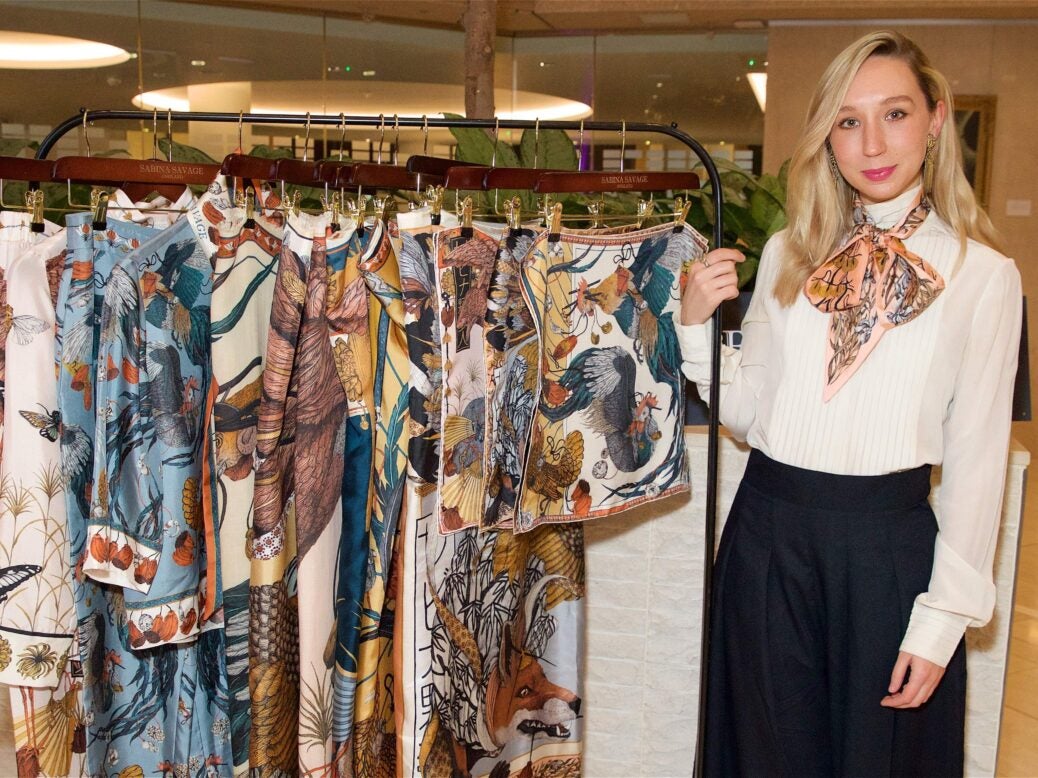 William Cash enjoys a designer fete at Coutts bank to celebrate the twelve 2019 Walpole Brands of  Tomorrow
It was fitting that Walpole's Brands of Tomorrow 2019 programme launch event was hosted by Coutts bank on the ground floor atrium of their glasshouse offices on the Strand.
The very building is a symbol of 'Tomorrow', rather than the fusty past of watermarked chequebooks and the Queen's bankers being 'Humble and Obedient Servants'.
As the senior executive from Coutts observed in his speech, the worlds of luxury and private banking and private finance have never been so closely related. To succeed, banks and boutique finance houses need to think like luxury brands, and even learn from them, looking for niche gaps and being innovative and ahead of the competition. It was no coincidence that the expert judging panel included Michael Morley, head of wealth management at Deutsche Bank.
So it came as no surprise to find that the avant-garde and emerging new brands recognised by Walpole's judging panel of experts – who included Demetra Pinsent, CEO of Charlotte Tilbury and Sally Britton, Intellectual Property Partner at Mishcon de Reya – included some bold and fresh young brands who hosted themselves in a little fete in the Coutts atrium.
These ranged from the London Sock Company (a 'proudly British sock brand for the modern gentleman') to my favourite which was Conker Spirit  – Dorset's first gin distillery, founded by 29-year-old Rupert Holloway.
Ok, I picked him out of the fair partly because my milliner wife Laura Cathcart and I enjoyed three of his Cold Brew Coffee Liqueurs – a more upmarket Espresso Martini, and just as strong. Blimey they were good.
Rupert, who was manning his stand as barman patron, is in many ways a 'poster boy' for what makes the Walpole Brands of Tomorrow such an important part of the British luxury landscape today. He ditched his day job 'in construction' to do a classic kitchen table start-up from his home in Dorset.  He's now in bars across the country as an artisan ambassador for the 'craft gin renaissance'.
As we enjoyed his signature coffee liqueur, he made a point of saying that he 'doesn't follow the crowd' and the delicious concoction was  free from any additives and colourings  relying on some of the world's finest 'forest-grown' Grade 1 speciality coffees.
Judging by the success of the programme, launched by Walpole in 2007, several of the brands at the Coutts fete are going to become boutique household names in a decade's time. As Coutts' Paul Fletcher said on the evening programme: 'We're honoured to be supporting a new generation of British innovators, entrepreneurs and change makers'.
This year's selected brands include Farer watches, luxury sleepwear brand Desmond and Dempsey, British womenswear designer Anna Mason and cashmere designer Mariella Wyse. Also bespoke Belgravia lingerie specialist Luna Mae London; and footwear company Jennifer Chamandi, made by an 'family run artisan atelier based in Italy'.
I enjoyed talking with the wonderfully-named Sabina Savage, not a name you are going to forget, about her luxury scarf brand which offers 'heritage inspired prints on exquisite fabrics' with each illustration hand-drawn by Savage. There was a luxury knife company called Savernake, regarded as one the best chef knives in the industry; The Restory is a 'luxury aftercare' service for restoring designer goods. Stow is a luxury travel accessory company that makes leather 'Wander-Luxe' travel cases and bags for jewellery and watches that is used by the Duchess of Sussex.
But who will tomorrow's real winners be?
Entering for the Brands of Tomorrow, in association with Mishcon de Reya and Coutts, is not unlike running the gauntlet for Dragon's Den. With a super VIP judging panel of experts which included success stories such as John Ayton MBE, (founder of Links and now chairman of Annoushka Jewellery and Bremont Watch Company), the Walpole 'luxury world programme' takes up to 12 carefully selected fledgling brands through a year-long programme of workshops and mentoring to help develop their business skills and set them on a path to growth.
Participants are mentored by some of the UK's most experienced luxury executives, editors and founders who provide a year of one-to-one coaching; sharing their knowledge and expertise with the chosen brands.
Now in its 12th year, Brands of Tomorrow is Walpole's 'flagship development programme', whose driving force is Walpole's dynamic CEO Helen Brocklebank, working with chairman Jonathan Heilbron.
In his remarks, Heilbron reminded the audience that the Walpole programme has now surpassed over a hundred companies taking part since they launched. 'Our entrepreneurs share a desire to shake up the norm, to free their creative juices and to make an impact,' he said. 'Service becomes increasingly relevant and personalisation paramount. Surprising every individual customer and making the brand touch special is evident in our cast for 2019'.
The programme allows the winners access to the mentoring network of the Walpole rostrum of members and to see how the luxury industry works from the inside through 'transference of skills, experience and know-how to ensure continued creative development'. The programme creates 'mutually beneficial relationships between established and up-and-coming luxury brands and individuals, which not only allows the British luxury sector to thrive, but to flourish'.
Paul Fletcher, Helen Brocklebank, Jonathan Heilbron & Lewis Cohen
Helen Brocklebank, Walpole CEO, said in her speech: 'It's so exciting to see a diverse range of British luxury entrepreneurs entering the market from sleepwear, travel accessories, bespoke lingerie to handmade knives, gin and luxury shoe and handbag repair.
'The Brands of Tomorrow are now synonymous with the very best in British luxury including Orlebar Brown, Bremont, Emilia Wickstead, FLOWERBX, Astley Clarke and Charlotte Olympia. Through development programmes like Brands of Tomorrow, we enable Walpole and its members to play a vital role in supporting the next generation of talent and also secure the future of the sector by giving brands the help they need to reach the next stage of growth.'
Mishcon de Reya's Lewis Cohen was impressed by the showcase of talent. He said: 'The support, advice and networking opportunities that Walpole and the Brands of Tomorrow programme provide to aspiring British luxury brands are unrivalled.'
This year's mentors include journalist Alexandra Shulman CBE, Alistair Hughes, MD Savoir Beds; Bec Astley Clarke MBE, founder of Astley Clark; Ewan Venters, CEO of Fortnum & Mason; luxury consultant Francois le Troquer; John Ayton MBE, chairman of Bremont; luxury consultant Martin Bartle; Michael Ward, MD of Harrods; luxury consultant Sarah Elton; Sarah Rotherham, CEO of Miller Harris and Toby Bateman, MD of MR PORTER.
William Cash is founder of Spear's