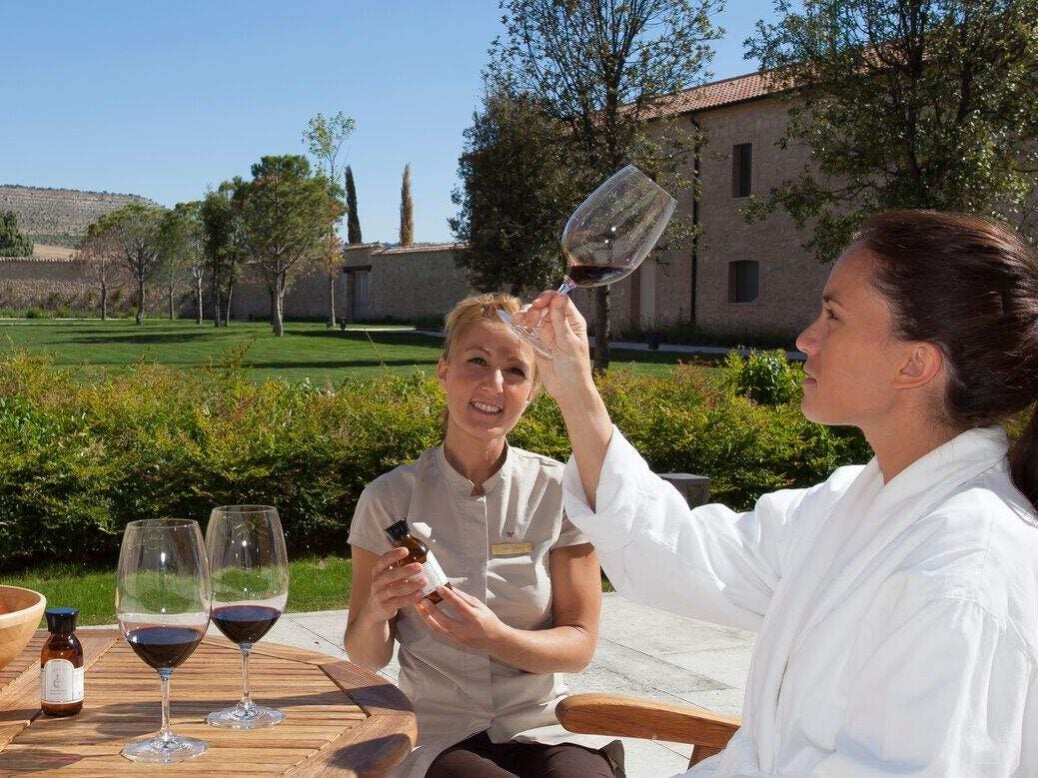 The endless debate over the health-giving properties of wine usually revolves around drinking it — but how about bathing in it instead? Jo Foley investigates.
We have been producing it, drinking it, enjoying it and cooking with it almost since time began, but it is only in the last twenty or so years that we have been bathing in it. Wine, that is.
Of course, the fine art of vinotherapy, as it is named, has its origins in Bordeaux, at Château Smith Haut Lafitte. A happy coincidence of a hot spring discovered underground, the noted softness of the cellar master's hands from dipping into the yeast during vinification, and a meeting with one of Europe's experts on polyphenols at the University of Montpellier gave rise not just to the first vinotherapy spa but also to what is now France's leading skincare company — Caudalie.
Polyphenols are powerful anti-oxidants which help defend and protect the skin and its cells — thereby slowing down the ageing process. Pollution, a poor diet, sun damage, central heating and stress — collectively known as free radicals — all contribute to this damage, much as they do to cars getting rusty, fruits and vegetables going brown, and wrinkles appearing on our faces. The research pioneered at Montpellier with Caudalie managed to stabilise these anti-oxidant polyphenols which are found in grape skins and pips. The research carried out at the same time found that they were 10,000 times more effective than vitamin E and had serious anti-bacterial properties — vital in the fight against the degeneration of skin cells and its loss of elasticity. At the same time it was found that the sap from the vine stalk helps reduce the dark ageing spots on the skin.
It was enough for husband-and-wife team Mathilde and Bertrand Thomas to decide to open the first vinotherapy spa in 1999 within the vineyard owned by Mathilde's parents. Since then Les Sources de Caudalie has gone from strength to strength and has spawned eight others across the world… all of which are licensed to use the products, expertise and treatments devised on home territory. Guests can relax in a barrel bath where bubbles from grape pressings exfoliate and stimulate the skin — in Bordeaux it is known as Pulp Friction. Also on offer is a Merlot wrap to moisturise and nourish the skin, while a Crushed Cabernet Scrub gets rid of dead cells and smoothes the rough areas around elbows and heels. A Premier Cru facial for both men and women will soon have skin glowing, and once all that has been enjoyed there is a cellar containing more than 12,000 bottles of wine and a Michelin-starred restaurant in the accompanying hotel.
While many spas were practising and offering denial — no tea, no coffee, no alcohol, no anything — here in this corner of France you could be indulgent as well as pampered. Little wonder that the idea took off and spas across the globe were demanding more fruits of the vine. Caudalie itself began opening facilities from Paris to Taiwan via Portugal — where the Caudalie spa is housed next to one of the great port houses at the Yeatman Hotel. Its Barrel Bath treatment offers the best view of Porto and the river and is spectacularly romantic at night, where a glass of your favourite tipple can be enjoyed while you're bathing in the stuff. The concept even established itself in the heart of Rioja territory when another off-shoot opened in the Frank Gehry-designed Marqués de Riscal Hotel.
However, other wine-growing countries were not going to allow the French to have the monopoly on the goodness of the grape, its skins and pips, so they began to follow suit with their own variations of the unguents and treatments.
The Napa valley was one of the first to offer therapies using the grape in a vast and luxurious spa overlooking some of its prize-winning vineyards. Here a Cabernet mud body masque is one of the signature treatments which helps soften the muscles before a strong body massage, while the Vineyard Déjà Vu uses grape seeds and red wine as a body buff. Couples can opt for the special Meritage treatment, a dual body exfoliation with the aforementioned seeds, followed by a shared bath accompanied by a fresh fruit and wine pairing!
The Italians, never far behind, fought back at the Adler Spa Centre and Resort in Tuscany, with its Brunello wine baths and a Bacchus Ritual for two, which offers a Bacchus Ritual bath followed by an energising scrub.
One of the newest entries into the market is the Santuario Spa at Abadia Retuerta LeDomaine in Valladolid's wine-growing region. Here, in the stables of an exquisitely restored 12th-century abbey, waits the first spa sommelier who will prescribe your treatments by using a wine-tasting exercise. Panic not — just a sniff will do if it's too early in the day for you to taste or imbibe. Apparently by understanding the individual palate, the sommelier can decipher which treatments and programmes work best for the individual.
But don't worry, you don't have to move far from home to experience a wine scrub or bath. The Vineyard at Stockcross in Berkshire offers a Red Grape Body Polish or Wrap.
Now, however, as the jury is out on whether red wine is good for us or not, according to the latest research, perhaps the time has come for us simply to bathe in it.
sources-caudalie.com | ledomaine.es
aubergedusoleil.com | the-vineyard.co.uk
adler-thermae.com | hotel-marquesderiscal.com
the-yeatman-hotel.com