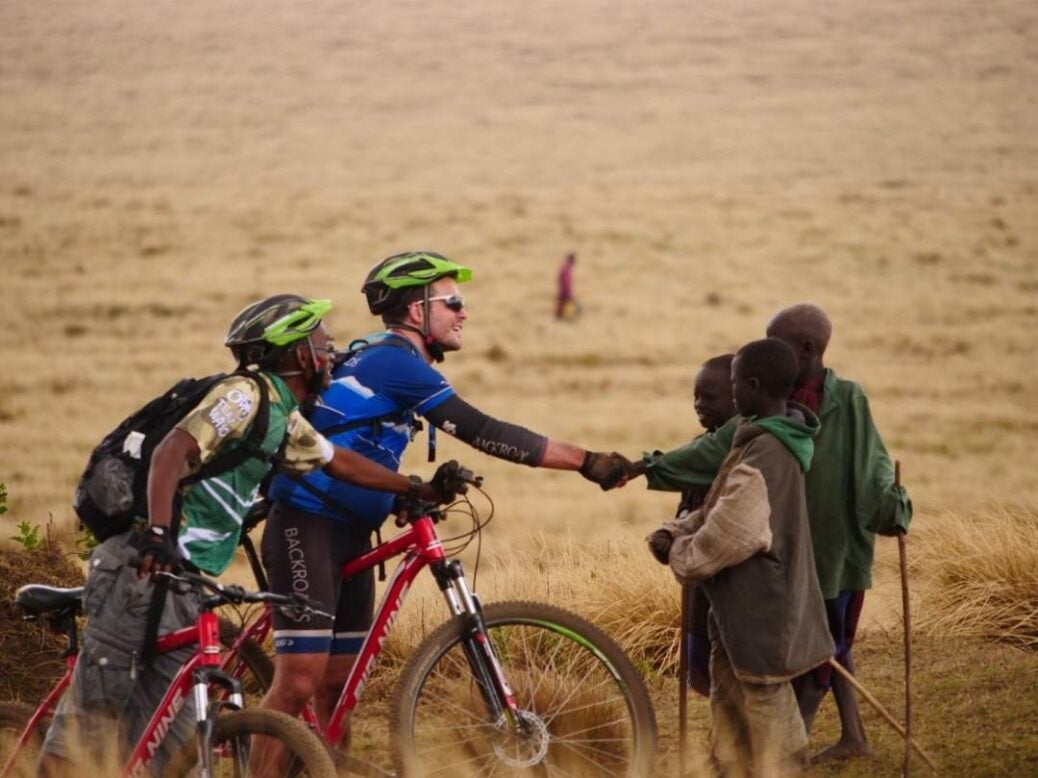 The African Travel Industry has come together to support African Rangers & wildlife by embarking on a cumulative 30,000KM bike ride which is being kick started with an initial Lands End to John O' Groats bike ride challenge starting on 15th August 2020
Ride 4 Rangers is an initiative by the UK Africa Travel Industry in partnership with conservation charity Tusk which will see 50+ people ride the 874 miles from Lands End to John O Groats and is inviting hundreds of fellow Africa Travel industry professionals and conservation lovers to join them on the way with the aim of riding the cumulative distance of 30,000 KM – A circumnavigation of Africa.
Tourism is the key funder of conservation in Africa through park fees and a healthy wildlife population is what the industry is built on. Since the arrival of the COVID-19 pandemic there has been very little money going into the conservation system. With most holidays on hold until next year, the Africa travel industry is in dire straits and the trickledown effect on the ground across the continent is already being felt.
Money to pay rangers in some of the world's flagship wildlife areas in Africa is simply not there.  Prized wilderness areas such as Tanzania's Serengeti, South Africa's Kruger and many more are struggling to pay the salaries of the rangers that are critical to the safety of already highly endangered wildlife. The loss of park and conservancy fees from visiting tourist has meant that budgets have been cut dramatically.  Many people have been laid off which is not only having a devastating effect for the families of those rangers, many of whom have 8-10 dependants, but it is also already impacting on wildlife as a result of an widespread increase in reports of poaching. The role of rangers is vital to maintain the long term protection of these wild places. Across Africa wildlife rangers are the first line of defence against illegal poaching and without them many species like elephant, rhino, lion, giraffe and pangolin would be at even greater risk of extinction.
"As we come out of lockdown we are starting to realise the effect of COVID-19 across the world, and no more so than in Africa where the economic impact of the global shut down has been devastating with the tourism and conservation sectors starved of vital revenue required to protect both wildlife and livelihoods." Charlie Mayhew MBE – CEO of conservation charity Tusk
The Africa Travel industry is and has always been passionate about recognising the vital role played by rangers on the frontline working to ensure the protection of Africa's unique natural heritage.
"The interdependence between travel and conservation in Africa has been thrown into sharp relief.  I applaud every effort being made by my fellow Africa travel professionals and supporters in helping protect the livelihoods of rangers on the frontline who play such a vital role in ensuring the safety of Africa's wildlife." Chris Mears, CEO of the African Travel and Tourism Association commented
The Ride 4 Rangers Challenge aims to raise £100,000+ as part of a wider WILDLIFE RANGER CHALLENGE* being coordinated by Tusk and Natural State – a new initiative specifically designed to support the salaries and deployment of African Rangers during this crisis. The initiative has been established with the support of the Scheinberg Relief Fund which has pledged to generously match all monies raised up to $5m.  This means that the UK based Ride 4 Rangers has the potential to double its impact on the ground.
All funds raised will be distributed by Tusk across some 60+ reserves and protected areas throughout Africa. The fund aims to raise and disburse US$10 million into the field over the next 6-9 months supporting over 5000 rangers and their wider families.
Charlie Mayhew MBE, CEO of TUSK commented:
"We are delighted to support this inspiring challenge.  It is wonderful to see the drive and energy of the UK Africa Travel industry coming together to raise valuable funds to keep rangers on the frontline – recognising the extraordinary bravery and commitment they demonstrate on a daily basis in the protection of our natural world. "
THE ROUTE
The route will journey throughout the UK from Lands End to John O'Groats via traditional LEJOG routes. For the full map visit https://ridewithgps.com/routes/33296734 and for a day by day schedule to find out when the ride is near you see below:
| | | | |
| --- | --- | --- | --- |
| Date | Day | End at | Day Distance (KM) |
| Saturday, August 15 | 1 | St Austell | 87 |
| Sunday, August 16 | 2 | Okehampton | 90 |
| Monday, August 17 | 3 | Taunton | 85 |
| Tuesday, August 18 | 4 | Bath | 88 |
| Wednesday, August 19 | 5 | Cheltenham | 78 |
| Thursday, August 20 | 6 | Kidderminster | 73 |
| Friday, August 21 | 7 | Congleton | 104 |
| Saturday, August 22 | 8 | Preston | 95 |
| Sunday, August 23 | 9 | Shap | 106 |
| Monday, August 24 | 10 | Lockerbie | 93 |
| Tuesday, August 25 | 11 | Livingston | 111 |
| Wednesday, August 26 | 12 | Blairgowrie | 100 |
| Thursday, August 27 | 13 | Grantown on Spey | 127 |
| Friday, August 28 | 14 | Dornoch | 132 |
| Saturday, August 29 | 15 | John O'Groats | 128 |
GET INVOLVED VISIT www.ride4rangers.com
15 Aug – 29 Aug Join all or part of the ride from Lands End to John O Groats
Do your own Ride 4 Rangers at home, in a park, around your garden 5, 10, 20, 50 KM
Ride 10KM, Donate £10, Nominate 3 People
Sponsor the challenge and double your impact through match-funding
Tell your friends via social media and spread the word
#RIDE4RANGERS @RIDE4RANGERS
#TOGETHERFORTUSK
RIDE4RANGERS IS BEING SUPPORTED BY LAND ROVER who are donating the use of one of their new 110 Defenders for the duration of the ride as a support vehicle.