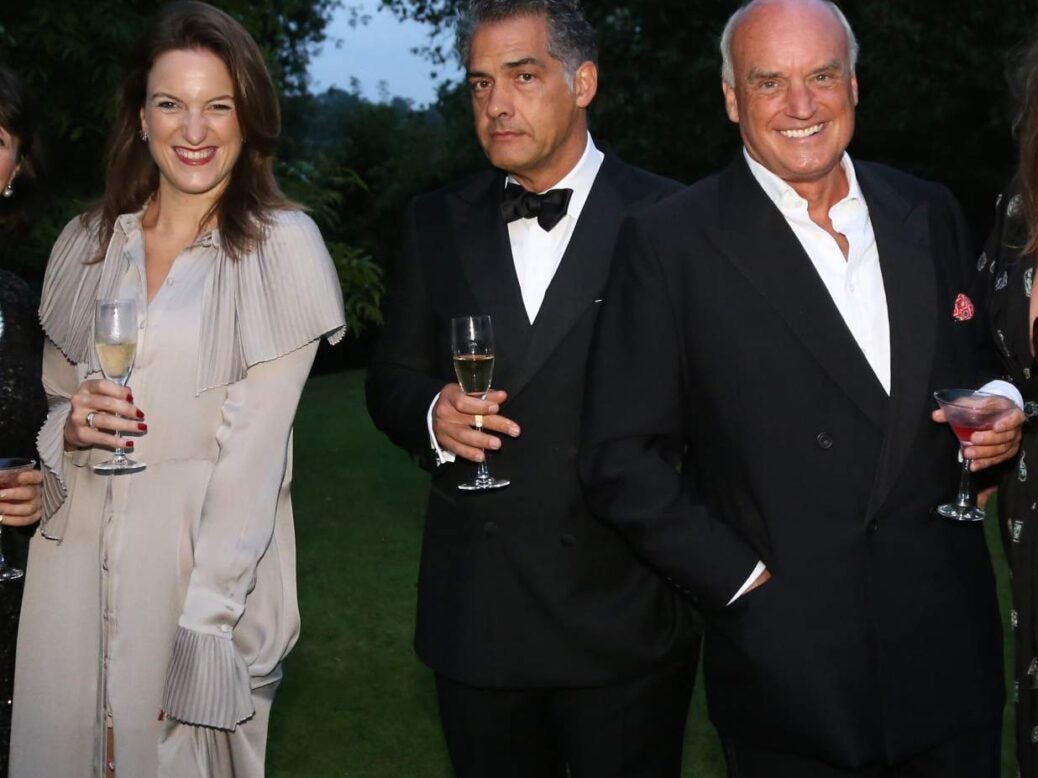 In our tribute to Philip Kerr, this Graham Greene of our age, some of his friends remember him
Allan Scott, screenwriter and musical producer
There's always one friend in life who, without thinking about it much, you just presume won't die.  Or at least not in your face.  Not painfully.  Not suddenly.  And that's the friend who becomes ill in October – not too worryingly – but is gone by March.
Philip Kerr was my friend.  I emailed him, a few days ago with no inkling of the gravity of his illness nor the imminence of his death, to report that after the long wait, his application for membership of The Garrick was finally coming to fruition.  He wrote back to say that he wasn't feeling strong enough for a social event, not yet, but when he was back on his feet, he'd come bounding up that long, steep staircase to accept an offer to belong.
Philip was an historian, a journalist, a researcher and an author.  In that order.  Given the complexities of our lives, he was also a father, a husband, a collaborator, a political eccentric and an exploder of ideas in every direction.  Among a vast variety of interests he loved conjuring tricks.  I persuaded Philip and his wife, Jane, to join my team for a Food Quiz, held at The Ivy for some charitable purpose.  I also smuggled the Hart brothers onto the team and we came second.  But how do you answer a question about the original colours of decoration at a restaurant which closed twenty years earlier?  You guess just like everyone else.  With Phil on your team, the guesses get better.
Some years ago we spent a holiday together in Jamaica, staying at Goldeneye, together with our wives and a careful selection of children.  The place was lovely, the staff were delightful, the island a miracle.  Phil insisted on seeing Noel Coward's house and examining Golden Eye in forensic detail.  I later discovered this was because he'd obtained a commission from a posh travel magazine to describe a week in Ian Fleming's former hideaway.  We were so well looked after that I had asked the manager if we could wind down the nonstop dedication to our house party.  There was, for example, no need to have people on duty at all times so when one stepped out of the pool there was a member of staff to wrap you in a towelling robe.  I thought this over-pampering just a smidge more than we needed.  Philip disagreed and without telling me had a counter-word with the manager to reinstate the best part of his holiday.
Philip was a research polymath which gave his conversation body and soul.  He knew about football, he understood every detail of the Tehran Conference, he was able to describe criminal tricks of every trade as well as to recite the missing verses of the hymn Jerusalem.
I was so touched when he dedicated one of his novels to me.  He claimed I had taught him a little something about writing.  This was because we jointly had a good idea, which he on his own then executed as a hybrid novel-script-story-amusement and which I then developed into a cracking screenplay.  We collaborated on this script, titled GUNS 'N' ROSARIES, each bringing our own talents to the micro-pool of good ideas.  The central character was described as "Puff Daddy but cooler."  When we launched it on Hollywood, I got a call one day from an interested American financier who appeared to think of himself playing the leading man.  Financiers don't usually admit to this motive but when "Mr Combs" hung up I realized that I had been listening to the enthusiasm of none other than the real Puff Daddy.
Phil had pulled off a real conjuring trick.
His death at the age of 62 was shockingly sudden and additionally surprising for those who thought he wasn't yet fifty.  I know few people who worked harder nor more consistently.  The hard work was rewarded by a life of great fulfilment and accomplishment. His reflexive search for cliché would forbid even the truest that in the case of Philip Kerr, lawyer, scholar, novelist and friend…he will be greatly missed.
William Cash, Spear's Founder:
Philip will be badly missed at our annual Christmas lunch.  Because of his charm and conversational brilliance – not to mention prodigious quiz skills – he was always one of the first to be invited to the annual Spear's 'Contributors' Christmas Lunch at the Chelsea Arts Club.  He was usually the first to reply and never missed a lunch in over five years.  The last time I saw him was in December at the event when he took a sip of champagne and calmly said. 'I always love coming to this event but I'm sorry to say this will be my last'.
Alas, Philip was right. He was a literary giant of my generation writing more than 30 books including his bestselling Bernie Gunther crime noir novels that are in the process of being adapted for television by Tom Hanks.  These novels, set in 1930s Berlin, had an acute sense of good and evil born partly born from his religious upbringing in Scotland. In a 2016 interview about his bedside reading with the New York Times, he said that the Bible 'made me what I am, unfortunately'. No matter how hard he tried, he couldn't 'get that book out of my twisted psyche'.
He was a prolific writer and it was always a mystery to me how he managed to write at least one novel or book a year – sometimes many more – and still have the time to meet for long lunches, or spend weeks on the road on his American or other book tours. I first met Philip over 30 years ago standing in line to enter some London theatre to attend a two day screenwriting course run by the Hollywood legend Robert McKee.
Whilst most of the others hacks, ad copy writers or literary wannabes who attended still have success to look forward to, Philip was the one true literary star who left the rest of the pack behind.  Whilst he is best known for his Gunther crime novels, beginning with the beautifully dark crime world of March Violets, he also wrote children's novels that were so good that Stephen Spielberg optioned one. His writing speaks for itself and in many ways he was the modern heir to Graham Greene in terms of writing so well about moral ambiguity.
Philip was one of the literary good guys. As a friend, he was the best lunch or dinner companion I knew. Like Greene, he felt novelists needed to experience life in all its moral shades. Asked by the New York Times whom he would like to write his 'life story' he replied:  'I feel it would have to be Kitty Kelley (the famous American hatchet job writer). Only she could do justice to my many failings'.
He was a uniquely wonderful and intelligent writer, husband and father and the Spear's Christmas lunch will never be the same without him. The photo above is of Philip at my 50th birthday flanked by Nicholas Coleridge,  novelist and former head of Conde Nast and Sophia Money Coutts (formerly Spear's deputy editor).  Both are super successful journalists and writers. But look at Philip's pensive and laconic face whilst the others smile for the camera. The look of a true artist.
In his Spear's Diary, he wrote how Berlin was more an idea than a city, invented by such English authors as Christopher Isherwood and John Le Carré. 'Most importantly of all, however, Berlin is a state of mind and everyone who goes there finds his own'. These two authors 'bookended the German 20th century and from these virtually our whole 'appreciation' of modern Berlin – husky-voiced women in garters, Nazis, red spies on the Glienicker Brücke – can be said to originate'. He was too modest to add his name as the third author who has helped to shape and define Berlin in the modern consciousness. Philip is the only novelist who comes close to Le Carré and just days after his death,  people are already talking of 'Kerr's Berlin'.
Adam Dant,  Spear's cover artist
From the good  times I  spent  with Philip, especially at our special Christmas lunches, he was always impeccable,  conversationally, sartorially and morally.  His like I encounter very rarely which makes the news of Phillip's death so upsetting. The brilliant poise with which his stories were structured was very much present in and part of the man himself. A master who knew himself and his art.
Toby Young, author and critic
Philip was a wonderful writer and a wonderful man. He was one of those people who cheered you up the moment you spotted him. If he was at a party or a dinner, you knew you were about to be told a hilarious story or a scintillating bit of gossip. He was every inch the literary celebrity, a role he played to the hilt, but he carried it off with such style and panache it was a joy to be in his company.
Rachel Kelly,  author and hostess
 I first met Philip more than thirty years ago when I was a jobbing journalist at The Times and a friend of his wife Jane Thynne. He was already a hugely successful writer with bestselling novels to his name, and being hailed as a major literary talent,  but he always managed to make me feel as if I could write too. Later on, many years later, when I was attempting to pen my own first book, once again he encouraged me and made me feel as if it were possible to be published, and indeed I had something worthwhile to publish. I will always be grateful for how he reached out in this way with such generosity of spirit.