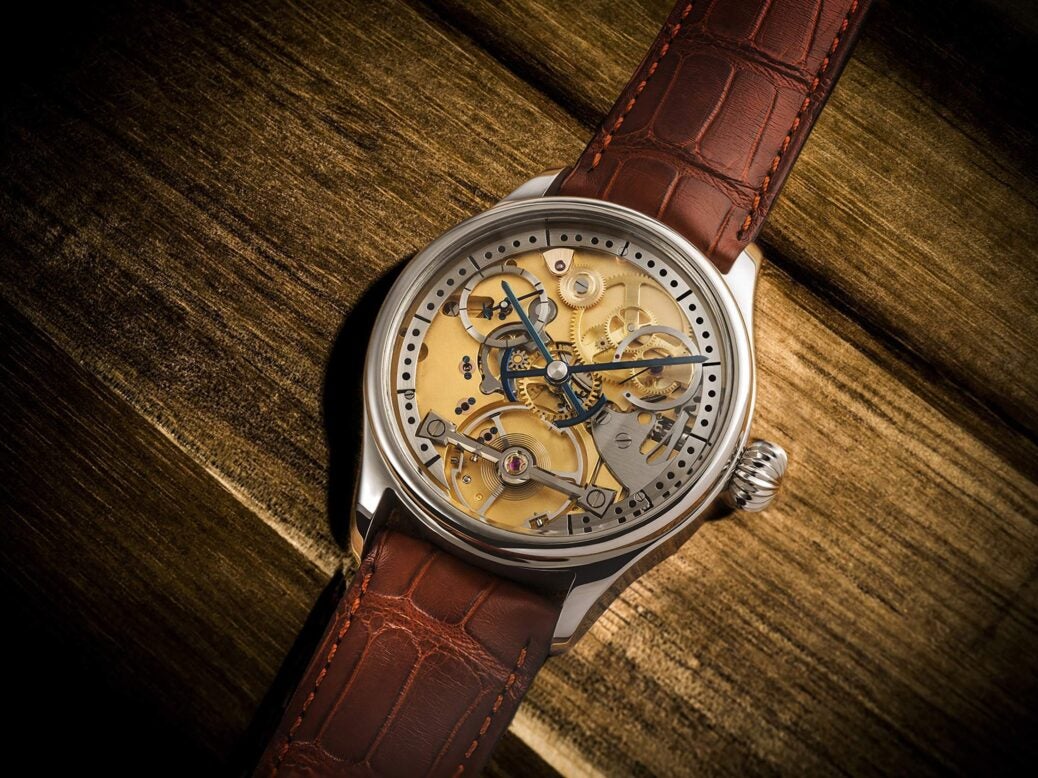 They may never give the Swiss horology giants sleepless nights, but a number of  small companies are keeping the art of British watchmaking very much alive,  writes Tim Barber
The notion of British watches in the modern era – whether British-made or British-designed and conceived – has existed for several years between two opposing poles.
At one end is Roger Smith, the artisan watchmaker based in the Isle of Man, whose studio produces maybe ten examples of bespoke classical handcraft per year. These are snapped up for six-figure prices by collectors around the world, who are happy to sit on waiting lists for years to own something by a man regarded as a world leader in horological handcraft.
At the other end is Bremont, a mainstream luxury brand whose star rose quickly in the mid-2000s as an aviation-inspired British answer to Breitling, with all the grand marketing narratives and volume production (mostly via Swiss suppliers, but with growing facilities for case and parts production, assembly, servicing and – eventually, we're told – movement making at its Henley HQ) that that entails.
However, in between there exists a small but vibrant band of makers, designers, entrepreneurs and enthusiasts, for whom 2018 was something of a banner year. This is not to suggest the occurrence of anything as tangible as a revival of British watchmaking – the horological arts are, and will remain, a rare and recondite set of skills in this country. But there is still gold to be found.
In fact, England produced one of the most horologically significant watches of 2018, and by a company that had never made a wristwatch before, despite existing for 185 years.
In the 19th and early 20th century, Charles Frodsham & Co was a maker of marine chronometers, clocks and pocket watches, diversifying into dashboard instruments for early motorcars. It faded from view but has continued to operate in the worlds of restoration, large-scale clockmaking projects, consultancy and antiquarian horology of the highest forms.
With a shop in St James's and workshops in East Sussex, its long-term (we're talking 14 years!) background project was to make a watch that resolved an idea first proposed by Abraham-Louis Breguet, and later developed by Dr George Daniels, the exalted English watchmaker (and mentor to Roger Smith), who died in 2011. Named the Double Impulse Chronometer, it's a masterpiece, executed with extraordinary finesse. Frodsham is making 12 examples a year, priced from £82,200 a piece. It's worth every penny.
If your wallet or your inclination to sit on a long waiting list don't stretch that far, Norfolk-based Garrick Watches offers an intriguing alternative. Evolving from the restoration workshop of watchmaker Simon Michlmayr, Garrick engaged the services of Andreas Strehler, a top independent watchmaker in Switzerland, to help develop a movement designed by Michlmayr, Calibre UT-G01, which places the oscillating balance in the heart of a finely decorated dial.
Garrick's watches include a regulator model (in which hours, minutes and seconds are all displayed on separate registers), and a skeletonised version of a watch with the UT-G01 movement. They are each like little gleaming lessons in horology, and range in price from around £3,000 up to £23,000 for the skeleton model.
Glasgow is not the first place you'd expect to find a hive of watchmaking handcraft, but Lewis Heath, the founder of AnOrdain, had other ideas. Heath opened a studio three years ago in which to perfect the very specific art of what the Swiss call 'grand feu' enamel – making dials covered in delicate, coloured enamel.
Heath's little team took more than two years to learn the process, launching last summer with a watch that melds the unique, limpid depth and rich colouration of enamel with
a modernistic design style some way removed from the fusty classicism that Swiss brands apply to enamel dials.
The Swiss also tend to add several thousands to the price of enamel watches, reflecting of the extra handcraft involved. By contrast, AnOrdain's Model 1, assembled in Glasgow with a Swiss automatic movement, is priced from just £1,050. Available in six different colours, it's elegant, understated and rather suave – and a reflection of the fact that, to own a watch that's been through the hands of a British artisan, you no longer have to fork out five figures.