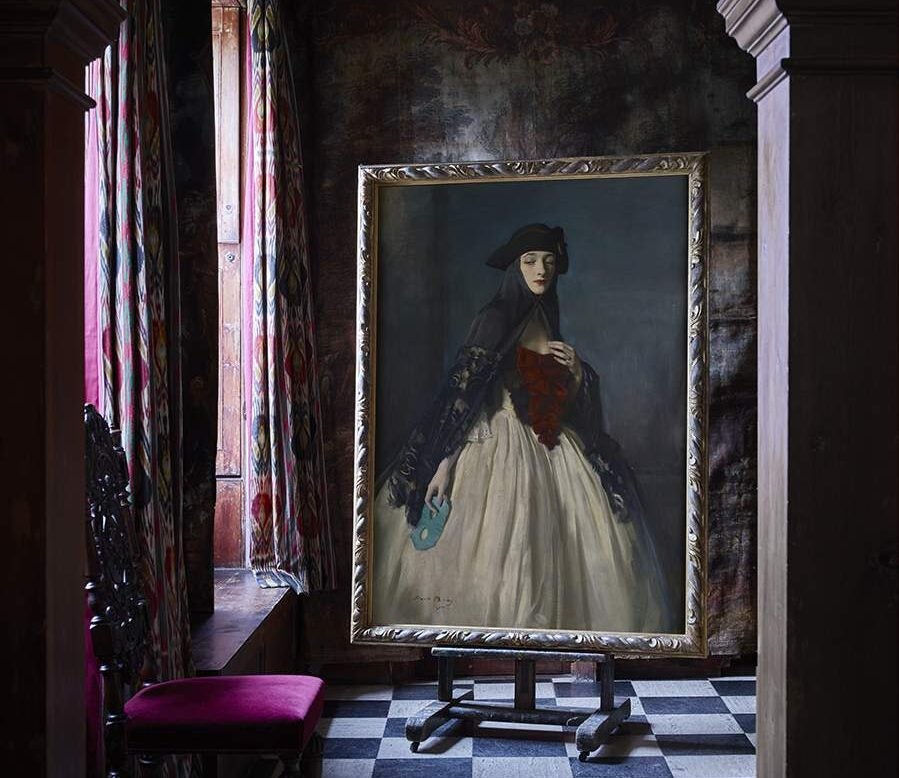 Robin Birley is about to revive his grandfather's greatest masterpieces at Philip Mould & Co, writes William Cash
In the new issue of Spear's, I have written an exclusive feature on how Robin Birley and Spear's 500 member Philip Mould OBE have teamed up over the last year – sleuthing the corridors of Britain's stately homes, palaces and museums – to put on a unique art exhibition that celebrates the forgotten genius of Robin's grandfather and founder of the Birley family dynasty.
For many HNWs today the 'Birley' name is synonymous with the most exclusive and most exacting of Mayfair private members' clubs. You know you are in Birley Land when there is 'triple hanging' in the drawing rooms, the bar lemons are wrapped in white muslin and the encrusted crystal sugar-lumps (both demerara and white) on each table are inspected daily for size by the maitre d' . All such details ensure that Robin Birley's club standards at 5 Hertford Street (ranked number one by Spear's in our Private member Club index) are kept as inscrutable as those of his late father Mark.
Yet in the earlier half of the 20th century another Birley was just as famous – if not more so.
I refer to Sir Oswald Birley, the illustrious English society painter who was one of Britain's most acclaimed artists of the 20th century as London is about to re-discover this autumn with this much awaited and overdue new exhibition of his works: Power and Beauty: The Art of Sir Oswald Birley, MC . It opens at Philip Mould & Co in Pall Mall – where we held the Spear's 10th-anniversary  – on Tuesday, 26th September with a glittering VIP opening night. Spear's will be covering the party.
The Oswald Birley show at Philip Mould & Co will be open to the public from 27th September-10th October. I have been made aware of some exclusive opportunities to host a Private View evening or invite VIP clients to a private view champagne reception evening at the gallery – with dinner afterwards at 5 Hertford Street.
The dazzling display of portraits is the first major retrospective exhibition of Oswald Birley's oeuvre in over fifty years. From 1919 until the early 1950s he was the go-to artist of the time, commissioned by the royal family, the aristocracy, politicians, artists, scientists -meritocrats of their day. His work can be seen in 5 Hertford Street, many major royal palaces, country houses and private homes although until now most have rarely left the walls which they were designed to adorn. The show is being sponsored by Spear's 500 member Stephen Burton, CEO of Bordeaux Cellars and the Natalia Rotenberg Foundation.
Portraits are being lent by major museums and major collectors. The price of Birley portraits has bee steadily rising in recent years with an enigmatic portrait of Sir Winston Churchill in his later years sold for £1.42 million in 2014 against an estimate of £100,00-£150,000. Art market demand for Birley's best works are now in the ascendancy. The show is going to be a major cultural event with several newly discovered 'sleeper' Birley portraits and landscapes including family members, artistic figures and leading 20th century society figures shown for the first time. The show aims to re-appraise Birley's reputation and rightfully place him in the same tier of portrait artists as John Singer Sargent, Augustus John and Sir John Lavery.
My favourite – which hangs above the front desk at Hertford Street – is the magnificent portrait Birley painted of his society beauty Irish wife Rhoda wearing Venetian costume after their honeymoon in 1922. She is holding a turquoise venetian mask –  a symbol for the vanity dance of the grand masque of society which Birley was a genius at stripping bare to rival the humanity of his subjects under the alabaster veneer.
Such is Robin's affection for his grandfather that he is also naming his exclusive new Albermarle Street wine connoisseur private member club after him. This new ultra-chic Mayfair wine club and restaurant, called 'Oswalds', will allow members to cellar their own wine at the new club and drink it in the restaurant or private dining room. Anybody with a passion for fine wine and the very best food who is interested in drinking up their own cellar in the most beautiful of surroundings may wish to consider becoming a founding member. If so please e-mail me and I will forward onto the membership secretary.
The rise of the private member wine and cigar club is a new trend in Britain but such clubs have been popular in the US – especially LA and New York – for many years as I remember only too well from a decade spent in LA in the 1990s. Part of their success – a pioneer of the concept in London has been 67 Pall Mall – has been in circumnavigating the new anti-smoking laws by making the outdoor 'smoking area' the chicest and most comfortable area of the club. For years, if you wanted to smoke, you had to stand in the street outside a club or restaurant – usually under a leaking gutter – but Robin Birley changed all that with his classically inspired Courtyard at 5 Hertford Street – with an open log fire. Whilst other club-owners have copied Robin, none have surpassed his exacting eye. The exhibition is something of a family re-union celebrating not only the mercurial art of his painter grandfather but also a century of Birley's aesthetic genius.
William Cash is Editor-in-Chief of Spear's
The Oswald Birley show at Philip Mould & Co will be open to the public from 27th September-10th October. Anybody wanting to learn more about hosting a Private View evening with a talk by Philip Mould please email wcash@spearswms.com for more details.