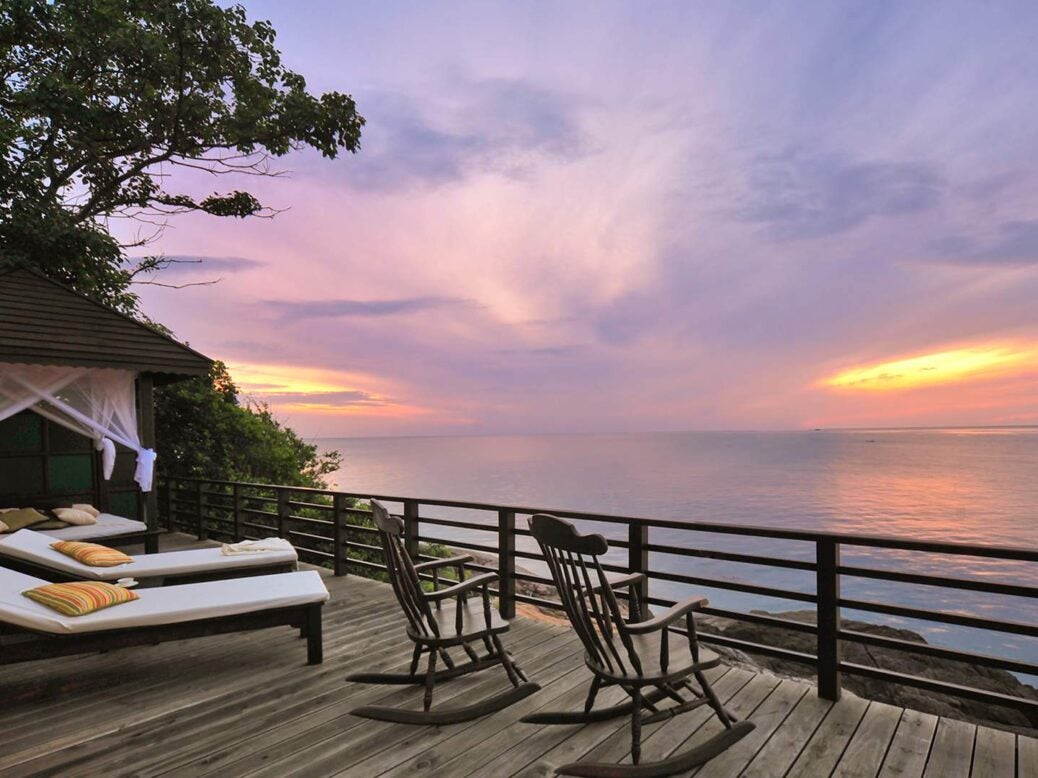 The authentic feel of Thailand's Tongsai Bay hotel leaves its guests smiling – and yearning to return says James Rampton
The signature mocktail at the Po-Lad Beach Bistro and Bar at the Tongsai Bay, a hotel on Ko Samui in Thailand, is the felicitously named 'Smile'. And that is precisely what
I have been wearing during my entire week at the Tongsai Bay.
Ko Samui is no longer the unknown gem beloved of off-the-beaten-track gap-year students. Now you can pick and choose from any number of beyond-luxury hotel chains on the island, which is an hour's plane ride from Bangkok.
But what is particularly enticing about the Tongsai Bay is the fact that it is not part of a multinational company. It was the first five-star hotel on the island and has been owned by the same Thai family for 30 years. It has its own unique flavour, in contrast to many of the corporate hotel chains in Thailand.
In 1985, Thai businessman Khun Akorn Hoontrakul was sailing off the deserted north-eastern coastline of Ko Samui when he espied an unspoiled hillside. He instantly fell in love with the spot. Seven days later, he purchased the land and immediately set about creating the Tongsai Bay, which now comprises 83 suites, cottages and villas. Fashioned from reclaimed teak – Akorn did not cut down a single tree in building the hotel – all the properties have a spectacular sea view and (nice touch, this) an outdoor bath on the terrace.
During the hotel's three-month construction period, Akorn wanted to be on site to oversee the work. So he built a bed on the beach and slept on it throughout the building process. To celebrate the hotel's 30th birthday, couples were invited to emulate the original owner by 'sleeping under the stars', spending the night on a specially constructed four-poster bed on the hotel beach.
The most appealing aspect about the Tongsai Bay, now run by Akorn's son Thanakorn, is that it has retained its essential Thai character. The architecture of the pool villa I stay in is very traditional. It has a huge teak terrace with a large daybed, plunge pool, drinks bar and the prerequisite bath. The terrace, which overlooks the ridiculously photogenic bay, also features a hammock strung between two immense trees that have grown up through the terrace. If you can't relax here, you may well require stronger medication.
The Tongsai Bay has a very advanced eco-attitude. Staff are fired if they are caught harming animals. Over its 28.5 acres, the hotel has 67 different species of bird (a guest discovered the 67th, a rare black-naped monarch, only recently). Wandering round the grounds, you are pursued by extraordinary birdsong.
The organic garden also showcases the hotel's sophisticated recycling policy. Several vats there are used to re-purpose waste materials. Citrus peelings are turned into floor cleaner, vegetable peelings into toilet cleaner, and fish heads into fertiliser.
In addition, the hotel grows its own citronella, which is employed as a natural insect repellent. Old bathtubs are utilised to grow aloe vera for the hotel spa. And I am particularly taken by the large bottle of earthworm pee that is harvested from a tank of soil and used as fertiliser in the garden.
The hotel offers many terrific activities. For instance, I am taught by the chef how to make a delicious five-course Thai banquet in a very entertaining cookery class. (I am told my prawn tempura are to die for!) At the end of it, the chef presents me with a certificate for cooking excellence (although I suspect you only have to remain attached to all fingers and thumbs to receive this).
Another very enjoyable activity organised by the hotel is a snorkelling trip from the village of Tong Krut.
You venture out to sea in a traditional Thai dhow – piloted by a captain who steers the engine (apparently cannibalised from a pickup truck) by dancing on the tiller with one foot like a ballerina. We snorkel on a reef populated by fish apparently on loan from Finding Nemo. En route, the boat weaves in between the Five Islands, which thrust in spectacular fashion out of the water.
The islands are home to an endangered breed of swallows. Their nests are highly prized for Chinese cuisine; a 1 kg nest, crafted entirely out of the swallow's saliva, can fetch £100 on the black market. Consequently it is forbidden to land on the islands, and each one is protected by an armed guard living
in a hut perched on the cliffside.
As many as 40 per cent of the guests at the Tongsai Bay are returning visitors – much higher than the 5-10 percent average rate of return at hotels elsewhere. But it's not hard to see why it inspires such high levels of loyalty – and such a lot of smiles.
137 Pillars Suites & Residences in Bangkok, where we stay on our way home, is a much more recent arrival (just six months old) and a highly chic addition to the Thai capital's skyline. As I lounge by the rooftop infinity pool, I can't help but channel my inner Sex and the City persona. Swimming up and down, you feel
like you're flying above the neighbouring skyscrapers.
The hotel is an oasis of calm in a frantic, neon-lit city. The Bangkok traffic is hectic, and locals don't bat an eyelid when they see a man with no helmet riding a moped with an untethered three-piece suite balanced precariously on his sidecar. He is clearly the city's health and safety officer.
Containing two top-class restaurants, a very good spa, an organic herb and vegetable garden on the 29th floor, and two swimming pools at vertiginous heights, this is
the sister hotel to the famous original 137 Pillars House in Chiang Mai. The hotel is so tall, it has red warning lights on its rooftop, alerting aircraft to its presence. Each of its 34 suites has an electric, proactive toilet. It is an irrefutably glamorous hotel.
As I board the plane home, my thoughts drift back to the Tongsai Bay. In Alex Garland's novel The Beach, as soon as tourists start to hear about the magical, secret Thai getaway its spell is broken for ever.
So I'm going to take a risk and let you into a secret: the Tongsai Bay is wonderful. But whatever you do, don't tell anyone else about it!
Prices for a beachfront suite at Tongsai Bay start from £195. Prices at 137 Pillars start from £503 for a suite. Flights from Heathrow to Ko Samui (via Bangkok) on Thai Airways start at £547.
Web tongsaibay.co.th
137pillarsbangkok.com
thaiairways.com | tourismthailand.org
Related
The new capitalism: how wealth is changing the world
Interview: Yanis Varoufakis on the end of Europe — and capitalism
'The sense of injustice is real' — Nigel Lawson on the dark side of globalisation