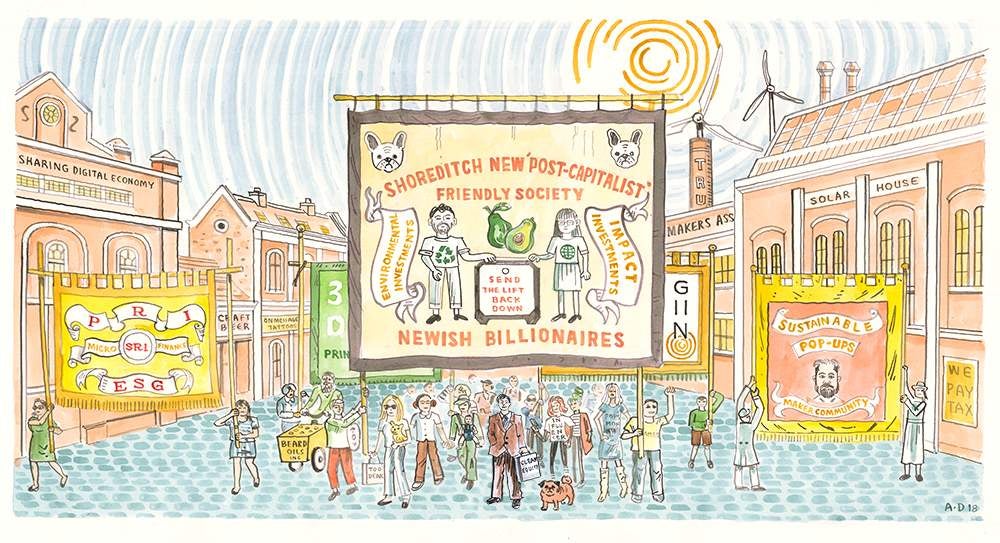 There's far more to investing than mere rates of return these days – sustainability is becoming a major factor, and with this evolution a new era of capitalism is taking shape, writes Emelia Hamilton-Russell
An advert on the London Underground reads: 'Whose life will you change with an investment of £15?' It's the work of microfinance company lendwithcare.org, and its tagline is 'you lend, they grow, they repay, you lend again'. It's impact investing in a nutshell – directing capital towards initiatives that are intended to be actively beneficial to society, with the hope of making a return. While a £15 stake isn't going to change the world, it does make you think: what if all investment worked like this?
Increasingly, much of it does. The amount of money pouring into impact investments has risen by 200 per cent over the past three years, according to the Global Impact Investing Network (GIIN). Its latest survey shows that there's now $228 billion invested in impact funds, up from $77 billion in 2015. And the money is coming from mainstream institutions – pension funds, banks and family offices.
The GIIN's CEO, Amit Bouri, thinks 2018 marks a tipping point. 'We're getting some big names,' he says of the 229 organisations that responded to the survey. 'Credit Suisse and UBS are both members, as well as institutional investors like Prudential and charitable bodies like the Gates Foundation, the Rockefeller Foundation and the Ford Foundation. We're big and getting bigger.'
And impact investing is the tip of the iceberg. The Church of England, rarely acknowledged for being ahead of the curve, has an ethical investment advisory group in place to ensure that all its £8.3 billion in assets is invested sustainably. At the beginning of 2016, assets in funds aligned with ESG – environmental, social and governance – criteria and with sustainability objectives had reached $22.89 trillion worldwide, according to the Global Sustainable Investment Alliance – a rise of 25 per cent since 2014. That's a lot of money that is no longer going into oil, auto or tobacco companies.
Many Spear's readers will already know of M&S's 'Plan A', its strategy to convert the brand into a zero-waste business by 2025. It's not alone: 196 countries have signed up to the UN's Paris Agreement, pledging to reduce carbon emissions by at least 40 per cent below 1990 levels by 2030. When you think that the British and French governments have both banned the sale of fossil-fuel-powered cars from 2040, you can see the world is changing: the tide is turning and the $22.89 trillion invested sustainably is the start.
Yet, with Credit Suisse estimating global household wealth at $280 trillion, suddenly that figure doesn't look like a lot: there's another $257 trillion of capital still not invested sustainably. Speaking at a global ESG investment forum in 2016, Tom Burke, professor of environmental policy at Imperial College and UCL and the founder of E3G, an NGO involved in climate diplomacy, said: 'If you want to change the way the world goes round, first you have to change the way money goes around.' Unsurprisingly, his truism was met with the pressing question: 'But what changes the way money goes around?' 'Conversation,' he replied.
Photo credit: Marco Verch @ Flickr
With this in mind, I head to London's wealth management firms to ask if capitalism and the investment decisions underpinning it are changing. After all, wealth managers are privy to the innermost financial concerns of the ultra-wealthy, and are best placed to take the pulse of the demographic. Coutts, on the Strand, is my first stop. 'Some of our clients are feeling that it's really quite embarrassing to be wealthy,' says Camilla Stowell, the bank's head of private clients. 'In recent years, affluent people have become far more likely to ask existential questions about the purpose of their money. They want to use their funds proactively, and they want to make the world better for future generations.'
It's not just long-established institutions that are seeing demand for new solutions to old problems. At the wealth management firm LGT Vestra, founded in 2008, Bandish Gudka has a high percentage of clients aged 21-35 and is certain that change is afoot. Gudka's clients are more connected to the world beyond their privileged bubble than ever. They've travelled, they're on Twitter, and they're exposed to online and university communities where peers are less well off. 'This next generation is so different,' he says. 'To them, return is not just financial return. They'd rather money be put to work so that it's productive at an environmental and social level, and that's seen as a return on investment.'
At UBS, Tom Hall, the Swiss giant's head of UK philanthropy, raises an important point. 'If you're going to give away 5 per cent, you've got to pay attention to the other 95 per cent of your investments. That capital might be invested in the arms industry, which is entirely counterproductive.'
The signs are, then, that something is happening – money is moving, even if not quite as fast as sustainability campaigners might want. Others, however, such as Paul Mason, former economics editor of the BBC's Newsnight, think capitalism is not so much evolving as unravelling. In his 2015 book PostCapitalism: A Guide to Our Future, he writes that 'by creating millions of networked people, info-capitalism has created a new agent of change in history: the educated and connected human being'. The digital revolution and the sharing economy have changed commodities too. For instance, we can easily share an mp3 music file, or duplicate a design for a 3D print-out and make it freely available on the web.
Then there are the makers' communities – workshops and cooperative spaces – that have been springing up. These are places where people pool resources and knowledge to develop very small-scale projects. One of the largest is Building BloQs, in a warehouse in Enfield; another, Makerversity, is tucked into the basement at Somerset House. They are both fully equipped with laser cutters, 3D printers, wood, textiles and paint. By Mason's logic, the global sharing economy will spread – and is spreading – so that soon certain types of commodity will be produced at virtually no cost. No cost means no buying and selling, and therefore no capitalism.
For Christopher Meyer, co-author of Standing on the Sun, spaces like UCL's Institute of Making represent a wider movement, a 'perfect storm of digital technology, rapid growth, and a young population that all reinforce one another'. However, in his vision of the future, capitalism is morphing and reiterating rather than dying. For him, Capitalism 2.0 involves a blurring of the distinction between non-profit and for-profit enterprises, and companies undertaking more CSR. 'It's not just that they want to be nice,' he writes. 'It's how they'll be able to be successful.'
Photo credit: Wikimedia Commons
One investor keenly aware of the changing tide is Tony Davis, who, after five years at Goldman Sachs, built up an $18 billion hedge fund. His firm, Inherent Group, is focused on impact investing. 'Even three years ago, when I started talking about this, people were giving me a lot of strange looks,' he says over the phone from New York.
Davis, who speaks with a folksy American lilt, is an effective evangelist for impact investing. By publishing Inherent's results, he hopes to prove that responsible investing leads to better risk-adjusted returns, and about two thirds of his personal wealth is invested sustainably. 'I have a goal of having all my investments eventually aligned with my views on impact and sustainability,' he says. 'If you're a large manager of investment assets – if you're Norway and you own 2 per cent of the world's market capitalisation – you need capitalism to work, and carry on working.' In other words, environmental degradation is bad for business.
Similarly, a large dispersion in median income leads to social unrest, and that, too, is bad for business. When I ask Davis if capitalism is changing, there is a three-beat pause. 'Yes,' he says. And it's not just because returns are good: 'As more capital comes into the space, the more we can put pressure on global companies to take care of their sustainability processes. Eventually, all funds will have an impact component, and that would push non-compliant companies out of the market. We are on the cusp of a new capitalism – it could happen within the next ten to 20 years.'
And it's not just the rich and religious who are showing interest. 'Financial management is a really under-utilised way of helping to create the world that we actually want to live in,' says Dame Helena Morrissey, head of personal investing at Legal & General – a firm with £983.3 billion AUM. Morrissey, who was talking on the topic of responsible investing for ordinary savers on the radio this summer, added: 'We can use money, our pension funds, to make sure that companies are held to account by investors on behalf of savers.' When faced with the widespread assumption that more impact might mean less return, she replied: 'It's not an either/or situation. If a car company wasn't looking into renewable energies then it wouldn't have much of a long-term future, and wouldn't be a good investment.'
Critics abound. Among them are those who deny the very existence of man-made climate change. Among mainstream opinion, some think ESG funds are at best a well-intentioned waste of time, and at worst a marketing gimmick. Campaigner Gina Miller (see page 30) is an impact sceptic who views some of the investing fundamentals as flawed – but she still believes 'responsible capitalism' has the answer.
Giles Bristow, an expert in low carbon transition and investment, thinks the only reason capitalism as currently configured looks so efficient is because the hidden costs of producing carbon aren't priced in. 'Negative externalities like environmental pollution and cheap labour aren't paid for by those deriving profit,' he notes. 'Oil companies profit from fossil fuel use, then farmers in rural India and Africa suffer crop losses caused by climate change.' He is hopeful, however: 'We are about to experience the greatest wealth transfer in history. The first-generation family businesses in Asia and Africa are about to pass on their wealth, and heirs are asking serious questions about the sustainability of continuing the family business of logging, palm oil, extractives etc. This is a huge opportunity for sustainability.'
Returning to Coutts for a media lunch marking the bank's mid-year investment outlook, I bump into a stark example of how the zeal for sustainability is shaping global capitalism. Coutts has been investing in Russian equities, and some clients don't like it. 'Russia is quite controversial, especially with some of our millennial clients,' says Alan Higgins, the firm's affable CIO. He takes an unconventional approach: 'What I try to convey is that in areas like that, it's even more important to be a force for good.'
He tells of how the firm managing Coutts found a Russian company with huge growth potential, but it was on a UN blacklist for sustainability. Coutts put it to the firm that if it cleaned up and got off the blacklist, the bank would invest. The Russians weren't interested at first, but they eventually overhauled their processes. 'I'm sure it wasn't just Coutts,' says Higgins, who is modest about the power his firm wields. 'Engagement is the way forward in emerging markets, and you're not going to clean up a horrible polluting plant in Russia by making restrictions. The only way of doing that is to persuade the companies to do it themselves.'
The pressure on non-compliant companies is increasing, and the tacit threat of withdrawing investment, or falling shareholder prices, is a huge motivator. Norway has a $1 trillion sovereign wealth fund, which blacklists companies every year. To borrow Tom Burke's phrase, 'the way money goes around' has already changed.
Investors like Tony Davis agree. 'In today's world, with the transparency that comes with the smartphone and social media, you cannot afford to be a bad actor,' he says. You can't get away with treating people poorly, you can't get away with polluting the local rivers. You're going to be found out, and word spreads in a viral manner. So boards, if they're awake to this, are terrified.' So if only 8 per cent of the world's wealth is currently locked into ethical funds, and it's already changing capitalistic models, perhaps the dawn of a new, sustainable capitalism is closer than we think.
Photo credit: Wikimedia Commons
Emelia Hamilton-Russell is junior staff writer at Spear's
This article first appeared in the September/October edition of Spear's. Buy your copy at your nearest WH Smith travel store or subscribe
Related
Interview: Yanis Varoufakis on the end of Europe — and capitalism
'The sense of injustice is real' — Nigel Lawson on the dark side of globalisation
Ellen MacArthur: why I believe in the 'circular economy'