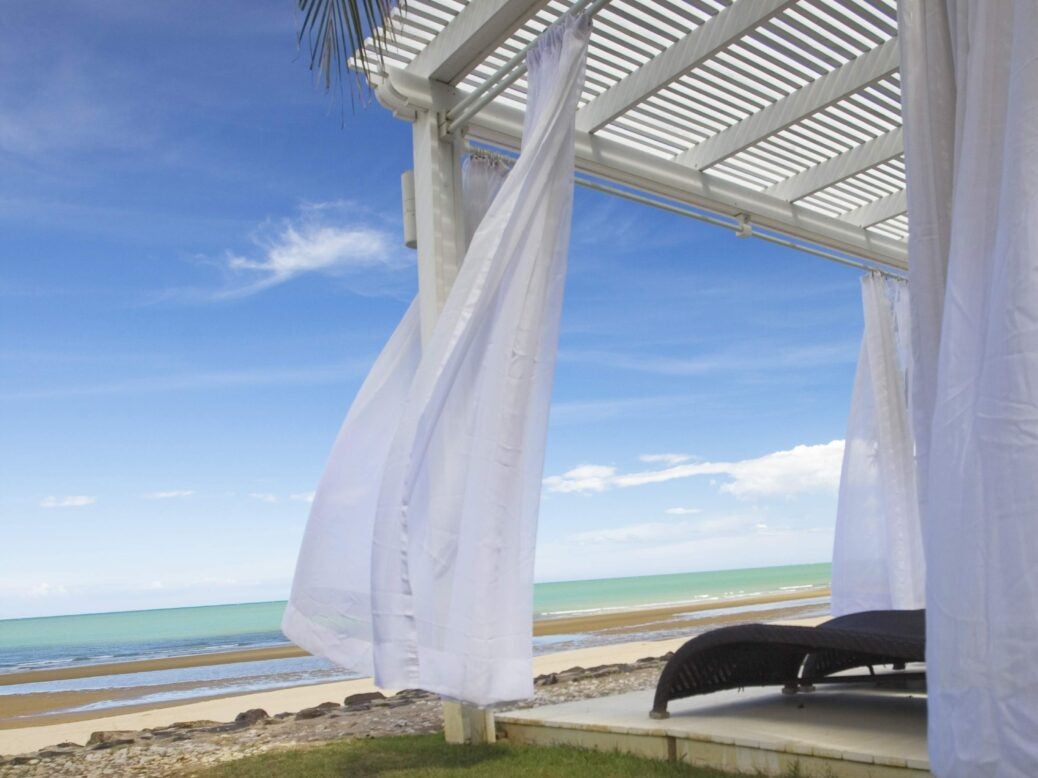 Forget Phuket — Thailand's coastal resorts have enjoyed something of an upgrade in the past decade, with peaceful seclusion and outstanding service the order of the day, writes Clive Saunders
Ah, Thailand! The winter sunshine, the golden sandy beaches, the delicious spicy food, the glorious temples and, of course, the welcoming smiles… It's your honeymoon or anniversary, perhaps, and you want to go somewhere with your partner where there's peace and quiet, far, far from the madding crowd. The tourist hordes tend to migrate to Phuket and jam up the beach resorts, but don't let this put you off. My advice is, when you get to the airport, rent a car or hail a cab and head north.
After about ten minutes, you'll reach Sarasin Bridge. Once crossed, you leave the island of Phuket and enter the mainland and Phang Nga province. Since the tsunami of 2004, the authorities have kept the development of cheap bungalows and budget resorts to a minimum in order to keep the backpackers away. They have colonised enough of the coastal resorts and islands, and the Thais generally despise them for their disrespectful behaviour and lack of spending power. The Phang Nga province authorities have also clamped down hard on any sleaze creeping in. They don't want it turning into the fleshpots of the south, and any girlie bars that do sprout up from time to time are quickly nipped in the bud.
After another ten minutes' driving, you'll reach the small town of Khok Kloi. Turn left at the town centre traffic lights and the road hurtles 
down to Natai beach. There you will find a perfectly feng shui'd beach resort called Aleenta. This is a beautifully designed, sleek, minimalist resort, a boutique with luxury suites and villas, the largest being a five-bedroom beachfront Grand Villa. The spa is a temple of serenity with stone steps over water to rows of tasteful treatment rooms and awaiting masseuses. The beachside restaurant serves a sumptuous breakfast, and 
it's pure heaven just to sit at a table watching the sea roil as you sip its 
fine coffee and nectar-like fruit 
juices. Most of the villas have their own small swimming pools, but 
there is also a communal infinity 
pool and sundeck in rolling distance 
of the sea. Linda Meredith's exquisite products are provided in the rooms and are exclusive to this small 
chain. A row of bicycles is stacked roadside, allowing the restless guest to explore the vicinity. There are sporadic shacks, the odd shrimp farm, a mini-mart and a couple of restaurants along the beach strip, which leads to a run-down pier where fishermen cast their rods hopefully into the water.
Before you get to the pier, you 
arrive at Aleenta's (younger) sister resort, the Akyra Beach Club resort. The Akaryn Hotel Group purchased 
a dilapidated three-star resort a few years ago and revamped it into a brightly coloured affair replete 
with a poolside DJ and a gelato shop. This resort is popular with Chinese families, though the demographic Akaryn was striving for seemed to 
be the young, stylish couples set. 
Past a large, round pool (which has 
a massive rubber duck floating in it) 
is the beachside dining area, which serves the same top-quality fare as 
its bigger sister. A spa is also on site, but was fully booked due to the 
freak, unseasonal heavy rain that lashed the coast that late January afternoon (and for some days before and after).
Another 40 minutes' drive north, via 
a twisting, hairpin-bendy cliffside road, is Khao Lak. At the turn-off 
to White Sand beach, one reaches a boutique resort called The Sarojin. 
The concept here is to provide an experience akin to staying at a friend's private estate. A series of pools — 
one with lily pads by the check-in pagoda; another by the dining 
room, where large iguanas bask; 
and an aquamarine swimming pool — lead down to the sea. Lush foliage of palm trees, banana leaves and other tropical plants surround, shield and envelop one's every step. A feeling of deep tranquillity soon pervades. A 
visit to the Pathways spa will usher 
one straight to nirvana. The rooms 
are spacious, dark wooden and plush in an understated way, with a sturdy overhead fan, if one is averse to air conditioning, and a large balcony where you can sit in the hot tub 
and watch the sun dissolve into 
the ocean. This place is perfect 
for honeymooning or anniversary celebrations or even for a small group of friends and family.
The staff are amazing. This is service taken to its zenith. With an average 
of four staff members to one guest 
the effect is supremely uplifting. 
Many of The Sarojin's workers have been there for ten years or more and 
it's all made to feel effortless. The 
guest is in safe hands (approximately eight of them). Excursions to go snorkelling around the Similan Islands leave from a jetty on the resort's 
private beach from its own luxury speedboat, Lady Sarojin. A delicious seafood lunch awaits after one 
emerges from exploring the coral. 
Chef Gogh creates minor miracles 
at both the main restaurant and 
the beachside Thai eatery. I sampled his 'Mediterranean to Michelin' dinner and still crave his black tagliatelle 
with seafood, chilli, garlic and basil. I opted for the locally grown red, which was light and fruity (a heritage Syrah from the GranMonte Asoke Valley) and perfectly matched to the meal. The dessert of mango with sticky 
rice, his take on the street-food staple, was simply sensational. Bicycles are provided free of charge and a motorbike can be rented for a few quid, allowing the local terrain to 
be explored. At the end of the Khuk Khak beach road is a cluster of 
bamboo shack restaurants and the traditional Thai food available is 
both delicious and extremely reasonably priced. The one I always head for is called Jum Pa Jan, run 
by the lovely Woon and her family. 
Her barbecued snapper is infamous.
If one finds oneself on the other 
side of the country and craves a secluded beachside getaway that is once again sans tourist hordes, the Akaryn group has another resort. 
This one is located on a sparsely inhabited golden-sanded beach 
about 20 miles south of Hua Hin. 
A three-and-a-half-hour drive from Bangkok, but worth it if one wants virtual solitude. The resort is yet another sister of Aleenta, Phuket, 
and is also called Aleenta. It's a collection of luxury beachside bungalows and seaview rooms with 
yet another sister lurking about a ten-minute stroll up the beach, where 
a decent-sized freshwater infinity 
pool awaits. It's well worth it as the 
sea is chock-full of jellyfish. There 
is more to do on this resort at night 
if one wishes to stroll or cycle. A 
very good little restaurant called 
The Venezia provides delicious Italian fare: and a Moroccan-styled hotel called, unsurprisingly, Villa Maroc, which seems like a film set from 
the golden days of Hollywood, is a fun place to grab a cocktail or two. If one is prepared to veer off the beaten track, these boutique resorts provide a delightful way to vacation in a manner that is reminiscent of what Thailand was like before the days of mass tourism. Tranquillity beckons.
This article was first published in the Spear's Travel Guide 2018, our guide to the world's best luxury hotels, resorts and HNW travel services. Visit www.spearswms.com/travel for more
Related
'Fit for a king': Exploring luxury sanctuaries in Oman