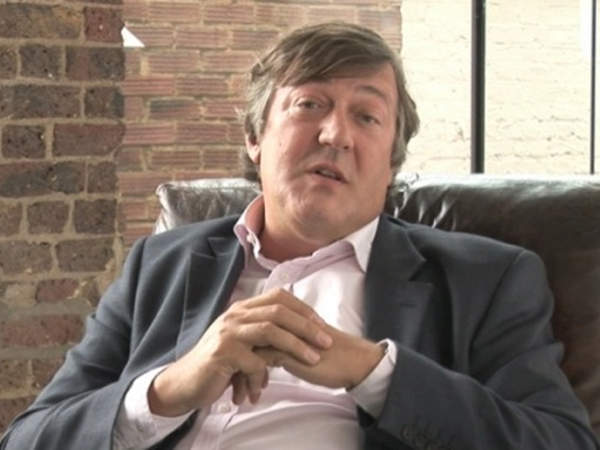 A multi-faceted actor, television presenter and writer, national treasure Stephen Fry, has an estimated net worth of £20 million.
Like many celebrities, Fry too had a troubled past. Born in 1957 to an English physicist father and mother of Hungarian descent, Fry was regarded as a 'near-asthmatic genius' by his teachers. He was, however, expelled from Uppingham School in Rutland when he was 15 years old over his arrogant behavior and, later on, was also removed from Norfolk's Paston School.
When he was 17 years old, he absconded with a credit card belonging to a relative and ended up behind the bars.
With a criminal record, how did Fry use his intelligence to become a millionaire?

After spending nearly three months in prison, Fry joined Cambridge University from which he graduated with honours in English literature. It was there that he met long-time collaborator Hugh Laurie, with whom he went on to star in the BBC sketch show 'A Bit of Fry & Laurie' for six years from 1989 and in ITV's Jeeves and Wooster.
Fry has earned his impressive net worth mainly through his television shows, books and his stints as a comedy actor in Hollywood movies.
His entry into the media industry came in 1982 when he, along with fellow Cambridge students Laurie and Emma Thompson, appeared in The Cellar Tapes revue, which was later broadcast on national television.
It was this revue that caught the attention of Granada Television, who hired the three budding performers to star in the 1982 television series There's Nothing to Worry About!
After a couple of years in the television industry, Fry got an opportunity to appear in movies. His debut movie, The Good Father, was released in 1985. He also made a brief appearance in 1988's A Fish Called Wanda.
In his next movie, Peter's Friends (1992), Fry appeared in a leading role for the first time. Next, in 1994, Fry portrayed James Moreland (a character with comedic elements) in I.Q.
Although Peter's Friends and I.Q. established Fry as an able actor and a comedian, he looked forward to a role that he felt 'born to play'.
His dreams came to reality with the release of the 1997 critically acclaimed movie Wilde, based on the life of writer Oscar Wilde. For his outstanding performance in the lead role, Fry was nominated for a Golden Globe Award, keeping him firmly in the limelight.
Fry is also well-known as the long-running host of the BBC's highly successful comedy panel quiz show QI, which has run from 2003 to the present day.
He has also appeared in and lent his voice to advertisements for big name brands including Virgin Media, Marks and Spencer, Honda, Kenco, Trebor, Orange Mobile, Direct Line and even Panama cigars.
Fry has also written several movie scripts, reads the British versions of the Harry Potter audiobooks and lent his voice to play the Cheshire Cat in Tim Burton's 2010 version of Alice in Wonderland. He last appeared on the silver screen in The Hobbit: The Desolation of Smaug (2013).