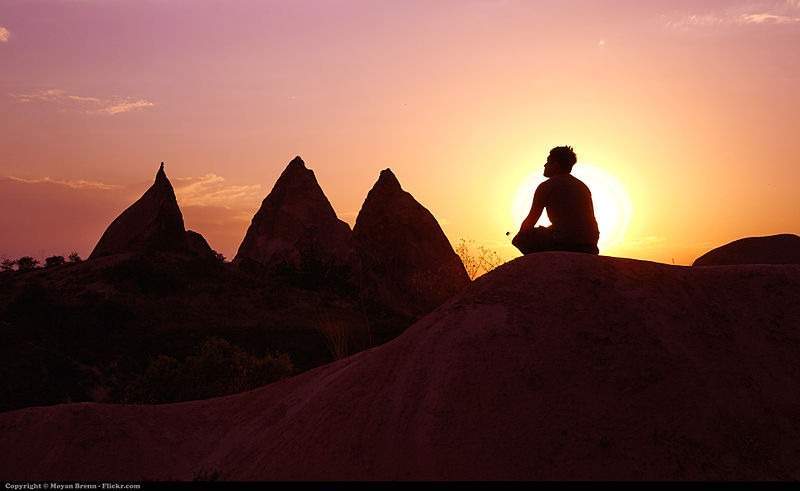 The world's rich are seeking something spiritual from their free time – something that material wealth can't bring them, writes Lucia van der Post
It may seem most improbable that those whose idea of a five-star holiday once revolved round infinity pools, fancy nosh, villas larger than most of our houses and turbo-charged service are today, in surprisingly large numbers, on quite a different quest.
Many of the world's most privileged beings are searching for meaning, for spiritual transformation, for a connection with something beyond the mundane and the material. One needs only to look at the blandishments emanating from some of the fanciest of establishments to see the phenomenon at work.
Take, for instance, Taj Hotels, as grand a hotel group as any. Its latest offering, due to be fully open in November, is based at Rishikesh on the banks of the 'sacred river Ganges'. Rishikesh became famous in the Sixties when the Beatles found themselves 'spiritually exhausted' and went to stay with the Maharishi Mahesh Yogi to try to deal with their existentialist angst.
According to Prabhat Verma, executive vice-president of Taj Hotels, the new resort is in direct response to the fact that many Westerners come to India looking for 'more than just a treatment or a hotel stay, but an extensive insight into the Indian subcontinent's deep core of spirituality'.
At the Jiva spa in the Taj resort in Kovalam down south in Kerala, one of the most sought-after therapies is Alepa, 'a process which allows for rediscovery of self with heightened internal awareness'. At Ampersand Travel, a boutique travel agency specialising in tailormade trips, founder James Jayasundera says he has noticed 'a jump in enquiries from those interested in exploring the spiritual wisdom of the Indian Subcontinent'.
Ampersand often creates bespoke experiences to deal with specific needs. For one client who was afraid of dying, 'we arranged for him to meet with a sadhu as well as priests, philosophers and healers, to process this fear and gain some inner peace and understanding'.
Vana, near Rishikesh, north-east of Delhi, and one of the newer centres for those seeking a greater sense of well-being and wholeness, has garnered a huge fan base of those who return not just for the therapies, excellent though they are, but also for what Jayasundera calls 'spiritual healing and wellbeing'.
This year Ampersand had more enquiries than ever before from those wanting to take part in one of the great Hindu pilgrimages, the Ardh Kumbh Mela (this year held at Allahabad), so the firm created special itineraries that included one-to-one meetings with sadhus and seers.
At Six Senses Spas, Anna Bjurstam, vice-president of spas and wellness, finds that 'interest in spirituality, energy medicine and mindfulness practices is sky-rocketing'. She thinks it's largely because 'we are living in this material world, where things are tangible and linear, and we feel that there is something missing. People want to fill that void'.
At Scott Dunn, they find much the same thing. According to Charlotte Dent, product development manager, clients want alternative wellness and spiritual experiences while they travel – apart from anything else it gives them a deeper understanding of the places they are visiting.
One family on a trip to Peru asked Scott Dunn to arrange for them to take part in an ancient ritual – an offering to Pachamama. Guardian Angel provides a 'Mental Perception Alter Method', dubbed by clients as physical shape-shifting. A psychological and spiritual exorcism for the removal of negative thoughts, habits and energies is what follows. Closer to home is Guardian Angel Care.
Touted as 'Mayfair's Multi-Form Physical Shape-Shifter', it uses a 'combination of psychology, showmanship and shamanism' to transform lives. Troubled souls can have 'a complete mental and spiritual cleansing in a weekend'. Once it was mostly hippies and those on the margins of society who went in search of spiritual enlightenment. Today it's what many of the ultra-wealthy are seeking.
Managers of many of these retreats tell me clients often arrive frantic with despair at the strangeness of their lives – they have everything in the world they need materially and yet something's missing.
That's where these providers of healing therapies and spiritual enlightenment come in. Some undoubtedly are deeply serious and provide a much-needed refuge for some of the world's most privileged people.
Others, it has to be said, seem to go in for what we have come to call new-age psycho-babble. But choose carefully and it could just transform your life.
Lucia van der Post is a Spear's columnist and founding editor of How to Spend it
This first appeared in issue 68 of Spear's magazine, available on newsstands now. Click here to buy and subscribe.