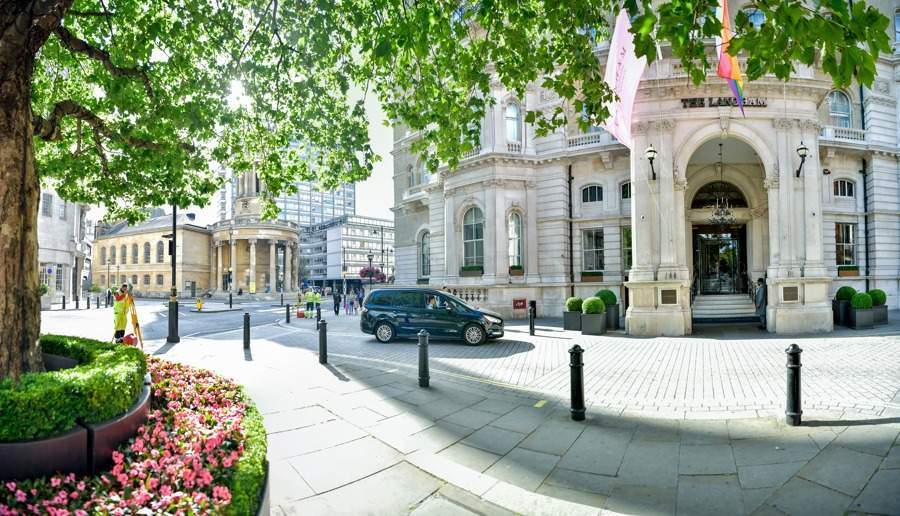 Travelex founder Sir Lloyd Dorfman, anti-Brexit campaigner Gina Miller and Spear's contributor Robert Amsterdam were among the high-profile speakers at the 2019 Spear's Wealth Insight Forum, hosted at the Langham hotel in central London. Emelia Hamilton-Russell and Arun Kakar report
Some 400 Guests at the 2019 Spear's Wealth Insight Forum heard how a chance Friday afternoon phone call between Sir Lloyd Dorfman and Sir Nicholas Hytner gave rise to a historic sponsorship deal with the National Theatre; why unexplained wealth orders are a draconian measure; that there is a one-in-three chance that the US will enter a recession in 2020 – and much else besides.
More than 25 speakers provided expert insight on issues ranging from geopolitics to global mobility, succession planning, London property, tax, trusts and residency trends, as well as the state of modern luxury. The last of the day's panel discussions saw economist and chair of the Royal Commonwealth Society Dr Linda Yueh join wealth manager, lawyer and anti-Brexit campaigner Gina Miller in a lively debate on the future of wealth after Brexit. Their verdict: there's nothing so certain as uncertainty – still.
End of the line?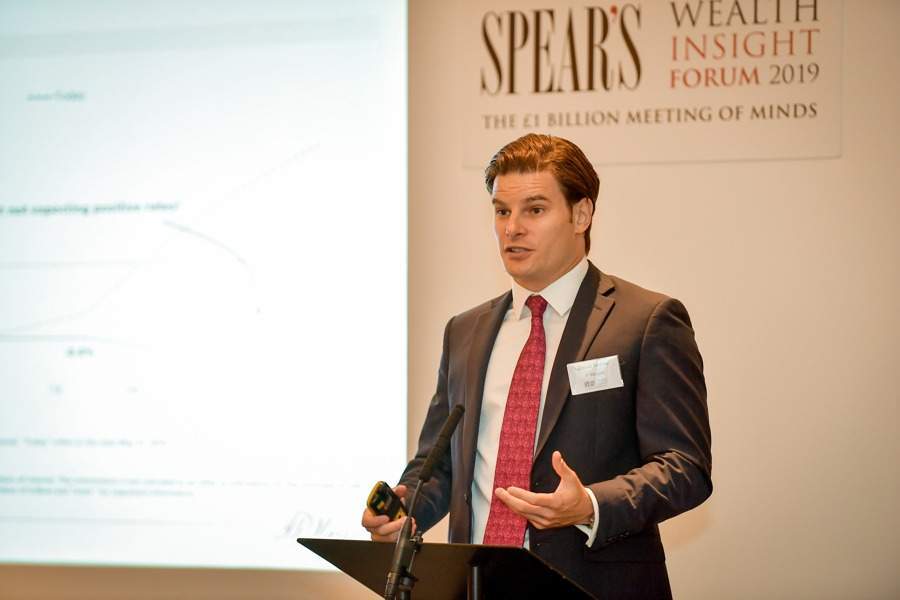 The forum began with Dr David Stubbs, of JP Morgan Private Bank, and his incisive analysis of the longest growth cycle in modern economic history. The good news? It's not over yet. The bad? It soon might be. He put the chances of a US recession during 2020 at around 33 percent. Governments and central banks around the world, though, are doing what they can. Dr Stubbs noted the likelihood of rate cuts by the Federal Reserve and, in China, a raft of as many as 80 stimulus measures in the last 14 months, as the two largest economies in the world try to steady their respective ships.
Next, Payne Hicks Beach tax and trusts lawyer Robert Broderick kicked off the first panel of the day – on offshore tax planning, sponsored by Frank Hirth – by describing the 'geopolitical merry-go-round' driving HNW migration. He was joined by Frank Hirth's Ian Younger, Xavier Isaac from Accuro and Lucia Perchard from Highvern. The conversation turned to the ever-increasing requirements for transparency, which can pose reputational and security risks. 'In this climate, either you play by the rules or you change the rules, and by change the rules we mean change country,' Isaac observed. Perchard concurred, adding that, 'Most clients are looking for something incredibly flexible.'
A global perspective
For our second panel – sponsored by Henley and Partners and FinanceMalta – we asked, 'What are the trends in global migration?' Panellists included Chris Casapinta of Alter Domus, Irina Curbelo of Henley and Partners, Withers' Sophie Dworetzsky and Ceris Gardner from Maurice Turnor Gardner. All agreed that the attractiveness of the UK as a destination for HNWs rests largely on where the individual is from. After all, political instability in Middle Eastern countries makes the prospect of Brexit or the possibility of a Corbyn-led government seem like a minor inconvenience by comparison. 'People are just so happy to have made it to the UK,' said Curbelo. 'And in my personal opinion the world will have to turn upside down before the British national does not have access to the EU.'
International lawyer and Spear's columnist Robert Amsterdam returned to the Wealth Insight Forum once more to offer his much-anticipated take on geopolitics. Amsterdam set a serious tone as he talked about how unexplained wealth orders risk eroding the presumption of innocence and creating a 'culture of suspicion'.
'Institutions today cannot process our politics,' he declared, and added that Trump's America is displaying, 'the most consistent lack of a foreign policy the world has ever seen.' Of Trump, he said: 'the man is all tactics and no strategy.'
A 'Minsky moment'
The topic of 'Wealth in the age of Brexit: what to do in 2019 to ensure your money survives', brought together Smith and Williamson's Rupert Phelps, Mark Campanale of the Carbon Tracker Initiative and Grant Wilson, chief investment officer of Asset Risk Consultants. Campanale heralded the changing relationship between sustainability and wealth management and said that shares in carbon-emitting companies could soon see a, 'Minsky moment' – a sudden drop in prices. Soon, he said, we will all be investing sustainably as a matter of course.
Next on the agenda was the property panel – sponsored by Butterfield Mortgages – when Alpa Bhakta of Butterfield Mortgages, Camilla Dell of Black Brick, Naomi Heaton of London Central Portfolio and Richard Rogerson of RFR, offered their bulletin from the market. 'Our HNW clients are becoming a lot younger,' Dell said of London's new creative, entrepreneurial HNWs. 'Ten years ago our clients were investment bankers who typically wanted trophy properties in Knightsbridge and Belgravia. Recently, we've been seeing HNWs spending millions on warehouse conversions in Shoreditch and Hackney.' They all agreed that we were, 'trundling along at the bottom of the market,' and – barring the possibility of a Labour government – were relatively optimistic for the next year or so.
A marriage and convenience
James Stewart of Penningtons Manches warned HNWs that prenuptial agreements should be sought as a matter of course and written into family constitutions, rather than being left up to individual couples. 'It's usually last on the agenda,' he said of pre-nups. 'But it's so much easier and cheaper to make sure everything is squared away before the marriage. […] A marital agreement properly executed is a worthwhile investment.'
The changing tax landscape for HNWs is increasingly throwing lawyers and advisers into new territory. So said Ogier's Marcus Leese, during the tax and trust panel sponsored by BVI Finance. As UHNW families become more international, offshore locations – and the advisors that understand the intricacies of various jurisdictions – are more competitive than ever. Leese was joined by Rupert Phelps of Smith and Williamson, Simon Vivian of Hatstone, and Simon Gray of BVI Finance.
Living well – and long
Luxury business was next on the agenda, with a panel chaired by Spear's deputy editor Edwin Smith. 'Luxury, to me, is time,' said Tatiana Fokina, CEO of Hedonism Wines. 'A company that cares about my time and about my values is a luxury company.' The other panellists (Spear's contributor John Arlidge; founder of Spencer Hart, Nick Hart; and managing director of the private jet platform Victor, Toby Edwards) pondered how millennials, with their frenetic, self-reflexive, digital modes of communication have caused a seismic shift in how luxury brands position themselves in the market. As Victor's Toby Edwards said, 'a big part of luxury today is to be able to have a clean conscience.'
In an address on 'personalised healthcare' Dr Paul Ettlinger of the London General Practice described how a new era of technological innovation is changing medicine. Techniques such as genetic profiling and stem cell regeneration could be game-changing. However, he warned, the precision offered by new technology is 'only as good as the person reading it.'
Good call
Anti-brexit campaigner, wealth manager and lawyer Gina Miller took to the stage alongside Dr Linda Yueh, economist and chair of the Royal Commonwealth Society, the historian David Edgerton and Spear's founder William Cash to discuss 'the state of the Brexit nation'. As the panellists, marshalled by Spear's editor Alec Marsh, got stuck into the intricacies surrounding a possible withdrawal deal, Edgerton took the long view: 'We've gone from a position of ludicrous declinism into ludicrous revivalism. Theresa May's talk of leading the fourth industrial revolution […] it's nonsense on stilts, just pure hubris.'
The forum culminated with an interview with Sir Lloyd Dorman, the founder of Travelex. Sir Lloyd was quizzed on his entrepreneurial and philanthropic career by Spear's founder William Cash and explained how his landmark sponsorship of the National Theatre hinged on a last-ditch phone call with Sir Nicholas Hytner. 'It just goes to show how those last-minute calls on a Friday afternoon can be worthwhile,' said Sir Lloyd of a deal that was resurrected at the eleventh hour.
He also explained that he didn't see philanthropy as 'an investment,' adding: 'by definition that would require a financial return – but I do see it as a legacy.'
To conclude the 2019 Spear's Wealth Insight Forum, editor Alec Marsh thanked the sponsors – Henley and Partners, FinanceMalta, The London General Practice, BVI Finance, Butterfield Mortgages, Frank Hirth – the attendees and the Langham hotel. 'There's been dizzying amount of insight shared today, I think we all deserve some champagne.'
The 2019 Spear's Wealth Insight Forum took place at the Langham hotel on 1 July 2019.