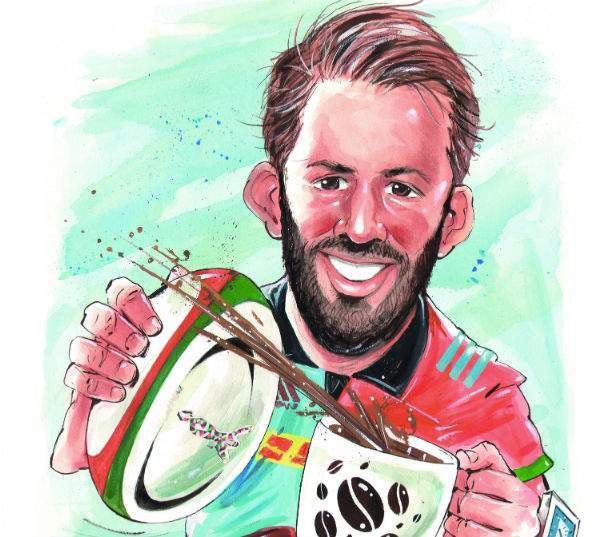 The Harlequins and England rugby star talks wine gums and bouncy castles with Emelia Hamilton-Russell, as well as an unlikely second career…
How much is an ounce of gold?
I have absolutely no idea. Do you know?
What does wealth mean to you?
For me it's about growth. Wealth is the proof that I'm growing as a player and as a person.
What would your other career be?
I actually own two coffee shops – but I'd like to perfect my barista skills.
What motivates you?
Sean Fitzpatrick [the former New Zealand captain] spoke to me as a youngster and said: 'Always train as if you're number two trying to become number one.' That's something I hold on to.
Who is your greatest hero?
My mum. She works in a nursing home and she's always the one they count on to get in on a snow-day or take an extra night shift. I try to emulate her work ethic.
Is rugby just a game?
It can be more than a game – rugby teaches discipline and teamwork.
I was a difficult child, and rugby
was an outlet for my aggression and taught me control my reactions.
What is your biggest fear?
Injury.
What does success mean to you?
They say insanity is doing the same thing over and over again and expecting different results. To be successful you have to keep evolving.
What is your most treasured possession?
My dog, Rico.
What was the best day of your life?
Winning the Premiership with Harlequins. I was captain at the time, and we walked a quarter of a mile through a tunnel of singing, cheering fans.
What makes a great leader?
You have to do the everyday stuff – you know, muck in – as well as make those tough calls.
Who makes your shirts?
Dress2Kill – I'm a big kid, so I need everything made to measure.
What luxury can't you do without?
My Sky box.
Which watch do you wear?
TAG Heuer, Steve McQueen Monaco edition.
What's the most important item in your wardrobe?
My rugby kit – but I always think a sharp blue suit goes a long way and can be used at most things.
What's your favourite hotel suite?
The Four Seasons at Ten Trinity Square – we stayed there after our anniversary party.
Which restaurant is indispensable?
Le Gavroche.
Where do you go on holiday?
I try to travel to new places as much as possible. We drove Route 1 in California two years ago, which was pretty special.
Do you have a favourite opera?
Yes, Life from Light by Toni Castells, as Camilla [Kerslake], my fiancée, starred in it.
What cars do you like?
The best car I have owned is a BMW i8.
What's your guilty pleasure?
Wine gums. We're not actually allowed sweets.
What was your first job?
Setting up bouncy castles.
How would you like to be remembered?
Someone who gave his all.
Emelia Hamilton-Russell is a writer at Spear's
Illustration by Russ Tudor
Related
Spear's Midas interview: Sir Jackie Stewart
Spear's Midas interview: Ian Rankin
Spear's Midas interview: Michelle Mone