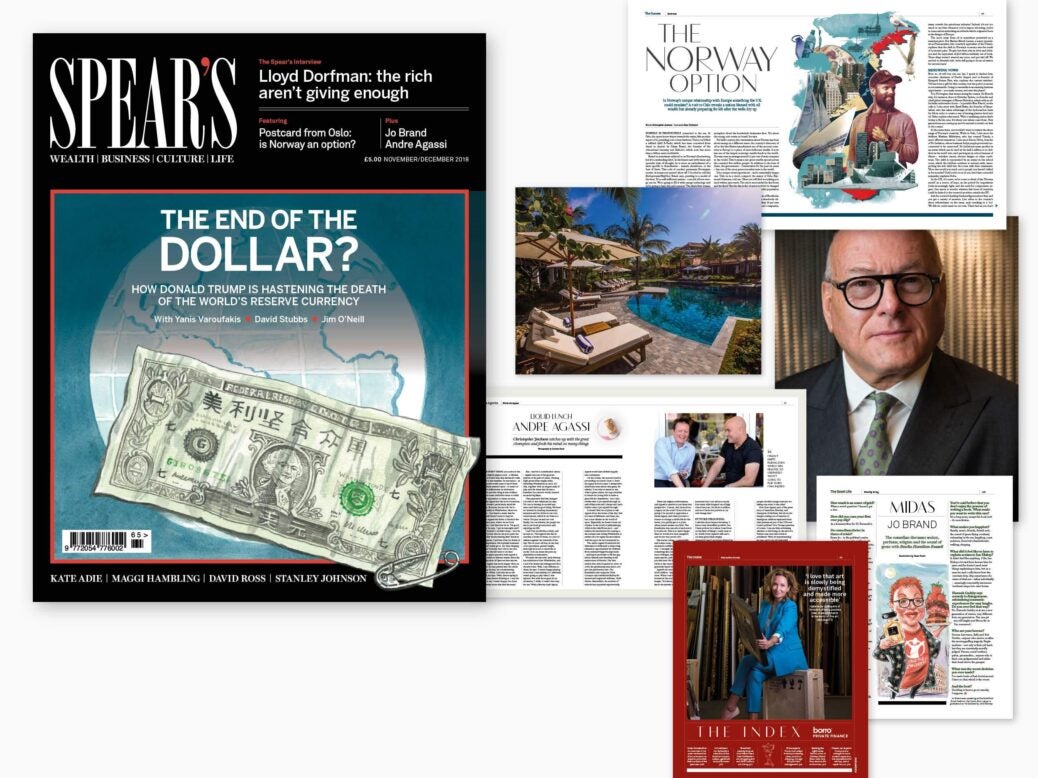 From Andre Agassi to Jo Brand by way of Lloyd Doorman, David Ross, Kate Adie and the artist Maggi Hamblin, the November/December edition is vintage Spear's – get your copy now, writes Alec Marsh
The November/December issue of Spear's is overflowing with editorial goodies – from our cover story on the future of the dollar – featuring exclusive contributions from Yanis Varoufakis, David Stubbs and Jim O'Neil – to our exclusive interviews with one living tennis legend and two of Britain's leading UNHW philanthropists, this is another Château d'Yquem edition.
Chief among the highlights are is our meeting with the entrepreneur and philanthropist Sir Lloyd Dorfman; his comments on the lack of giving by Britain's UHNWs will raise eyebrows but are required reading. We also meet the tennis great Andre Agassi in this edition, to hear about his life after the game and commitment to philanthropy.
Image Credit Adam Dant
On the theme we also have David Ross, the co-founder of Carphone Warehouse and another wealthy figure seeking to make a meaningful difference to society through giving. William Cash, our founder and editor-at-large meets him in this edition.
Issue 65 also has a brace of princes– Crown Prince Nicholas II of Montenegro, and Prince William Lobkowicz, whom Spear's met at his palace in Prague. I met Prince Nicholas in Paris for our feature on Montenegro, which looks at how the luxury market is helping this small Balkan state's pivot westwards.
Then, with Brexit everywhere, we have an important postcard from Oslo, where Christopher Jackson gets a taste of life as an EU-rule-taker. Just how bad is the Norway option? Turn to Spear's to find out.
Image Credit David Harrison
In this edition we also hear from the comedian Jo Brand, who is the Midas interviewee, and the veteran broadcaster Kate Adie steps into the breach to offer us her diary.
We also have our 2018 Spear's Alternative Asset Index in association with Borro Private Finance, bringing you our definitive annual listing of the best HNW advisers in wine, art and cars. Arun Kakar offers an update on the art market.
In addition we have our regular columnists and contributors including Jason Cowley, Robert Amsterdam, Sam Leith, Lucia van der Post, Tanya Gold, Ross Clark, Nick Foulkes and John Arlidge. It is, in short, a deluge, and once you've feasted on the above, I urge you to read Stanley Johnson's report from remote Lord Howe Island in the South Pacific: a wonderful sanctuary for wildlife and birds that's one for the bucket list. All of this, and a review of the new 189mph Lamborghini Urus and much, much more. Issue 65 of Spear's is on select newsstands now.
To buy the latest edition of Spear's visit a WH Smith travel store or buy it online or subscribe…
Image Credit Russ Tudor