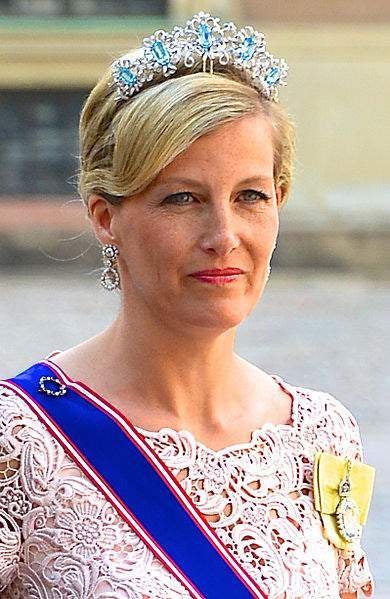 Sophie, Countess of Wessex, also known as Sophie Helen Rhys-Jones, has an estimated net worth of £35 million.
Born on January 20, 1965 Sophie, Countess of Wessex, is the wife of Prince Edward, Earl of Wessex, the youngest son of Queen Elizabeth II and Prince Philip, Duke of Edinburgh. The pair got married in 1999 and she worked in public relations until 2002 and now assists her husband in his various activities.
How is the Countess of Wessex worth millions?

The Countess attended Kent College, Pembury and later trained as a secretary at West Kent College, Tonbridge. She began a career in public relations, working for a variety of firms, including four years at Capital Radio, as well as public relations companies The Quentin Bell Organisation and MacLaurin Communications & Media. She also worked as a ski representative in Switzerland.
In 1996, Rhys-Jones launched her public relations agency, RJH Public Relations, which she ran with her business partner, Murray Harkin.
In 2002, both the Earl and Countess announced that they would quit their business interests in order to focus on various activities and official engagements on behalf of the royal family and aid the Queen in her Golden Jubilee year. This was due to a scandal in 2001 when News of the World undercover reporter, Mazher Mahmood, recorded the Countess making disparaging comments about certain members of the British Government and appearing to use her royal status in order to gain clientele.
The Countess of Wessex began to take on various activities and official engagements after her wedding. She also became patron of a number of organisations, including the SAFC Foundation (the charitable arm of Sunderland A.F.C.) and Girlguiding UK. In 2003, she became Patron of Tomorrow's People Trust.
The Earl and Countess of Wessex are senior representatives of The Queen at foreign royal events, especially marriages of heirs apparent.