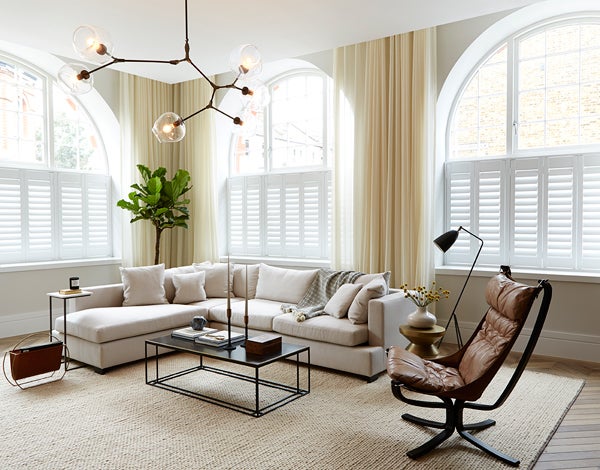 London's dynamic seems to flow in only one direction: up. Everything needs to be bigger, brighter, better, more beautiful or simply more than its predecessors. We would not, of course, advocate that things get worse, but it is heartening to hear some people are looking across — or even down.
Some people, in fact, are looking across as they downsize, trading in their precipitous, pricey Mayfair and Belgravia townhouses for lateral living in Marylebone and Battersea. Three trends are colliding here, says Edo Mapelli Mozzi, CEO of Banda Property: selling up for simpler living, the death of the staircase and 'the breaking down of the postcode game'.
Banda's latest apartment in its Battersea conversion, launching mid-September, demonstrates all three. Parkgate House was a Victorian bakery and more recently a derelict nursery and dreary offices. Now its front, with broad windows in attractive red-brick arches on the ground floor, gleams again, visible since obstructive over-mature trees were removed.
Inside, the building's heritage has been combined with Banda's stripped-back appeal. Peeling back the layers, they discovered the original chevron parquet, which has been evoked in the new floor, only in a cooler modern shade. These 2,056sq ft apartments juxtapose swirling grey marble with polished plaster in the master bathroom.
Mapelli Mozzi says the owner-occupiers to whom he has sold the other flats in the building were leaving their burdensome townhouses, which required expensive maintenance, weren't portered and had capricious rules on minutiae like parking, for conversions which offered all the pleasure and none of the hassle. Family is a factor, too ('Their kids have all grown up and they want to live like a couple, with a spare bedroom for a visitor'), as is an element, of course, of reaping the capital benefit of a booming prime property market.
Lateral spaces have two principal benefits, even for those who can still spring up stairs. First, stairs take up a tremendous amount of room, so your 4,000sq ft house might in fact be only 3,000; second, it's much easier to entertain and socialise when your guests are on the same floor as you.
This apartment as part of the Heritage Collection in Parkgate House has a large living room and kitchen (whose table can take fourteen) separated only by a clear glass fireplace, meaning you don't need to frazzle yourself trying to cook and serve while you host.
The final appealing factor is that your money goes much further outside W1 and SW3, even when 'outside' is merely across the bridge. Kensington and Belgravia are becoming 'quieter', says Mapelli Mozzi, attracting residents of a transient nature, rather than those who enjoy a lively and busy lifestyle, who are moving to Bermondsey (SE1) or Shoreditch (E1) or even Battersea (SW11). Across might be the new up.