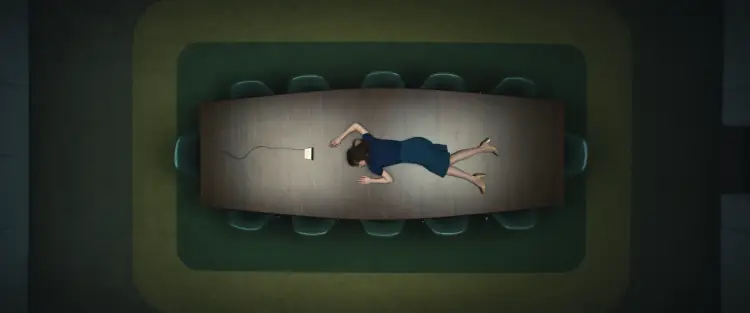 Does sci-fi thriller Severance depict a corporate dystopia? It's a matter of perspective, says Sam Leith
'Why should I let the toad work/Squat on my life?' asked Philip Larkin. 'Why can't I use my wit as a pitchfork/And drive the brute off.' Such, ever since as a species we exchanged an idyllic life of hunter-gathering and hey nonny-no for one of stationery cupboards, Pret sandwiches and team-building exercises, has been the human complaint.
Most workers don't like work – it squats on their life like a toad. This is also a problem for their overlords in the C-suite – a class, I suspect, more widely represented among readers of this magazine.
The Apple TV series Severance, whose first season, brilliantly directed by Ben Stiller, has gone out with relatively little public notice, proposes a solution.
What if you didn't have to use your wit as a pitchfork to drive work off – because your employer's neuroscientists would use their wit instead? And what if driving work off didn't mean not having to do it – but having someone else do it for you instead?
Severance opens with a young woman, neatly dressed in blouse and skirt, waking up on the table in a generic-looking conference room (see picture above). She's confused. She doesn't know where she is – or, as she comes to realise, who she is.
A speaker on the table runs her through a disconcerting questionnaire, before she's allowed out of the room to join… her colleagues. She's the latest recruit to a company called Lumon. She learns about it by watching a video of… herself, explaining that she's about to undergo, quite voluntarily, a procedure called severance.
Severance divides your memories and therefore divides your self. At work, you will only form memories of your life in the office, and will know nothing of your life outside; in your personal life, vice versa.
So from the point of view of your office self (your 'innie'), when you clock off each day at five and step into the lift… you will at once find yourself, differently dressed and hopefully well rested, arriving at the beginning of the working day.
For the 'outie', no more daydreaming through meetings waiting for the first beer of the evening. You just live your life, and when you arrive at work in the morning and step into the lift… boom, it's suddenly home time.
The toad is squatting on someone else's life – and the someone else is another version of you. The excellence of Severance, which plays out as a surreal science-fictional thriller, is how thoroughly it works through its premise.
The burden of the show's sympathies are with the 'innies' – who are presented as living a nightmarish existence in some sort of soft-totalitarian Kafka trap; enslaved, effectively, by their 'outie' selves.
And, I suppose, predictably, the message is rather anti-corporate: Lumon is a sinister and cultish organisation which, it's implied, has dark secrets.
But – and I'm sure I'm not the only viewer who will have had this thought – does it have to be that way? I was rather sympathetic to the outie position.
Providing one's innie was well treated (obviously, corporate life being a mnemonic black hole, you're going to have to take the company's word for it), what's not to like? You're relieved of hours of drudgery each day, and your innie won't know a different life so need not envy it.
They will never be tormented by financial anxieties, marital difficulties, bereavement, worries about their children, tedious domestic chores. They will – in the sense imagined by the philosophers – be living in the moment.
Work will not be instrumental for them: it will be the constant and meaningful basis of their existence. Their colleagues – living out the pious formulations of the corporate PR department – really will be a family.
Look down from the executive floor. Don't you wish your workforce really did live the job? That while they were at their desks, weren't worrying about getting away in time for the school run, texting their girlfriends on their phones, adjusting their Ocado orders and so forth?
Not that they work unceasingly – not that you're a monster who sees no virtue in the coffee break or even (as in the series) a 'waffle party' as a reward for high performance – but that their heads are thoroughly in the game while they are at work?
That is the world of Severance – not, as Stiller would seem to have it, a nightmare, but a utopian fantasy. Here it touches on the philosopher Chuang Tzu's famous butterfly dream. When I wake up having dreamt I am a butterfly, how do I know that I am not now a butterfly dreaming of being a middle manager.
Image: Apple TV
[Next: How HNWs and CEOs fell for spirituality]