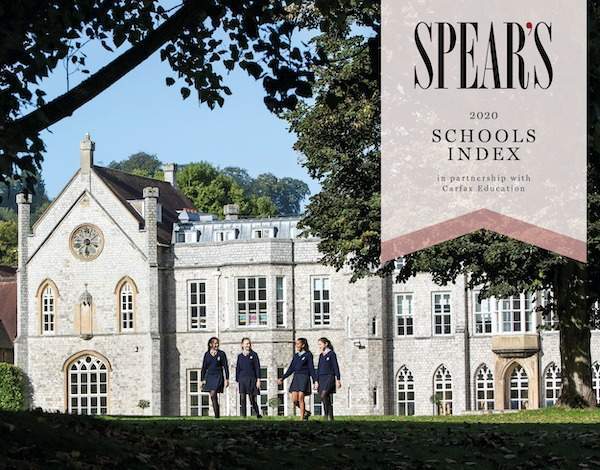 The top schools in the rest of the world, compiled by Spear's magazine in association with Carfax Education 
Aitchison College (Pakistan)
Boys/Board & day $4,700/2,800 pupils/5-18
Focus: Helping boys become leaders
Curriculums: IGCE, A-level, Aga Khan FSc
Accessibility: Allama Iqbal International; 30 mins
This college considers itself a beacon of education in Pakistan, with an illustrious list of alumni, including Imran Khan, who will have enjoyed the splendid sports fields. Established on a traditional British boarding school model in 1868, it is located on a 200-acre campus in the centre of Lahore. SAT and ACT prep ensures pupils are prepared for a wide range of top international universities.
Bishops Diocesan College (S Africa)
Boys/Day & board ($9,500(D)-$16,500(B))/780 pupils/11-18
Focus: A values-based education
South African curriculum
Accessibility: Cape Town; 15 mins
A cornerstone of South African education with a distinguished history, this single-sex school offers 'a unique space for boys to develop at their own pace and catering for their own individual needs'. Academics are strong and performance on the sports pitches is legendary. A commitment to an all-round education is embedded in the annual Eisteddfod, in which every boy takes part.
The Doon School (India)
Boys, Boarding ($17,030), 560 pupils, 11-18
Focus: Ethical citizens
Curriculums: IGCSE/ISC/IB/
Accessibility: Indira Gandhi International; 5 hrs 30 min
India's premier school is situated in the foothills of the Himalayas. Established in 1935, it pioneered the concept of social service and this lies at the heart of its ethos. Boys develop a strong intellectual character and are encouraged to be creative and courageous. The school is a member of the Round Square group and pupils go on to Ivy League, Oxbridge and prestigious Indian universities.
Geelong Grammar (Australia)
Co-ed, Boarding & day ($52,300-$57,870(B)), 1,442 pupils, 6-18
Focus: Shaping a better world
Curriculums: VCE, PYP, IB,
Accessibility: Melbourne International; 50 mins
One of the most established independent schools in Australia, Geelong offers a rigorous academic grounding and exceptional enrichment opportunities such as Timbertops, which provides an 'off grid' experience with a focus on wilderness learning. The school's pioneering research with the Institute of Positive Education is shaping the curriculum and the outcomes for pupils.
Lakefield College School (Canada)
Co-ed/Day & Board $40,000(D), $70,000(B)/365/11-18
Focus: Inspiring leaders who care
Curriculums: Canadian curriculum, AP C
Accessibility: Toronto Pearson; 2 hrs
This school believes experience is the best teacher, and in its lakeside campus in rural Ontario are a host of experiences, from canoeing, ropes training and wildnerness survival skills to snowshoeing and equestrian pursuits. Academically, there is a huge range of subject choices. The school has educated European royalty, musicians, actors, writers and political and environmental activists.
Pembroke House (Kenya)
Co-ed, Boarding ($1,500-$7,300), 200 pupils, 2-13
Focus: Bringing out the best in every child
Curriculums: British curriculum
Accessibility: Nairobi; 3 hrs
A very traditional British prep school located deep in the Kenyan bush, this school is legendary for the characterful children they send on to top senior schools all over the world. Its unique ethos attracts pupils from all over Kenya, wider Africa and even Dubai and the UK. Children are taught that courage, good manners, kindness and always trying to do your best are the way to succeed in life.
The Scots College (Australia)
Boys, Boarding & day, $21,000-$26,000, 1,200 pupils, 11-18
Focus: Excellence through adventure
Curriculums: NSW, HSC
Accesibility: Sydney International; 20 mins
One of the premier schools in Sydney, the Scots was founded in 1893 to educate 'well grounded men of integrity, with a strong sense of identity, values and character'. It has high academic standards and a focus on sport, while the Glengarry outdoor education programme in Year 9 sets up a 'quest for excellence through adventure, curiosity, creativity and growth.
St George's College (Argentina)
Co-ed, Board & day, 844 pupils, 3-18
Focus: A rounded and demanding education
Curriculums: IGCSE, IB, Argentinian
Accessibility: Ezeiza International; 50 mins
The oldest boarding school in Latin America, St George's attracts pupils from all over Argentina and beyond. Pupils are encouraged to develop qualities such as integrity, initiative and courage, and the school's blend of tradition and an innovative education has proved so popular that a sister school on the other side of Buenos Aires, St George's College North, opened in 1990.
St Paul's School (Brazil)
Co-ed, Day ($25,000-$33,000), 1,000 pupils, 3-18
Focus: A holistic education
Curriculums: IGCSE, IB, Brazilian
São Paulo-Guarulhos; 1 hr
St Paul's offers a well-rounded international education. Head Titus Edge has just joined after a successful tenure at Gordonstoun. Offering the IB in the sixth form, it also gives pupils the chance to sit the SAT and AP. Many children stay from the age of three to 18. Most leavers go to US universities while a fair number head to top UK universities. It offers a British bilingual, bicultural education.
Upper Canada College
Boys, Boarding,  $34,000-$67,000, 1,170 pupils. 5-18
Focus: Transformational learning experiences
Curriculums: IB
Toronto Pearson; 30 mins
As one of the oldest schools in Canada, UCC is part of a cultural tradition, responsible for educating Olympians, politicians and business leaders. The focus on a transformational learning experience is delivered via the IB programme, encouraging rigorous academic debate and critical thinking. Sporting facilities include two ice hockey arenas and a campus for cross-country skiing.
Carfax Education is the leading private education consultancy whose motto, 'academic excellence without borders' is underlined by a network of offices that stretches across London, Oxford, Monaco, Dubai, Abu Dhabi, Moscow, Singapore and Hong Kong.