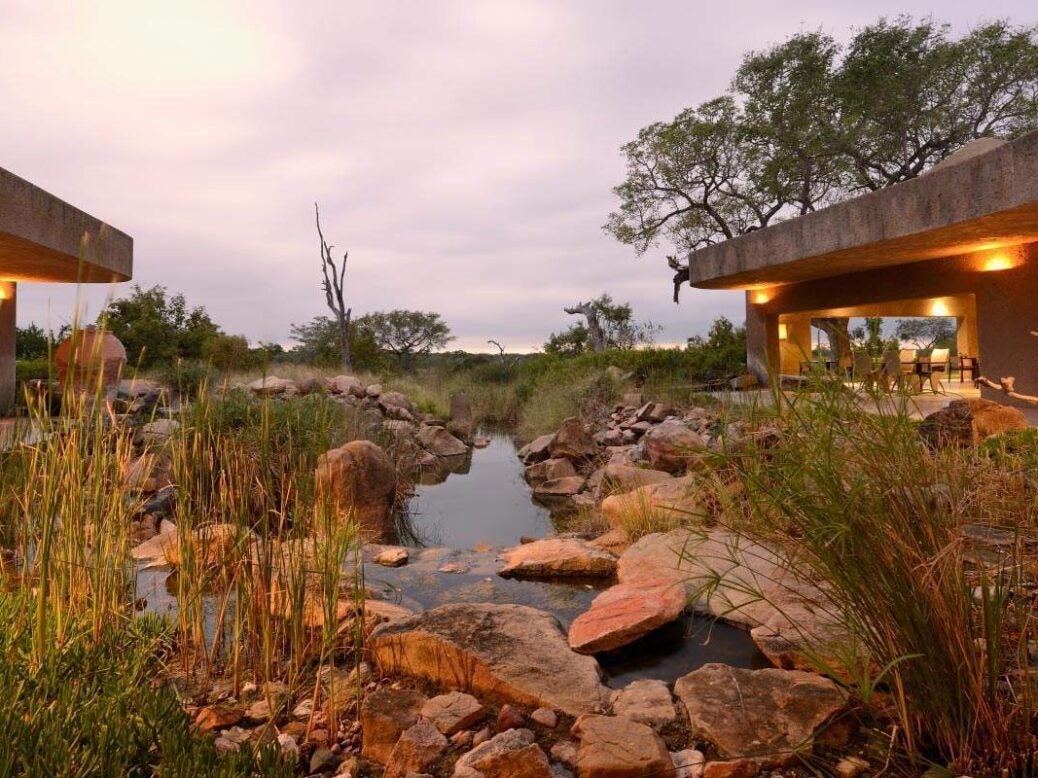 Safari travel has come a long way, and Sabi Sabi's Earth Lodge truly is the future of holidaying in the bush in style.
In the early days of safari holidaying, visitors could hope to see a lion or an elephant some metres away. A pair of binoculars was an essential piece of kit. Vehicles kept their distances, and the wildlife was always very much at an arms length. Yet the Sabi Sabi safari experience couldn't be more different. Earth Lodge, known as the safari resort of the future, knows all too well how far a journey adventure travel has come on.
Set in the Sabi Sand Wildtuin, a vast unfenced 60,000-hectares of private game reserve, Earth Lodge is out in the elements. Part of the similarly unfenced Kruger National Park, animals are free to roam without restriction. From elephants wandering up to drink from the watering hole that is metres from the open air dining room, to lions prowling on the rooves of the suites (yes, that has happened), I can't imagine any other place in the world where you can be more 'at one' with nature. Guests have to be escorted to their suites by rangers after dark – that's how out in the thick of it you are.
The chances of game sightings are now so high, that even a mini break in the reserve will leave you feeling fulfilled. I saw multiple leopards, lions, elephants, wild dogs, hyenas and both white and black rhinos within my 72 hour stay in the reserve. The vehicles can also get scarily close to the wildlife. A leopard walked right up to the side of our Land Cruiser, and I quickly realised that that's all in a typical days' safari!
The only words to describe Sabi Sabi's Earth Lodge are 'magical' and 'stylish'. The lodge consists of 13 individual and totally private suites, including the Amber Presidential Suite. In luxury travel today, I believe that private outdoor space is a real rarity. Just try and find private outdoor space in London, where you aren't being overlooked, and you will see what I mean. Yet at Earth Lodge, you can have an outdoor shower or a dip in your private plunge pool, completely unnoticed. Bar the odd wild animal roaming past – usually impala.
Suites are designed beautifully – managing to be both understated and sophisticated at the same time. The walls are made of rough concrete with golden thatch grass blended into it. It's incredible to touch, and feels both rugged and stylish in a rather unfounded combination.
When not relaxing in the enormous bed, or outside on the Bali bed, the glass-front bathroom is another haven. Featuring a huge egg-shaped bath tub and an entirely glass shower overlooking the African bush, you can't get more serene than this.
Out in the main hub of the lodge, away from the suites, the outside is again very much brought in. Glorious wooden seating, in dramatic structures, is carved from locally-sourced driftwood. One of my favourite pieces is one known to the staff as 'the dentist's chair'. All the furnishings are from South Africa, including fabulous zebra skin rugs speckled with metallic paints (which are sold in the lodge's little boutique for those to sad to part with them upon leaving) and gold and silver detailing throughout the lodge adds to the concept of the earth's rich abundance of minerals and materials.
The lodge also homes a wine cellar, packed with stunning South African wines. I was particularly impressed with the 2015 Kanonkop Pinotage (and yes, I bought some more at the airport in Duty Free to take home with me!). Guests can choose to dine in the wine cellar, which is the ideal choice for chillier evenings. When not out on the twice-daily game drives, guests can explore the lodge's art gallery, private gym and spa.
Another must-do activity is to visit the Swa Vana Children's Project in the local community township of Huntington. This was founded 14 years ago, and in keeping with their need to protect and preserve, Sabi Sabi has played an integral role in the project from the inception until present day. Earth Lodge offers community tours and I would highly recommend a visit. Both HIV and Aids in South Africa have left many children without food, clothing, water and basic medicines, and the project here plays a vital role in supporting the young people of the community. The community tour also includes a visit to a traditional healer and to meet the multiple wives of the town's chief. To make a donation to the Swa Vana Children's Project, you can visit their website here.
I would recommend flying with South African Airways. London to Skukuza (via Johannesburg) with South Africa Airways return starts from GBP 931.31. The Skukuza legs are operated by Airlink which is part of SAA family.
In need of some winter sun? This will be a sensory experience like no other for you. Book your visit to Sabi Sabi's Earth Lodge here.