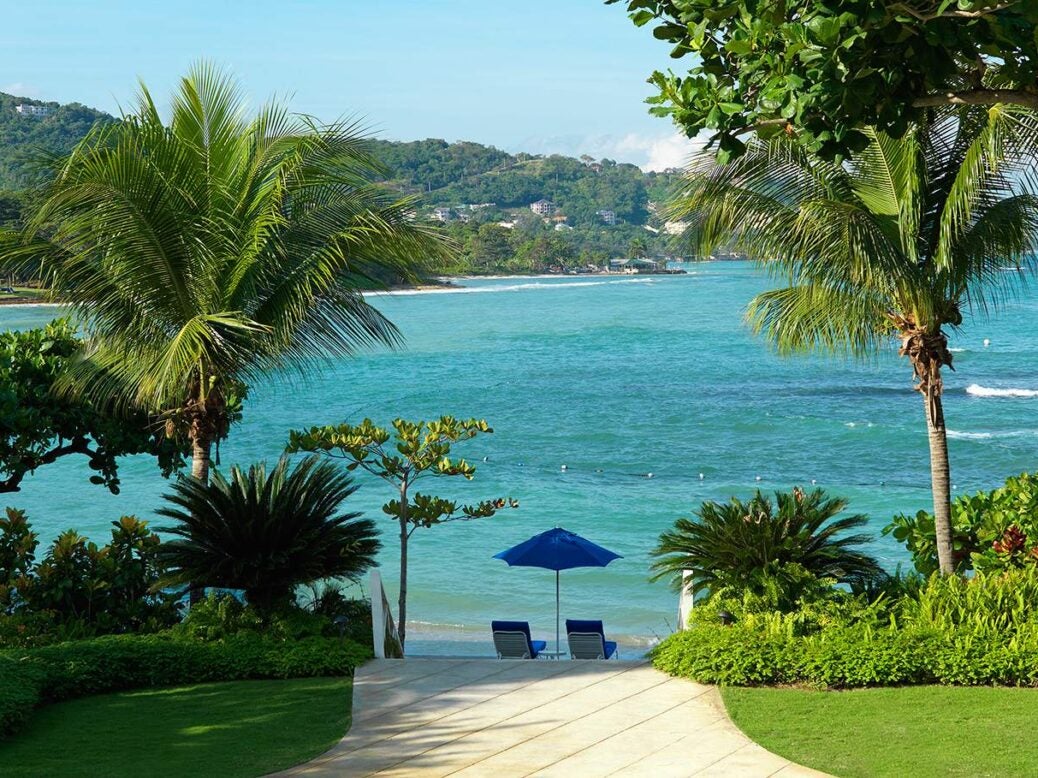 From the Inskips to Prince Harry and Meghan Markle, and Ian Fleming to the Kennedys, this famous Montego Bay resort is a retreat for the most sophisticated of socialites, writes William Cash
To understand the mentality of Round Hill in Jamaica and why it is one of the very few resorts in the Caribbean – or even the world – that has been able to authentically maintain its social hotel  'legend' status over several decades, you need to first realise that like 'Establishment' power in Britain, Round Hill's access and power is exercised and controlled socially – not corporately.
Power and influence at Round Hill lie not with the board of a faceless global hotel chain group but with a socially select and wealthy group of shareholders who own the resort. In truth, it's not really about the money, profits and dividends. 'It's about retaining the soul of Round Hill' says Josef Forstmayr, the long standing Austrian managing director of Round Hill.
This is exactly the vision of John Pringle who first invented the concept of what Count Lanfranco Rasponi – a friend of the Pringles – liked to refer to as the 'invitation only compound club'. In short, you invest in building a cottage as a holiday home and then get to share in the profits of the resort when it is rented out (still to this day a stipulation of all cottage leases).
This model has gone on to be replicated in certain clique like social pockets all over the Caribbean. But it all began at Round Hill in January 1953. There are ownership structure similarities with Lynford Cay in the Bahamas, Mill Reef in Antigua, the Mustique Island Company and Jumby Bay island off Antigua – but Round Hill is unique and special in ways that only the most socially nuanced might appreciate or understand.
I've been to Round Hill three times now and I think I've finally worked out why I always feel so relaxed in the resort. Partly it is because you are driven around on golf buggies which makes the place feel as if you have suddenly acquired membership of one of the world's chicest country clubs, even if you've never played a round of golf in your life.
Whilst some famous Caribbean resorts have certainly faded, Round Hill has never slipped.  An example is Frenchman's Cove resort in Port Antonio on the other side of Jamaica which has become more a of 'traveller' and yoga retreat in recent years. But the good news is that Galvin Weston, owner of Frenchman's Cove (and chocolatier Charbonnel et Walker) has told me he is now refurbishing the 48 acre resort which has one of the most idyllic tropical beaches in the world – The Cove – so that Frenchman's once again will attract the Brit moneyed classes.
In the 1960s, Frenchman's was one of the most glamorous resorts in the Caribbean with guests including the Queen and Duke of Edinburgh, Elizabeth Taylor and Richard Burton, the Beatles,  Ian Fleming and Errol Flynn. It was also one the most expensive, costing $1,000 a night.
But the main reason – other than a lack of investment – that Frenchman's Cove never kept up with Round Hill was that the billionaire Weston family never had a Forstmayr in charge to make sure that the Birley-esque standards of founder John Pringle have never dropped.
Another factor, so I am told, is that when Garfield Weston – Galvin's grandfather  – first bought the 48 acre Frenchman's Cove beach property in the 1950s, they missed a clause in the sale contract that required the beach and land to be turned into a hotel resort. The original plan had just been to build himself and his family a Jamaican paradise retreat next to one of the best beaches in the world. The Weston family then thought they would build a luxury 'executive resort' for their senior employees – but by 1958 construction had started on the jet-set hotel with 18 glass Richard Neutra-style bungalow villas which opened in 1962.
What is certain is that Pringle – unlike the billionaire Weston family – never had any sort of real money of his own to develop Round Hill, which meant that failure was simply not an option.
It was Pringle's drive and social ambition – his Scottish grandfather had been a major landowner in Jamaica but one that had long gone – that gave Round Hill the edge over other Jamaica resorts – even the famed Jamaica Inn, owned by the Morrow family, that Mark Birley (who always stayed with Jamaica's real estate king Nigel Pemberton at his estate near Round Hill) was nearly tempted to buy at one point. Forstmayr himself was taken under the 'wing' of Pringle in 1989. Regarded as the Mark Birley of Jamaica, it was Pringle's vision and obsession with status, style and society that led to Round Hill being nicknamed 'Annabel's-by-the sea'.
When Forstmayr showed me around a stunning deluxe cottage – owned by a board member – which was just awaiting the arrival of a HNW family, his normally jovial 'One Love' tone slipped into something more Prussian when he ticked off a house maid for not closing the shutters and making sure the air-conditioning was switched on before the guests arrived. Closing the Jamaican mahogany shutters himself, he said that when guests arrive 'all rooms most be at the correct temperature'.
That Round Hill was chosen as a venue for the recent Tom Inskip society wedding to the Hon Lara Hughes-Young  – attended by Prince Harry and his girlfriend Meghan Markle –  is largely a testament to the hard work of Forstmayr who is also the island's Austrian Consulate General with his office at Round Hill doubling up as the Jamaica's unofficial embassy. Forstmayr first came to Jamaica with his parents in the 1970s. Despite being forced to wear Lederhosen on the beach, he fell in love with the island.
Now Forstmayr wears Ralph Lauren chinos and polo shorts – the resort uniform as provided by the Round Hill board member who owns two properties: a 20 plus acre estate with a mini-mansion and another Gatsby-like beach house that sits at the edge of the resort like a giant white wedding cake. Neither can be described as any sort of 'cottage' in the conventional sense.
Lauren also helped design the 27 breezy white 'Ocean Front' rooms of Pineapple House, the hotel building of the resort, named after the fact that the estate – formerly belonging to Lord Monson – was a pineapple plantation. Referred to only half-jokingly by Forstmayr (as Pringle used to) as the 'Barracks' – a bit unfair considering they all include four poster beds with crisp Ralph Lauren linens – rooms start at around $300 a night – the Pineapple House was the least expensive billeting for guests at the Inskip wedding.
Forstmayr – like John Pringle – should be given a Jamaican CBE for his services to tourism. Equipped with a Teutonic social radar as acute as Nigel Dempster before Chablis o' Clock at 1pm  – when he used to indulge his 'camel thirst' for white wine – Forstmayr has ensured that although Round Hill may have lost such famous founding member social names such as Noel Coward or Viscount Rothermere, the resort has lost none of its exclusive social catchet: the number one West Indies meets the Hampton's private country club for the international society set.
What I especially like about Round Hill is that while it retains much of the 1950's Aitken polo club and Hampton's country club preppy style that puts WASPs so at ease (don't assume for a second that most of the owners or guests have been White Anglo Saxons by the way) the resort has lost none of the louche streak of upper class society 'naughtiness' than makes a stay at Round Hill feel like a 1930s Transatlantic crossing on a luxury liner.  Think the Hamptons on rum punch.
What happens in Round Hill stays in Round Hill; or well, sort of.
Forstmayr told me that the Chubb safe of the hotel contains a highly confidential 'scandal' file relating to the misconduct of various homeowners, including a series of letters of complaint from one homeowner who had to repeatedly complain about the sexual antics of his neighbour, a well known titled English female society figure who used to have sex openly after lunch on the terrace of her cottage with a range of lovers.
How the late Dempster would have loved to have got his hands on this file. I didn't like to ask whether the file is ever updated but before we flew out, Forstmayr sent me a copy of a recent Tatler article on Jamaica celebrating its hedonistic, sybaritic past and why the island – following the expat upper class decadence of Kenya in the 1930s, Hong Kong in the 1980s and LA in the 1990s – has always been the 'Happy Valley' island of the Caribbean.
That's still partly true today. Increasingly many HNW Brits are turning their back on overpriced gated villas in Ibiza or St Tropez to buying run-down old villas in Jamaica for their holiday home – the best areas are the hills close to Round Hill around Montego Bay and San San in Port Antonio – just as the likes of Noel Coward and Ian Fleming did over 50 years ago.
Jamaica is certainly where many titled aristos have bought houses – such as my friend William, Earl of Dartmouth. The bohemian Earl of Wemyss – related to Anne Fleming who was born Anne Charteris – still has a house in the chic little enclave of San San, Port Antonio – once a 1950s's jet set mecca for socialites and film stars like Errol Flynn- not far from the beach estate of art collector Francesca Von Hapsburg. The British posh social buccaneer crowd have always tended to gravitate towards the more pirate-like Jamaica rather than other islands.
Whilst the brasher newer money Puff Daddy crowd prefer St Barth's (where Pippa Middleton's new husband James Matthews's family co-own the Eden-Roc hotel); or head for Barbados, led by disgraced billionaire Sir 'Shifty' Philip Green who makes an annual pilgrimage to Sandy Lane every winter.
The Inskip society wedding with Prince Harry was made for the Round Hill white sand stage set. It was exactly for such an occasion and social cast that John Pringle created Round Hill. I wouldn't be surprised if a good number come back; and bring their friends. The 'social referral' system was always the Pringle model. Ok, so the more casually dressed a Round Hill guest is, the more likely they are to be billionaires. But that doesn't impress Forstmayror, who'd like Round Hill to remain an oasis of style and social standards while the rest of the Caribbean may chose to go 'all inclusive'. One reason, perhaps, why a polite notice stands by the entrance to the Polo Bar and dining area informing guests that they must wear trousers after 7.30pm.
For the socially-seasoned Austrian managing director of the exclusive Round Hill resort – who is used to looking after the likes of Vogue boss Anna Wintour – it can't have been the easiest of jobs deciding which 'Cottage' to put Prince Harry and Meghan Markle in. Forstmayr had to think of everything – security, risk of paparazzi hiding in the palm trees and not least the fact that where they stayed was always going to be a talking point. But neither Josef nor any staff member will let on where Harry stayed.
By the way, although the houses for rent are described as 'Villas' on the resort website, Forstmayr and the 27 private owners refer to their properties as 'Cottages'. Not because they are small little English style country cottages (although Noel Coward's Number 3 could pass for one) but because John Pringle liked the fact that Newport Beach's (Rhode Island) mansions are referred to as 'Cottages' by their wealthy and socially prominent owners.
Guests often request Cottages with social provenance. Cottage 10 was stayed in by JFK when he came to Round Hill with his new wife Jackie on his honeymoon in 1953. Jackie came back after JFK's death when married to Onassis. According to head concierge 'Kingsley', Jackie O was one of the best water skiers he has ever seen at the resort.  'She would ski on one ski for nearly an hour' said Kingsley. 'Everybody was on the beach watching. Such elegance and style'.
Some guests request to stay in Cottage 25 – just a short walk from the main reception up John Pringle Drive – as it was on its pool side terrace that JFK wrote his inaugural address with the lines: 'Ask not what your country can do for you, but what you can do for your country'. Now its owned by the Wimbledon based Mrs Fernande Brenninkmeijer, a majority shareholder in the Dutch based 'C & A' retail dynasty. Her daughter's English family and their two children – who live in Yorkshire – were out for a three-week family holiday. This is now increasingly the trend for sophisticated Brits who want a relaxing holiday far from the maddening Med crowd.
I stayed in Cottage 16 – still often referred to as the 'Rothermere villa' although no longer owned by the family  – for my honeymoon with my wife three years ago. It was a memorable experience not the least as the first hour was spent throwing out –or washing in the bath – most of the contents of my entire wardrobe after finding out that a bottle of 1985 Petrus had exploded in my suitcase during the flight.
Then I noticed a distinctly illicit smell wafting from the suite next door.
Turned out it was occupied by some wealthy German trust fund kids who put up a giant Bob Marley flag in their living room, played reggae music and were too stoned most of the day to even make it to the beach- let alone any restaurant. Fortunately, the Cottage's uniformed housekeeping staff kept them fortified with Blue Mountain coffee and banana pancakes and cooked their meals. The cottage boasts a large pool which features an underwater James Bond like window that looks down into the guest bedroom of the bedroom below.
Cottage 16 – now divided into Luxury Villa Suites – certainly has one of the most colourful histories in the resort. In the 1950's it was where Ian Fleming used to enjoy drinking martinis – and no doubt more (Fleming was into S & M) – with his 'good friend' Anne (Lady) Rothermere before he persuaded her to marry him. Noel Coward, Fleming and Anne then decided to move down the coast to Orecabessa to start a property (Goldeneye) copying many of the things that they liked about Round Hill. That was where the Bond novels were written.
There is also a guest house at Cottage 16 in which Lady 'Bubbles' Rothermere – a former glamorous British film actress who enjoyed her champagne and social amnesty from Dempster even after she and her husband led largely separate lives  – used to accommodate guests who she invited out to visit Round Hill. On one occasion, she gave an air-ticket to a dashing younger man she met in Annabel's only to forget about having sent him off to her holiday home in Jamaica. Two weeks later, the man was still out at Round Hill, having spent a fortnight at the beach bar and enjoying his absent host's Jamaican hospitality on account. You can't exactly blame the fourth Viscount Rothermere for selling up.
Round Hill has a curious relationship with its own publicity. When in residence at his white Beach House, Ralph Lauren can often be seen sunning himself by the pool of on the edge of the sea at the end of the resort. Anybody on a snorkelling trip to the coral reef at Montego Bay can easily photograph him – and the billionaire doesn't mind too much that his name is 'dropped' as a resident. His name has been synonymous with the glamour of Round Hill for several decades. Flying in from New York to Montego Bay, just twenty minutes away, on his private jet several times a year – he rarely misses the New Year's Eve party or the charity gala Sugar Cane Ball on Valentine's night – Lauren and his wife Ricky have become part of the Round Hill brand just as much as Noel Coward and Jackie Kennedy.
This year's guest list for the 60th anniversary Sugar Cane Ball, raising money for local charities  – attended by the Prime Minister of Jamaica – gives a pretty good idea of the social mix at Round Hill; and why Round Hill has managed to retain its crown as the social Godfather of shareholder-owned resorts. The event received no publicity in the UK but upper class Brits or Londoners included Cottage owner, heiress and socialite Caroline St George; London based 'Nan' Brenninkmeyer; the Hon Tricia Monson; The Countess of Portsmouth; and the Hon. Vanessa Anstuther-Gouth-Calthorpe; and that's not including the all-star galaxy of New York and LA socialites, hedgies, and philanthropists.
All these details Forstmayr is happy to release – along with photos. But for Prince Harry's stay, he remains super discreet. All he will say is that he wasn't going to allow any tabloid lenses to pry into the wedding.  So seriously does Forstmayr take hotel privacy and security that he closed off the resort to all but wedding guests for the three day beach-side nuptials. Not even 'Cottage' owners were allowed to stay in they own properties. 'I didn't allow anybody' he says. 'I closed off the resort and even told locals not to rent out their boats to any strangers'.
But still the paparazzi managed to bribe some local fishermen to take out vessels. 'They were far out to sea but they had such huge lenses that anybody on the beach could be photographed.  So these photos kept appearing of Harry and Meghan sipping cocktails and nobody could understand where they came from' says Forstmayr at lunch on the sea terrace restaurant. The restaurant overlooks the immaculately hand brushed (every morning at 7am) white sand beach of the hotel tucked away in a miniature cove that means the water rarely gets rougher than the Serpentine Lido.
Few hotels or resorts in the Caribbean have the historical pedigree of Round Hill. The truth is that almost all the 27 cottages have historical or social associations. These include Princess Margaret, Grace Kelly, Alfred Hitchcock, Piers Brosnan, Sir Paul McCartney, and American society royalty like Truman Capote, Babe Paley, Bing Crosby and socialite Vanessa Noel, vice-chairman of the resort's board.
Unlike Mustique, where you know exactly which villa you are booking – all houses are clearly advertised on the website – staying at Round Hill is more like being invited by a hostess to stay at a high society house party. You are billeted by the management team – i.e. Josef.  You book according to category – Premium Luxury Villa, Deluxe Villas, Classic Villas  – rather than specific villas. You can tell the Cottages that are privately-owned as they all have numbers. Although you can request a 'preferred' villa, or ask to return to a specific 'Cottage', your booking is in your host's hands.
My new favourite is Cottage 21 which is owned by Glenn Creamer, chairman of the board, and is one of only four Premium Luxury Villas at Round Hill. Creamer is one of America's most respected private equity wizards and is also a prominent Catholic philanthropist, acting as Treasurer of the Catholic Relief Services. We were staying in his guest-house, '85 A', a luxury guest house adjacent to the much grander main Cottage 21 which – with its own original 1950s mahogany horse-shoe bar, original Pringle era furniture, chic art and recent tasteful refurbishment – is certainly one of the smartest and desirable villas at the resort. It sleeps ten and has a dining room fit for any Rhode Island billionaire or English baronet.
But what to me made our guest cottage so special were the personal touches – such as having a copy of the Jamaican history of Catholicism – on top of some quirky old leather bound books in the bedroom. It made it feel as if we were genuinely staying in a friend's guest cottage. True – a friend I'd never met, and in truth had never heard of until I saw his name as the chairman of the Round Hill Board. But it was a nice example of Round Hill's famous Hopewell meets the Hamptons style hospitality.
Interestingly, there is – as with Jumby Bay – no actual golf course at Round Hill. This is a deliberate decision as one mark of true residential exclusivity today in the Caribbean can be gauged by the way that a community wishes to stand apart from the golfing holiday crowd (there are many tennis courts and no doubt croquet is taken seriously). This anti-golf stance immediately makes Round Hill stand apart from, say, Sandy Lane at Barbados which boasts no less than three courses and 45 holes of golf which makes the place feel very much like a golf resort.
It's always interesting to see how a community or island relates to golf from a social point of view. Americans view golf as a national metaphor for The Good Life as well as a middle-class aspirational sport which reflects the social mobility of the American dream – all fairways lead to potential membership of the elite Country Clubs (something which the Brits do not fully understand) and social validation that many Americans crave. Round Hill is more sophisticated in its social values and aspirations. As I said, its not really about buying property – it's about buying into the world's most exclusive social hub.
In the snobbish world of Caribbean millionaire shareholder private club resorts having a golf links is considered a little naff. You can, of course, get a complimentary shuttle bus from Round Hill to the smart Tryall Golf Club and country club a few miles away. This is one of the most exclusive private country clubs in Jamaica located in Hanover Parish, just outside Montego Bay. It was founded in 1958 – five years after Round Hill – and designed by Ralph Plummer.
It is just down the road from where Tetra Pak heiress Kirsten Rausing owns a 'Great House' estate on the fringes of a fairly socially deprived local area. Still, Kirsten shops in the market village and cut a glamorous if eccentric figure in the locality.
But few today want to buy former colonial estates. An average Cottage plot in Round Hill is probably no more than a quarter of an acre.
'When you have lived as long as I have around here' says a veteran Jamaican estate agent Nigel Pemberton – a British former Wall Street banker who moved to Jamaica in the 1950s – who has sold or re-sold many of the Cottages on Round Hill. 'You discover that not all Great Houses are as great as people think they are'.
While there is always a supply of crumbling old colonial estates houses for sale around Jamaica – the type with more pot-holes and neglect that the two-mile drive of a Scottish castle – there are currently no Cottages for sale in Round Hill. Nothing – while Mustique has several.
Even if they were, you'd be looking at least $3 million. You could buy at least two 'Great Houses' with land for that. Yet in the crazy HNW Caribbean property market, $3 million still offers great value when contrasted with Jumby Bay or Mustique where property prices have inflated so much that entry level is around $7million.
The truth – and the key to understanding Round Hill – is that owners are not actually buying just a piece of Caribbean property. They are buying into Round Hill's retro social fantasia Hampton's co-op lifestyle. It's about buying into the social Global Citizen's dream country club. It's the same on Jumby Bay. One owner described to me as incredulous that his 'timber beach shack' could be worth $5 million.
The Inskip wedding was an important event in Jamaica not so much because Prince Harry once again visited the island but because it gave Round Hill the opportunity to remind the world that when it comes to offering a glamorous acquamarine ocean front social stage set for aristo and royal high society at play, nowhere does it better than Round Hill. In short, they are used to it; only the resort is so understated, you hardly ever hear about it. Indeed the resort describes itself as 'Timeless elegance and understand luxury'.
This very British obsession with social 'understatement' at Round Hill sometimes goes too far. Every Friday night guests are invited to enjoy a Jamaica Night – including a spectacular and dazzlingly politically-incorrect circus like show of daring Jamaican acrobats doing death defying somersaults without mats, contortionists who can wriggle their double-jointed bodies through two tennis racket heads, semi-naked cheer leader dancers wiggling away like dervishes in straw mini-skirts, a fire eater who would not have been out of place in Live and Let Die, performers walking through fire – and all to the sound of frantic native drum bashing – followed by a Reggae concert.  Yet the hotel bills this circus spectacular as a 'Local Folk Art' show. A folk show ?  'I agree' says Forstmayr. 'Perhaps we are a little too understated sometimes'.
This 'Jamaican Night' is part of what draws people back to Round Hill.
In an age where people are under siege by the digital drum dance of Snapchat and Instagram, Round Hill is an oasis of a recherché jet-set world where you had to book your international phone calls a day or so in advance.
I have been to Round Hill twice before, and so it was reassuring to be greeted again by the Caribbean's most famous bellman turned concierge, 'Kingsley', who must be in his eighties. Round Hill loves continuity as does Nigel Pemberton – still working in his eighties – who hasn't been back to London for over three years.
The last time Nigel was there he didn't recognise the city. My wife and I were invited to dinner at his grand colonnaded colonial house – 'built in 1765 I think but everybody says there houses were built in 1765 – overlooking the bay where a huge swimming pool on the lawn is flanked by two giant British canons. I was glad to see that his butler 'Carlton' served us almost exactly the same menu for dinner that we had enjoyed three years ago when on honeymoon: smoked marlin, chicken fricasse with peanut and coconut sauce and flambé pineapple. This time the pudding was home-made apple crumble.
The staff at Round Hill don't tend to change much. Kingsley is the only staff member permitted to wear a turquoise tuxedo jacket. He explained that he had only been given the right to wear a turquoise jacket on account of the fact that the previous head bell man was white and wore a black and gold jacket. 'When Mr Pringle offered me the job, I told him I would not look right in black and gold. I have the wrong complexion. So I made wearing turquoise a condition of taking the role'.
So loved, and loyal has Kingsley been over the last few decades that Ralph Lauren's daughter – partly brought up on Round Hill – has named his son after Kingsley, awarded the highest staff accolade in the Caribbean 'Concierge of the Year' at the Caribbean travel awards.
I like to joke to Forstmayr that he not only knows everybody worth knowing in tout Global Citizen society but is the sort of person who has copies of the Almanach de Gotha and Debrett's on either side of his bed. And the latest Tatler in his loo.
My favourite example of continuity relates to long standing Spear's financial columnist Guy Monson, chief investment officer at Sarasin & Partners.  The only reason that John Pringle – whose mother owned a small but chic hotel in Jamaica and was a social figure around Montego Bay in the 1940s and 1950s – was able to start Round Hill was thanks to his persuading Guy's grandfather Lord Monson – who owned 500 acres around Round Hill – to part with around 90 scrubby acres (formerly a sugar plantation) and a small beach.
Monson owned much of the peninsula and was happy to oblige, with 29 acres being set aside for the new private members' resort. How fitting that his grandson Guy, along with his wife Lady Rose, even today own one of the largest plots on Round Hill. But in true British upper class low-key style, it's only a relatively modest two bedroom cottage, albeit done up beautifully – in a contemporary style with modern art – to reflect the owners taste. 'It's one of my favourite cottages' says Kingsley 'Very understated'. Continuity is all at Round Hill where the Monson name is still revered around Montego bay as much as real royalty.
William Cash is Editor-in-Chief of Spear's
The Private Travel Company offers 7 nights at Round Hill from £2,055 per person based on 2 adults sharing a Deluxe Villa Suite with Pool including breakfast, return flights, private transfers and the use of a UK airport lounge. www.theprivatetravelcompany.co.uk; 0203 553 7543
Recently