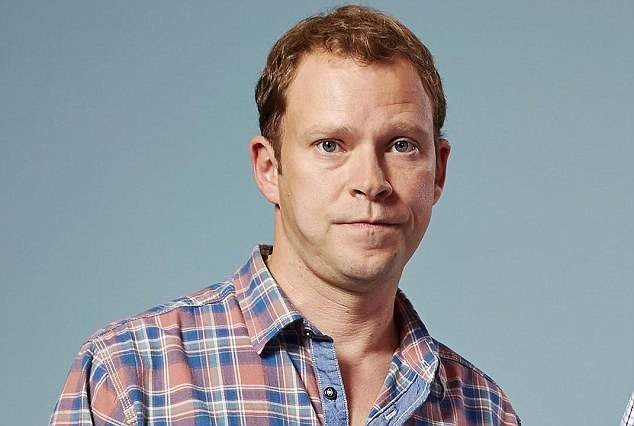 Robert Webb Net Worth – we calculate this based on his famous partnership with David Mitchell and their sitcom Peep Show. This Brit wit, writer and actor has an estimated net worth of £2.6 million (celebritynetworth.com)
Born on September 29, 1972, Robert Patrick Webb was raised in Woodhall Spa. Weaned on sitcoms such as Blackadder and The Young Ones, he went on to cultivate an interest for poetry, drama and parodies at school.
Joining Robinson College, Cambridge to study English, the 20-year-old Webb encountered David Mitchell at Cambridge Footlights—of which he became vice-president. Before that, they recorded their first performance together—Innocent Millions Dead or Dying: A Wry Look at the Post-Apocalyptic Age, in 1995. Following solid performances at the Edinburgh Festival Fringe, the duo were soon hired to write sketches for comedians Ben Miller and Alexander Armstrong and for the British comedy Big Train (1998-2002).
They grabbed their first breakthrough, writing and starring in BBC's Bruiser (2000), following it up with their own sketch, The Mitchell and Webb Situation (2001), on the now redundant Play UK; later released through DVD by Eureka! TV (2005). Their next programme Peep Show (2003), which slowly rose to fame becoming Channel 4's longest sitcom, went on to win the Golden Rose (2004), Best Situation Comedy BAFTA (2008) and two British Comedy Awards for Best TV Comedy (2006 and 2007). Webb shared the Royal Television Society Award for Comedy Performance with Mitchell (2007).
Both also started a radio sketch called That Mitchell and Webb Sound (2003), which won a Sony Silver Award. Later adapted as That Mitchell and Webb Look for TV, it won the Best Comedy Programme or Series BAFTA (2007).
Webb was seen in the film Confetti (2006) before the duo starred in their first film, Magicians (2007). In 2008, he debuted at West End with the British premiere of Fat Pig.
They later got This Mitchell and Webb Book (2009)―their first―published. October 2009 saw the release (only in Britain) of the book's highlights How to Cope with Mitchell and Webb.
Webb contributed articles to the Telegraph newspaper (2009-2011) and appeared in panel shows such as The Bubble, Have I Got News For You, Never Mind the Buzzcocks and QI.
His sitcom appearances include BBC Three's The Smoking Room (2004), BBC One's Blessed (2005), Channel 4's Fresh Meat (2011) and the BBC Radio 4 sketch Concrete Cow (2002).
Participating in Let's Dance for Comic Relief (2009), Webb's 'Flashdance'esque sequence ultimately took the prize. Webb narrated the 2009 reality series Young, Dumb and Living Off Mum and 10 Things I Hate About You (2012), and also hosted Robert's Web (2010).
In 2011, Webb participated in a celebrity version of Mastermind and also appeared in the parody The Bleak Old Shop of Stuff.
He also starred in the movie The Wedding Video (2012) and featured in ads for comparethemarket.com.
Webb lives with wife and fellow comedienne Abigail Burdess and their two daughters in Kilburn, London.
He owns a rarely driven Skoda Octavia. (standard.co.uk)