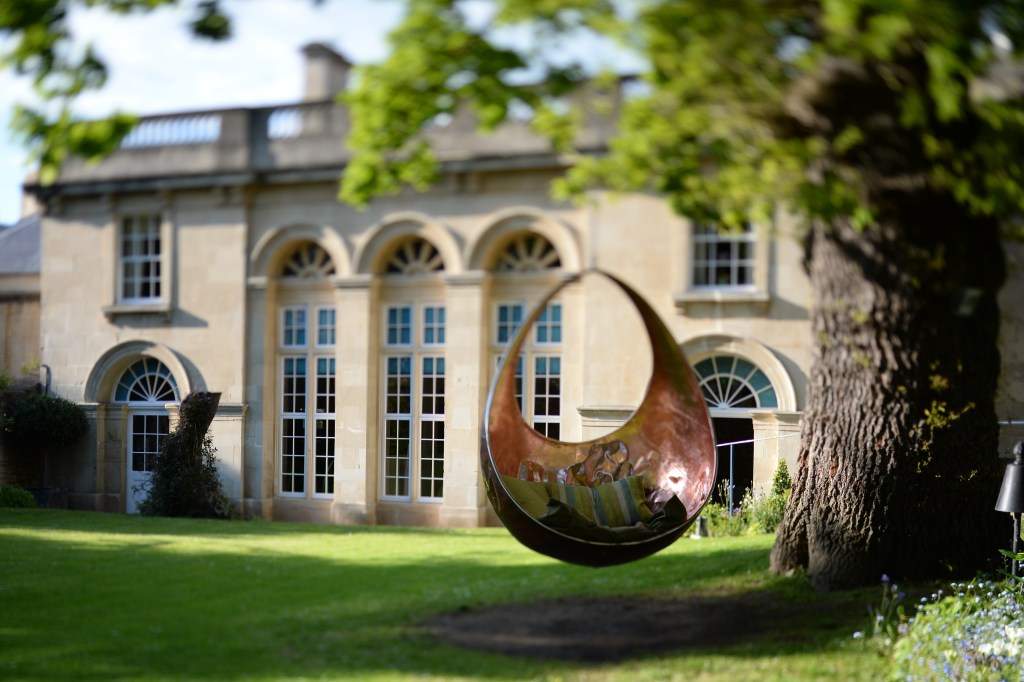 The timeless aesthetics of this 18th century enclave provides urban dwellers with a much needed escape, writes Edwin Smith
As a Londoner, or, for that matter, an inhabitant of any western 'world city' – one of the New Yorks, LAs, Amsterdams or Sydneys of this world – it's all too easy to slip into a subconscious assumption that, somehow, you are ahead of the game, that the rest of the world is lagging behind. Plenty of ink has already been spilled over the ways this attitude has affected modern political currents, but it shapes other areas of our lives too.
Sitting in one of the high-ceilinged reception rooms in Bath's Royal Crescent Hotel & Spa, surrounded by antique oil paintings and long, elegant Georgian window frames, it's suddenly apparent just how homogenous many of the bars, restaurants and hotels in our metropolises have become. Nick Jones, the bright spark behind the Soho House empire, is a master of his craft. But the way in which his establishments' design language of leather banquets, brushed metal, velvet upholstery and dark wood has spread across the world, and been aped by so many others, has the strange effect of making an 18th Century drawing room in a provincial British city seem totally fresh – to a city boy like me, anyway.
Having been welcomed by one of the tailcoated concierges, the Brunette and I are given a tour of the hotel that begins with the main building – two knocked-through townhouses on Bath's famous Royal Crescent, which celebrated its 250th anniversary last year. One of them, the Crescent's 'centre house' was once owned by the 'Grand Old' Duke of York, he of nursery rhyme fame. Out through the back door, there's an acre of immaculately kept gardens that have been purchased from adjoining properties over the years and amalgamated for guests of the hotel to enjoy. Beyond this, there are more buildings that house further hotel rooms, a spa and the Dower House restaurant.
Back in the main house, we're led up a grand spiral staircase and into another high-ceilinged drawing room. On the wall hangs another oil, 'Lady Waldegrave and her children', by society painter Sir Joshua Reynolds. While in Italy, the artist is said to have contracted a cold so bad that it left him deaf and in need of an ear trumpet. Still, it didn't hold him back too much; he went on to be a founder of the Royal Academy.
As we're taking it all in, the nice lady from the hotel places a key down on a table and motions to leave. The Brunette's eyes and mine meet as we realise in unison that this isn't just another grand drawing room, but the main room of our suite. And what a suite it is, with vast windows that look directly out on to the green that's girded by the Royal Crescent and a bedroom with a huge four-poster bed. It's easy to imagine the sheets having been creased by famous guests, such as the late Sultan of Brunei. He's said to have stayed here when his daughter was at Badminton school, just down the road in Bristol.
The following day begins with breakfast being delivered to the rooms, which is as civilised a wake-up call as you're likely to get anywhere. After a mid-morning ascent of one of the hills on the city's outskirts, to take in some spectacular Somerset countryside and a pub lunch, we repair to the hotel's spa. Being a rationalist at heart, answering a multiple-choice questionnaire designed to uncover the right aromatherapy oil for me, according to the 'five element theory' of traditional Chinese medicine, is not something that would normally feature in my ideal weekend away. But, from what empirical evidence I was able to gather, it is effective. Both the Brunette and I slipped into a blissful post-massage doze.
Fortunately, we awoke in time for dinner, to sample the food of chef David Campbell. Campbell has toured with the British and Irish Lions on several occasions and cooked for the England rugby team, but his style here is more 'fine dining' than 'training ground grub'. Unexpected combinations abound, such as candied rhubarb with duck liver parfait and venison with stilton beignets and chocolate. It's all washed down with a bottle of 2014 Saint-Chinian, chosen by the subtly theatrical sommelier, Jean-Marc Leitao.
The next day, after another leisurely breakfast looking out over the Crescent, it's time to drive back up the M4 to London – with all its leather, brushed metal, velvet and dark wood. Even a little bit of travel can broaden the mind.@EdwinSmith
Rooms at the Royal Crescent Hotel & Spa start at £330 for a double room, on a B&B basis