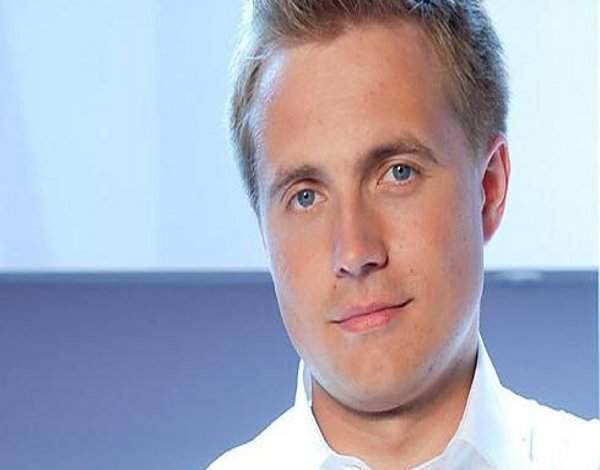 I'm so lucky to live in this city, with its wealth of music and art at my fingertips
In the last few days of the Proms, Bruckner featured heavily and, desperate to catch some remaining concerts, I dragged Monsieur Le Gris to the Royal Albert Hall twice: three weeks at the Edinburgh Fringe had left me pining for the Proms.
Prom 69
We were treated to Beethoven's Piano Concerto No 2 played by Norwegian pianist Christian Ihle Hadland, accompanied by the Oslo Philharmonic and conducted by Russian Vasily Petrenko (pictured below).
Hadland's precise and rhythmical interpretation was clean and sparkling, his approach almost Bach-like, his trills other-worldly, showing impressive dexterity during the elaborate cadenza at the end of the first movement. This was a less than romantic approach to Beethoven and I must say I do prefer my Beethoven broader, but it was a fitting interpretation as this particular concerto is, ironically, very Mozartian.
Watching Hadland play was really a joy: he simply brushed the keyboard with the tiniest of effort, almost childlike in his approach, as if he had been given a delightful toy to play with. It was an utterly endearing performance and a perfect example of a great technique, for the greater the musician you are, the more effortless playing should seem.
After the interval the Oslo Phil tackled Bruckner's Symphony No 4. Now, I'm not much of a Bruckner fan, it has to be said: his music always seems to be going somewhere but then breaks off with distractive ponderous themes and sweeping melodies which never seem to fully evolve.
This is particularly true in the Fourth and although there was a beautiful use of colour and texture and stunning dynamics, there was a meandering musical resolution. Bruckner certainly evokes Wagnerian themes and images of magical forests, but this is much better felt in the more famous Symphony No 8, performed by the Vienna Philharmonic at the Friday Prom.
Hear Prom 69 on the BBC iPlayer
Prom 74
Friday's Prom was a fantastic opportunity to see the Vienna Phil play, conducted by Lorin Maazel (pictured below), and also to see the number of female players gradually increasing: there has been much criticism of the lack of ladies in the Vienna Phil over the years.
This sold-out concert had a powerful atmosphere; most of London wanted to witness a flawless performance by an orchestra whose precision is second to none. Pianissimi from the strings came from nowhere while a rumbling bass drum and the magnificent brass section created a rich Wagnerian landscape. The addition of two harps also gives the symphony a magical quality and it is a far more crafted work than the Fourth.
After a sip of water and a friendly nod to the Concert Meister, Maazel handed the mysterious twists and turns of the second movement with majesty and ease of command, which only a veteran conductor could pull off.
This was a well-balanced concert too, the long symphony in the second half complimenting a short Bach recital on the magnificent Albert Hall organ by Klaus Sonnleitner, who is resident organist at the St Florian monastery in Austria where Bruckner was educated. Bruckner had visited London in 1871 and actually played on this beast of an organ, which at that time was the largest in the world, so it was a clever tie-in.
The ROH organ certainly has an impressive sound and it was wonderful to hear it being put through its paces. Despite the Baroque repertoire, Sonnleitner managed to create some lovely muted sounds and colours with the registrations, showing off some beautiful woodwind stops. The first piece, Cantata 'Wir danken dir, Gott, wir danken dir', was a little un-Bach-like in tempo and lacked an inner pulse but it could have been that Sonnleitner was trying to get used to the resonance of the hall and needed to make sense of the acoustics before settling on a tempo. The true resonance of the organ came into its own during the final Prelude and Fugue in A Minor, with some impressive pedal playing.
One always takes the organ for granted at church services but the one at the Royal Albert Hall is very hard to ignore. It crowns the auditorium and it was only right that it had its moment of glory in this penultimate Prom.
Hear Prom 74 on the BBC iPlayer
Last Night of the Proms
I'm very sad the Proms are over. There is nothing quite like this festival: its spirit, the devotion of the Promenaders, their charity work, humour and atmosphere make it an unbeatable experience. Roger Wright, director of the BBC Proms, has done a superb job and the Proms team is a sparkly, wonderful bunch.
The Last Night, conducted by Marin Alsop (pictured above),'was an utter triumph with Joyce di Donato on top form (pictured top). These two ladies made history as Alsop was the first woman to conduct the Last Night. She took to her post cracking a few jokes, which had the audience on side immediately.
Di Donato's superb singing and'her beautiful tone, particularly in'Rossini's La Donna del Lago, possessed'sparkling coloratura, and her trills had everyone in raptures. Her gorgeous stage presence was the crowning glory of this great night, not mention that Vivienne Westwood dress.
Some may be critical of the rather down-market musical route the Last Night takes but, on the contrary, it encapsulates the spirit of the Proms and it gave ample opportunity for bad boy Nigel Kennedy to talk and play around during his Czardas. Not once did it faze Alsop, who knew exactly what to expect from this geezer.
I'm so lucky to live in this city, with its wealth of music and art at my fingertips. David Cameron is right: we may be a tiny island but we are a great island indeed, not just for One Direction but for the Proms too. Rule Britannia!
Watch the Last Night of the Proms on the BBC iPlayer
Read more from Spear's Spotlight
Don't miss out on the best of Spear's articles – sign up to the Spear's weekly newsletter