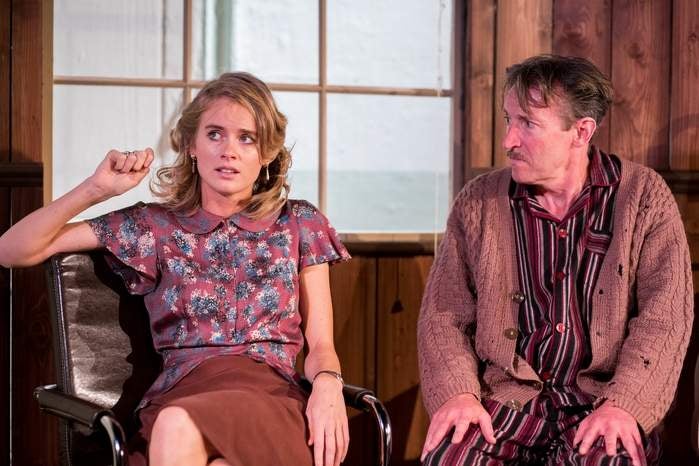 Mrs Orwell, starring Cressida Bonas, sheds a grim yet poignant light on the final days of George Orwell, writes Emelia Hamilton-Russell
The sound of a hacking-phlegm cough, hideous and shocking, is over-microphoned around the intimate attic space of the Old Red Lion Pub. As the lights come up, it becomes apparent that the offensive sound is coming from a TB-stricken George Orwell, played by Peter Hamilton Dyer, who is lying in a hospital bed wearing a disgusting cardigan.
'Would you like to be the widow of a literary man?' he asks, with the painful awkwardness of a man who expects rejection. His prospective wife, Sonia Brownell, is a young and glamorous editor of Horizon magazine played by Cressida Bonas, who is (despite her efforts) still best known for her run as Prince Harry's girlfriend.
Despite the fact that George Orwell was and is George Orwell, the prospect doesn't quite appeal. 'So what you want, in a nutshell, George,' says Sonia, incredulously, 'is a mistress, housekeeper, nurse, literary executor and mother for Richard?' The audience can almost smell what she calls his 'rotting lungs' and musty corduroys, so it's unsurprising that this particularly indecent proposal is not followed by a passionate embrace. Rather, as a savvy society girl approaching 30, she instead arranges a meeting with Orwell's lawyer.
And the lawyer tells her precisely how much Orwell is worth; £15,000 a year, if you're interested, so perhaps £75k in today's money (and that's not counting the royalties he's about to receive from 1984).
Next thing, Sonia is back, breezing into the hospital with business-like efficiency and sporting what she thinks is a 'rather pretty' engagement ring from Cartier, bought herself with George's cash. The editors of the Morning Star have a field day.
And here playwright Tony Cox plants the question that has dogged Mrs Orwell ever since: is the young Sonia the 'ministering angel' of what turns out to be Orwell's final chapter, or is she a money-grabber? As in so many dysfunctional relationships, it's impossible to determine who's using who.
Because it doesn't end there, so to speak. Orwell is her ticket to the London scene – a vibrant literary and artistic night-life that thrums audibly behind the confines of his hospital room. It's lunch with Thomas Mann or drinks with Picasso, Dali and Princess Margaret. A lascivious Lucien Freud lightens the mood, making some perfunctory appearances, ostensibly to draw Orwell but really to pursue Sonia, who actually doesn't mind.
Love triangles aside, the unflinching realism of Cox's play captures the torturous existence of a man whose body can no longer support his still vigorous mind. It's horrible. The frustration of creative energy unspent is tangible and borderline unbearable. 'It's all ego anyway, this creative stuff,' he rationalises with a gruff pragmatism that can't help but evoke pathos.
And at the end, Orwell snuffs it, as he must: no spoiler alert required. We're left only with silence, and relief that the hideous phlegm-rattle has ceased. Sonia is at a party as he lies dying. You would want more for Mr Orwell.
Ultimately, this is a play about a man at war with himself: he's deeply in love with a woman who is not very deeply in love with him at all. He cuts a tragic figure: she loves his status, as well as the access to high society, which he happens to despise. The title, therefore, is deceptive; this a play about Mr Orwell, and not Mrs Orwell at all.
Mrs Orwell is at the OId Red Lion Theatre, Angel, London, EC1V  until 26 August
Emelia Hamilton-Russell is a Researcher at Spear's