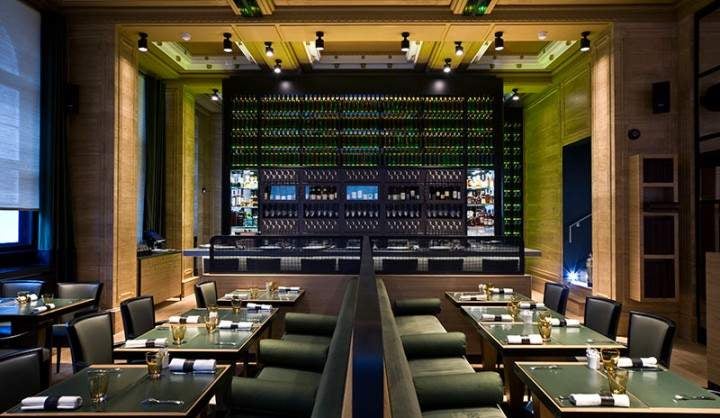 Taillevent's new venture in Cavendish Square is the birth of a star sommelier, writes Christopher Jackson
'Don't drink on an empty stomach: the main point of the refreshment is the enhancement of food. ' So wrote the late Christopher Hitchens in Hitch-22, and only the most stringent alcoholic would disagree.
But I suspect Hitchens would have approved of the decision of Les 100 de Taillevent – the latest scion of the two-star Michelin Taillevent in Paris – to open up in Cavendish Square. This cross-channel venture explores the way in which wine and food spark off associations by the suggestive act of being paired: '110 wines by the glass, each glass is associated with 30 seasonally-inspired à la carte dishes' is how the concept is pitched.
Those who might be inclined to take immediate flight from a restaurant with a concept needn't worry. Who hasn't at one time or another wished their wine better suited to their meal, and aspired to a greater sense of dialogue between grape and food? The idea works for both those who want to know more about wine, and for those who know a lot already: excellence is essentially democratic.
A place like this needs a sommelier equal to the task. Fortunately, in the shape of Christopher Lecoufle, Taillevent has a superb one. At 22, Lecoufle is the sort of prodigy who makes one scratch one's head about the utility of one's teenage years: it isn't just that Lecoufle can talk about wine, he can become the wine he is discussing. Part-sommelier, part-mime artist, and also a natural educator, the impression is of great achievement arrived at young – a Keats of the wine industry.
We begin with a selection of champagnes: the known biscuitiness of Veuve Clicquot cedes – before any food has been served – to a Champagne F Savart L'accomplie NV. Upon which Lecoufle, already rapt and inspired, raises his shoulders and makes himself arrow-straight to transform himself into the 80 per cent pinot noir component of the wine, to convey its 'structure'. Then, his face relaxing into a look of happiness, he explains how the other 20 per cent – the chardonnay – 'smiles through'. And it does.
These performances repeat themselves, the act becoming more complex as the food arrives. We experience a Menetou Salon Morogue 2013 – this 'pushes up and through' the earthiness of white asparagus with maltaise sauce, and resolves itself, we decide, under Lecoufle's infectious influence, like a rainbow.
I shall also long recall the perfection of the lobster bisque risotto which came with a Cote de Nuits Villages 2012 Domaine Julien, a 100 per cent chardonnay which Christopher explains to us is 'the exception that proves the rule'. It should be too much of a good thing, but instead is like liquid sunshine.
Ah yes, the liquid sunshine. This is not, in truth, a place in which it is easy to remain sober. The wild turbot – paired with an Ajaccio Granit 2013 Domaine Vaccelli – remains with me now as some ancient but forgotten reason for happiness. I also have a subsequent memory of trying not to weep before a calamansi lemon sorbet. This cedes with a kind of frightening leap, to another image of a cheese board of unfathomable kindness, lined with desert wines of curated relevance. Finally, Lecoufle escorted us down into his wine cellar where 6,000 wines await their destinies, and then sent us on our way out into the quiet of Cavendish Square.
Here's the only sense in which this venture is a gamble: London's Les 101 des Taillevent feels out on a limb on the corner of Harley Street, removed from the culinary heart of the capital in the West End or Mayfair. There's also the décor: a serious house on serious earth it is. The place has an atmosphere of sobre reflection – the solemn interior has the feeling of the sort of club where aristocrats went to die in pampered style in the 1920s.
I hope it works for them. The best solution to the Darwinian struggle of making a restaurant work in London is to do what Taillevent has done: a good restaurant should aim to do nothing less than make one think again about what it is to have a palate. That's what's achieved here.
Christopher Jackson is Head of the Spear's Research Unit