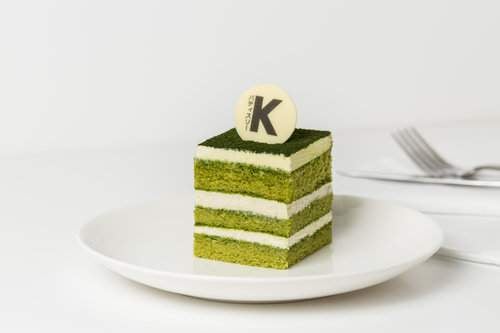 Kate Brogan delights in the original and refreshingly decadent creations of a Japanese patisserie.
I think it's best to start with a confession: I am totally bored of the independent cafés plaguing the streets of London. If my skinny sister recommends one more 'fab place for (extortionately priced) soy chai lattes', I might just lose it. Unsurprisingly, I approached Franco-Japanese fusion outfit Kova Patisserie with caution, expecting to be fleeced for some unoriginal gluten-free-non-alcoholic-kill-me-now produce.
Sandwiched between a collection of dingy looking, graffiti covered establishments on St. Anne's Court, Kova Patisserie's clinical decor instantly catches the eye. The glowing white, minimalist interior is deceptive. This place is seriously small and according to my calculations can seat no more than twelve slim punters at any one time. Colour bursts from a glass cabinet in the centre of the room, where an array of lime green, raspberry pink and chocolate brown creations perch, almost too perfect to eat.
Jon (the business mind of the duo behind the company) explains how Kova Patisserie brings to London the unique fusion of Western cakes with a 'Japanese twist' – a current trend in East Asia. The place exudes authenticity, even the packaging is imported from Japan. With funky felt buckets providing homes for designer handbags and coat hooks conveniently placed, it is clear that this place is built for affluent clientele. A quick glance at the menu confirms my suspicions – at almost £7 a pop, you won't find grubby students queuing out of the door for a slice of Mille crêpe. Regardless, the place is packed full of (largely Japanese) young professionals. It seems Kova Patisserie has successfully squeezed a little piece of upmarket Tokyo into Soho.
The menu is dominated by 'matcha', a stone-ground powdered Japanese tea. The selection of almost-neon green cakes and tea are products of this rather fashionable, antioxidant powerhouse. Served in a stylish glass, the green liquid certainly looks the part but if you're searching for a sugar fix, matcha tea won't be for you. The flavour is subtle and perfect alongside a slice of cake, but perhaps underwhelming on its own. Faced with a variety of Japanese names, be sure to ask for a recommendation of which tea to go for – the staff are charming and really know their stuff.
The signature Mille crêpes are a must. The owners have travelled the world chasing rumours of the best Mille crêpes in order to perfect their own recipe. This research has certainly paid off – the matcha Mille crêpe is beautiful. Ben (the skilled chef of the partnership) has created a silky blend of earthy matcha with fluffy custard cream between layers of perfectly textured French crêpe.
My favourite of the four on offer is the fresh fruit Mille crêpe. With thinly sliced fruit throughout, the recipe uses minimal sugar, leaving you feeling satisfied but not over stuffed and pretty much guilt-free. I have neither the skill nor the patience to recreate this at home so you'll definitely find me coming back for more of this little masterpiece, probably after a tough afternoon spent around the corner, browsing the endless rooms of Liberty London.
Whether you manage to find a seat or a beautiful box of their creations to take away, Kova Patisserie is worth a visit. Well, it looks like I'm an independent café convert – I must recommend this place to my sister.