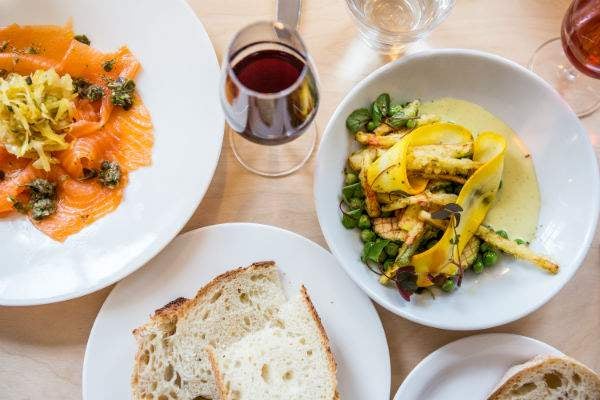 Aside offers delicious food, yet feels out of place in the gastronomic hinterlands of Peckham, writes Emelia Hamilton-Russell
Venturing to the depths of Peckham in search of culinary delight, all I can think of is Percy Fawcett searching for El Dorado in the Amazonian rainforest. With that cautionary tale in mind, I press on, venturing far from central London to review the newly-opened and somewhat strangely named 'Aside'.
It is not an auspicious start. A dark, rain-drenched evening only serves to enhance the general grimness of the area. The restaurant itself, situated on a residential street away from the centre of Peckham, is definitely off the beaten track: the London equivalent of grabbing a machete and forging a path through thick jungle bush. I couldn't help but think that Google Maps was leading us to the wrong place.
Despite my doubts, I arrive at my destination. My dining partner is waiting outside – he was worried he was at the wrong place, too. Once inside, we are struck by the Scandinavian aesthetic, now de-rigeur with those restaurants seeking to fall into the category of 'hip': wood-panelled benches, white walls – a curious combination of sterile and rustic. Their one aesthetic innovation is a cubby-hole under the table where cutlery and napkins are tucked away. Minimalism reigns.
We get settled in with a round of cocktails (the martinis are excellent), before being confronted with the next great peril of the evening: an utterly incomprehensible menu. Even though it is pleasingly small in scope, it presents only ingredients, not method: when asked, the waitress responds that the chef likes the evening to be a surprise. What jumps out from the otherwise random list of foodstuffs (lovage, nasturtium, girolles) is a focus on seasonality which a full early-autumn riot of apples, kale, beetroot, and fennel.
Preferring an unstructured dinner service, our food arrives Wagamama-style: haphazardly, as it is prepared. We order spicy kimchi and asparagus spears as small plates, and pork and seabass as large. Sourdough arrives steaming from the oven, crusty and salty and delicious. The seabass is meltingly soft, but the pork is the stand-out dish. Served with a fresh apple sauce, every mouthful gives the same sensation as sinking into a low-slung leather armchair by the fire, warding off the early autumn chill. It is exceptional. We finish off with Eton Mess, which is old-fashioned and incongruous to our surroundings but somehow works. I had never had it before because it always conjured up images of congealed school-dinner custard, but my dining partner insisted and I am gladly disabused of my pudding prejudice. The strawberries were fragrant and sweet and the cream fresh and perfectly whipped; and much to my relief there was no custard involved at all.
Despite the excellent food, I left with the feeling that Aside is a strange place. Most hip new restaurants find the buzz by building a relationship with their local area: perhaps their design aesthetics are inspired by the locality, or their cocktail list given a twist. However, the overriding feeling is that Aside is hiding from Peckham. Aside creates a rural-scandi bubble that has you floating in apple-sauce heaven, but once back on the streets, you are left thinking: why is it here?
Emelia Hamilton-Russell is a writer and Researcher at Spear's