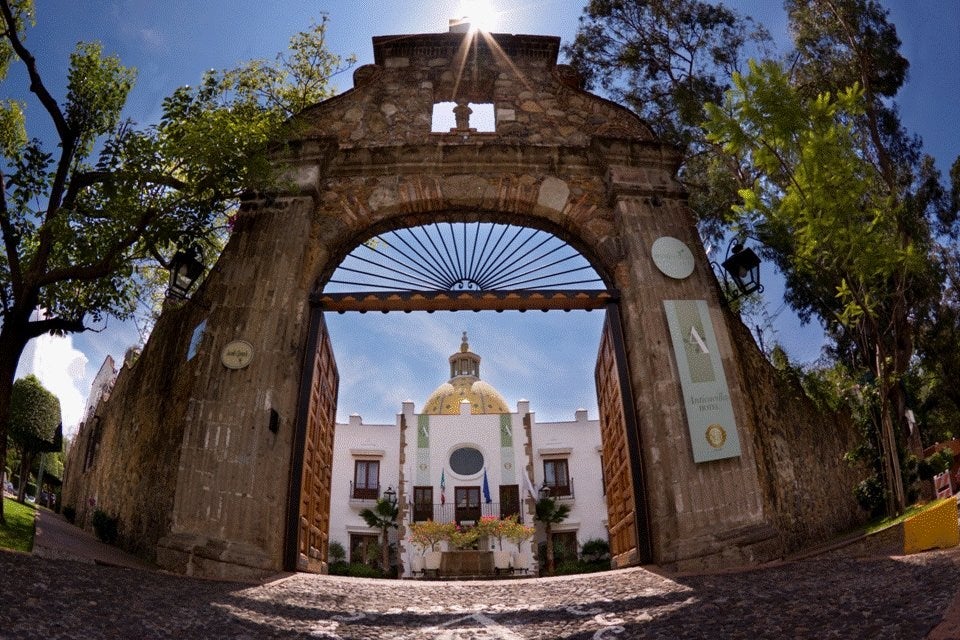 For Spear's, Matthew Hardeman escapes the sprawling megalopolis of Mexico City and heads to Cuernavaca, the 'City of Eternal Spring'
The road from Mexico City to the cultural haven of Cuernavaca is a regular route for well-heeled Mexicans embarking on a weekend break from the chaos and cold of one of the world's true megacities (for those without a helicopter, at least). But for the most part, Morelo's state capital remains a secret to the jet-setting foreigners who frequent the country.
Ascending from a cold and foggy capital, the inspiration for Cuernavaca's moniker – Mexico's 'City of Eternal Spring' – becomes clear: the sun's rays pierce a lifting mist, the air warms and flowers begin to bloom. It feels like a different country – a world beyond the hour's drive, at least – and not just because of its verdant hills, mansions and billionaire haciendas hidden along its pristine avenues.
To reach its pretty environs is to see why the town has been a prized military conquest and a centre of high society for centuries (even Aztec emperors had summer residences here). It became a hideout for wealthy locals and Americans at the end of the Mexican-American war, and was later known for its glamorous gambling scene in the early 20th century, luring the likes of Rita Hayworth, Bugsy Siegel, and Al Capone (it was even a hub for the psychedelic movement in the 1960s).
One of its grander hotels, Anticavilla is set amid the weathered walls and grand tropical gardens of what used to be the state governor's mansion. To pass through its timeworn arches is to experience Cuernavaca's history in a bona-fide boutique hotel: one that's as peaceful and spacious as any, with its mere 12 rooms, each adorned with (and named after) a unique artwork.
One shouldn't make assumptions from its capacity, though: the restoration work of architect Bernardo Gómez Pimienta, it's as ambitious in its designs as any – not least the towering fusion of Japanese industrial-style architecture into the colonialist structure on one half of the courtyard (think large concrete slabs and rustic chic, with holes in the ceiling for giant trees to grow). Everywhere you look, the team has been careful to balance the integrity and charms of the original structure with its newer, more modern stylings, like the colourful Eames chairs and the house bar, encased in a giant glass cube.
Its appeal can be attributed almost entirely to the hotel's owner-manager, Bartolomea Bazzardi, an Italian who founded the hotel with her husband, a successful banker who works in Mexico City. She has since applied her taste and hospitality know-how to the project – a clear labour of love, for its attention to detail (or rather what the hotel calls 'instant sense of serenity, interior equilibrium and beauty').
The rooms continue that theme: comfy beds, tasteful furnishing and walk-bathrooms await in the rooms on the second floor, linked by the quad-shaped classic open-air corridor structure that surrounds its garden grounds (TVs and DVD players, in-room WiFi, free minibar and butler services come as standard – and the climate controls are a breeze), while the more palatial presidential suite comes with its own private panoramic terrace with a fireplace and a Jacuzzi (you'll also find bar/lounge, steam room, and a rooftop terrace).
The Italian influence can be found virtually everywhere, from the open loggia, arches and columns to the cuisine (the chef and wines are all Italian – the menu is of course, split between Mexican and Italian fare) and Bulgari-laden bathrooms. The service is just as fine: the staff are courteous, attentive, and, cheerful as any Mexican you'll meet.
The results are quite breath-taking, but to enjoy its serenity means keeping it serene, so you'll have to leave the kids behind to stay here: the hotel is exclusively for guests aged 15 or over. Convenient or not as that may be, it's an idyllic location for romantic getaways. There's certainly no shortage of wealthy Mexicans looking to get hitched here, either, as demonstrated by the white marquee from a wedding the day before in its stunning courtyard gardens.
There's plenty to see here beyond Anticavilla's walls, of course. Be sure to visit the Cuernavaca's central square, Palacio de Cortes, with its breath-taking Diego Rivera murals; the stunning pink cathedral and the Robert Brady Museum, and wander its vibrant open air markets – attractions that frankly merit much more attention on their own.
There's also skydiving, water-skiing, mountain biking tours, hiking trails and scooter excursions available nearby for the more adventurous: that's if you can pull yourself away from the oasis-like swimming pool, heavenly tequila cocktails and the Maikiki spa at Anticavilla. Either way, you'll be hard-pressed to find anywhere else in Mexico that oozes this much charm – whether you're vertically or horizontally inclined.
Forget Cancun and the capital – if you're after authenticity, beauty and comfort, you won't go wrong here.
Booking
Book a stay at Anticavilla Hotel with Small Luxury Hotels of the World from US $185 per night (two sharing) on a B&B basis (www.slh.com/anticavilla; 0800 0482 314)
 Getting there/Mexico City:
AeroMexico offers daily flights to Mexico City from London Heathrow from £2129,00 return in Clase Premier (£636,00 in economy) on the new Boeing 787 Dreamliner.
Guests looking to stay in Mexico on transfer should check out the St. Regis, Four Seasons or no-frills SLH partner STARA Hamburgo [LINK: http://www.slh.com/hotels/stara-hamburgo/] (we recommend visiting the Mexican Palace of Fine Arts, the blue-walled garden of Casa Azul (00 52 55 5554 5999; museofridakahlo.org.mx) once home to Frida Kahlo and husband Diego Rivera, and the Museo del Chocoloate.
Anticavilla can arrange for direct airport transfers to and from Mexico City airport.
Matthew Hardeman is Senior Researcher at Spear's
Twitter: @matthewhardeman