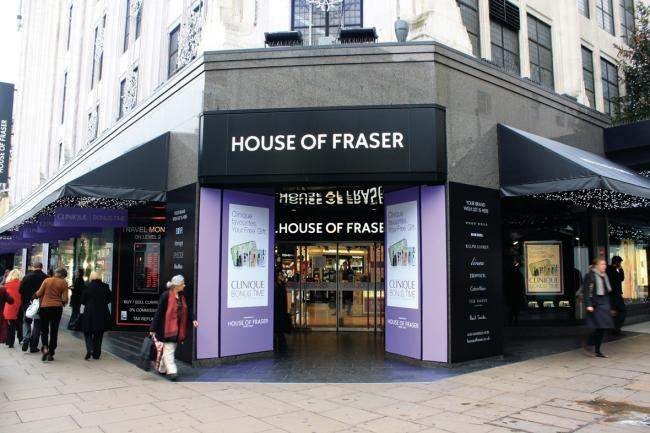 The strategic shift at M&S and latest closures from House of Fraser show a retail sector in systemic change — but one that ought to be better for all of us in the long run, writes Alec Marsh
The unsettling news that 6,000 members of staff of House of Fraser are set to lose their jobs — alongside the closure of 31 of their stores, several of which are arguably vital to the retail eco-spheres of the towns they serve — seems to herald a new chapter for retailers. Throw in the announcement at M&S — which is going to shut more than 100 shops by 2022 — and woes at Poundworld, where a further 5,300 job are feared for, plus the cascade of blood left on the high street by countless closures over the last decade and the evidence is clear: we're in the midst of a revolution, one being won by leaner operators where physical presence is tempered by online expansion. Britain is moving from being a nation of shopkeepers to a nation of virtual shopkeepers.
So far so tragic? Well not really. While the lost jobs above will create individual, human difficulties and turmoil, some will find employment elsewhere in retail, while many others will need to look beyond — and the good news is that the jobs are out there.
Amazon has announced that it will be taking on another 2,500 staff this year in the UK; meanwhile we know that the care sector — as well as the NHS — is going to have to expand to serve the unavoidable needs of our ageing population.  The Armed Forces are also looking to increase their headcount (if you fancy that). Against all this we also have a historically low unemployment rate of just 4.2 per cent — so if skills can be matched to people, those jobs lost from House of Fraser, M&S and Poundworld might find themselves in a different role within the economy.
And here's the thing: that new role is almost certainly going to be more economically productive than what these people were doing before — potentially standing in a dusty, unloved corner of House of Fraser somewhere, shifting some hangers around. A report from 2014 found that retail labour was only two-thirds as productive as average labour in the UK. That was an improvement on 1990 levels when it was just 50 per cent, doesn't change the fact. 'This reflects the labour-intensive nature of many retail services, for goods which can be essential but of low value compared to other sectors,' noted the report, which showed retail was barely a third as valuable per job as in manufacturing, and well behind food and drink and creative industries.
So consider this: what could happen to the UK economy if the 2.9 million people currently employed in retail were to switch — magically, it would have to be — overnight to working in more productive sectors? Well if they could move over to manufacturing, say,  where productivity levels are around £30,000 higher per worker, then it would add more than £80 billion to the British economy. Not bad.  That's the equivalent to the budgets of the Ministry of Defence and Education combined — and it would nudge UK plc over the $3 trillion-line, too. Hurrah for that.
On the downside, to achieve this, we would all be forced to use the automatic checkouts at the supermarket forever more — or to have endless complaints about the delivery drones going to the wrong house or showing up late with the wrong organic mushroom, but some of this might be a price worth paying if we end up with a workforce in higher paid roles which is achieving more for the economy.
As it stands, the old line about Britain being a nation of shopkeepers, is also bogus, since 66 per cent of those 2.9 million above actually work for just 75 chains: in other words we've become a national of retail workers, which is rather different. What's more, as we move into an era of labour scarcity — with the number of over-65s growing remorselessly — there will be more important things for many of us to do than running shops, important though they are as a civil amenity and leisure-source for some. That doesn't make matters any easier for the tens of thousands who are losing their jobs in a transforming industry today of course; action needs to be taken to support retraining and reskilling — but get that right, and we'll all be better off.
Alec Marsh is editor of Spear's