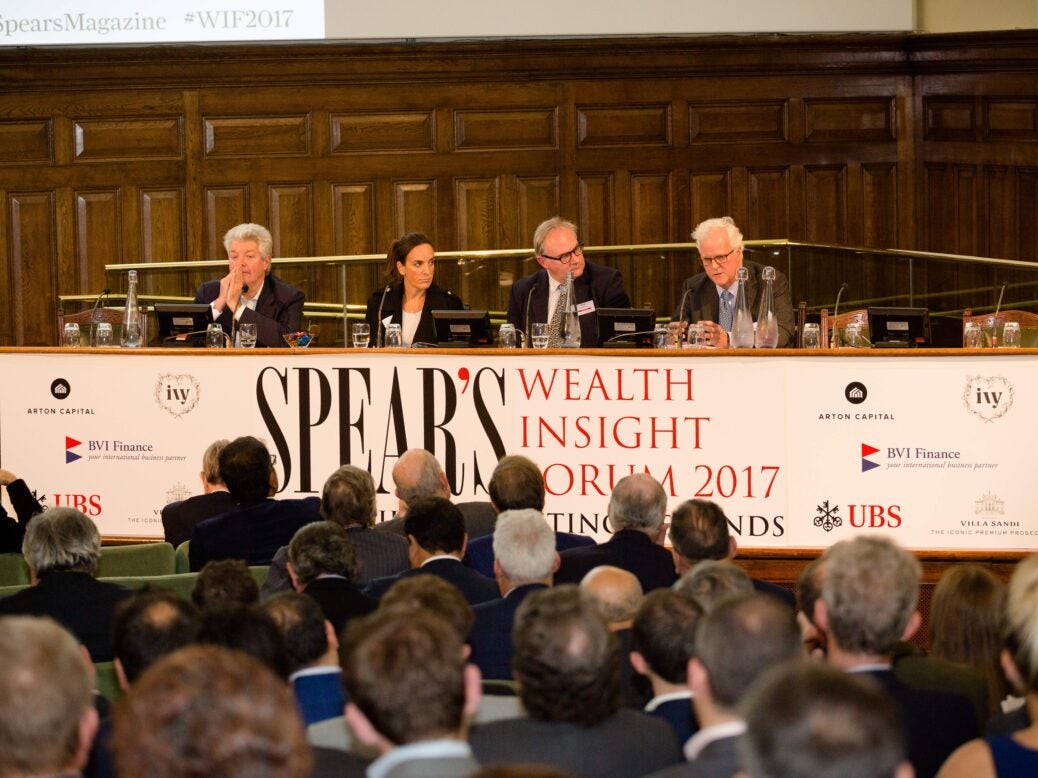 Spear's 2017 Wealth Insight Forum, the £1 billion meeting of minds, started with Trump and ended with a toast to London's secure future as holder of the world's financial crown post-Brexit
Spear's hosted an exclusive afternoon of industry insights and networking for more than 200 guests at the annual Spear's Wealth Insight Forum this week. Delegates heard from 21 speakers who divulged both their expertise, and opinions, on a breadth of topical issues. These ranged from geopolitics in the age of President Donald Trump, London property investment forecasts and the rise of ETFs for portfolios, to tax, trusts and residency trends, and developments in the luxury business world. The event concluded with a lively debate featuring Gina Miller on the question of the moment: will Brexit tarnish the City of London's financial crown?
Robert Amsterdam's analysis of geopolitics inaugurated the forum, though the litigator set a serious tone as he talked about the 'rush' of HNWs to the United States: it is becoming what he calls 'the world's biggest tax haven' – even at a time when the country faces a menacing new 'crisis of deinstitutionalisation'. President Donald Trump's White House wants to make all the decisions, he said, and that's why thousands of posts remain empty at the Defence and State Departments. 'The men and women who set the rules of trade for a generation are gone,' he said, replaced by a new breed who believes in 'America First'. Amsterdam argued this now means the US is 'a power in question' while countries like Russia and China are gaining influence fast, building their own global institutions and values systems.
Warning that the rule of law is being undermined in the West, Amsterdam said Trump's unique approach to international affairs should have all HNWs reviewing their investments and portfolios. 'One of the problems with Trump – and there are many – is that there is no understanding of where he is on any given issue.' Amsterdam ended with a call to powerful figures and their advisers not to stay neutral. 'You don't have to take a strong position – you just have to get engaged.'
Trevor Abrahmsohn, CEO of Glentree International, who asserts 'London is, and always will be, the go-to place for HNWs to buy landmark property' kicked off the Property Outlook panel.  Abrahmsohn was joined by Camilla Dell, managing partner and founder of Black Brick Property Solutions and Peter Mackie, founder of Property Vision, who are all positive about the potential of residential property post-Brexit. Indeed his view seems to reflect the general consensus.
'As an asset class, residential property has been a very sturdy performer,' says Abrahmsohn. 'HNWs from abroad seem to be shrugging off the imponderables of Brexit and the prospect of a Corbyn government. They're buying handsomely again, but admittedly at prices 20 per cent less than they would have in the halcyon days.'
Dell qualifies this, saying that, 'London isn't one of those places where you can slap a figure on the whole market and say "London is down 20 per cent", different parts of the markets have behaved in different ways. The sub-£1 million has been relatively protected'.
Mackie has the last word, offering up sage advice: 'Investment in the London property market should always take the long-term view, like any asset, you've got to be highly selective and focus on what you want it for'.
Next to take the stage was Andrew Walsh, executive director of UBS asset management, who spoke highly of exchange traded funds as 'another tool in your toolbox as an investor to consider'. UBS, one of the sponsors of the WIF 2017, shared thought-provoking insights about what ETFs are and why they're appealing. As bona fide funds, they offer investment protection, meaning 'even if UBS went under, you as the beneficial owner of an ETF would still be the owner of those assets… you would ultimately receive your funds.'
ETFs are also cost-effective, not requiring active management, and flexible, allowing easy access to different markets and asset classes. They can be bought with embedded currency hedging too. 'We've had German investors buying their own market with US dollar hedge embedded. You could buy the US market with a GBP hedge or the US market with a Euro hedge even as a British investor. So it helps people who maybe don't have access to buying pure currency punts to be able to invest in these different markets.'
Responding to a challenge from a WIF guest over the remorseless of the capital inflows into ETFs – the total ETF market stands globally at £3.1 trillion – Walsh reminded the audience that passive management still only constitutes approximately 7 per cent of the mutual fund industry.
A subsequent panel discussed the tax and trusts outlook for HNWs. 'Twenty years ago, onshore clients required offshore tax structures. Now they move themselves, not just their money,' tax adviser Mark Davies commented. He, three distinguished tax lawyers and Gary Hales, head of business development at BVI Finance – who sponsored the panel – discussed topical issues including non-dom tax changes and the landscape post-Brexit, as well as legal issues of privacy and information security. Hales also spoke about how recent hurricanes have badly damaged 80 per cent of BVI's buildings, requiring approximately $1 billion to repair.
Davies noted he has recently set up trusts in US jurisdictions, South Dakota and Nevada, while lawyer Ceris Gardner echoed her clients are still interested in creating and maintaining trusts. Solicitor James Quarmby emphasised clients are uncertain about the present tax regime for non-doms; Portugal, Malta, Cyprus and Italy are attractive alternatives. Davies added he's optimistic Britain will remain a destination for international clients to relocate to.
Luxury business was next on the WIF agenda, sponsored by Ivy International. 'The finer end of life has always been my beat,' said Lucia van der Post, founder of the Financial Times's 'How to Spend It'. And the same could be said for the rest of the panel, which included Ivy founder Inga Verbeeck, Mark Harvey of English winery Chapel Down and Aaron Simpson, co-founder of Quintessentially. Together, they pondered how millennials, with their frenetic, self-reflexive, digital modes of communication, express an increased concern for how the 'self' is presented to the world. This has caused a cosmic shift in how luxury brands work and what people aspire to.
Mark Harvey told us that those with mega-bucks no longer covet things – rather, they want to make meaningful contributions to society. He relayed a story of a client whose luxury yacht doubles as a marine research unit, which the client occasionally 'borrows from the researches for the odd holiday'. Van der Post summarised: 'The millennial generation have forced the focus onto the self – it's not about what you have, it's about who you are as a person'.
Lawyers returned to the stage alongside John Hanafin, chairman of Arton Capital and the sponsor of the panel. 'Clients are hedging their bets and are looking at residence elsewhere,' Sophie Dworetzsky, private client planning partner at Withers, told the room. The final panel focused on second citizenship and residency issues for HNWs and the trio agreed that more than a year since the Brexit vote, requests for advice about citizenship and residency persist. Hanafin noted what the motivation is: 'it's about access and security, not necessarily tax.' He drew attention to Cyprus and Italy as increasingly popular countries for relocation. Dworetzsky added that the crux of the concern for clients is how long lasting the uncertainty stemming from Brexit will be, with Gardner also corroborating: the 'state of flux' means her EU clients are in doubt about whether to move to, stay or leave the UK.
WIF concluded with the Great Spear's Brexit Debate, during which Gina Miller asserted the drivers of Brexit were propelling Labour leader Jeremy Corbyn to his current popularity. Miller predicted that the twin disasters: Brexit and socialism, would spell disaster for the City. On the opposing team, Oldie editor Harry Mount posed as a voice of reason, articulating 'it's always the case that at any time of tragedy or uncertainty, the predictions of massive negative outcomes, in the end, come down to much less: nothing like the original figure.'
Following the debate, guests sipped premium Prosecco supplied by Villa Sandi, while networking and reflecting on the day's fascinating discussions.


Spear's Wealth Insight Forum 2017 sponsors: