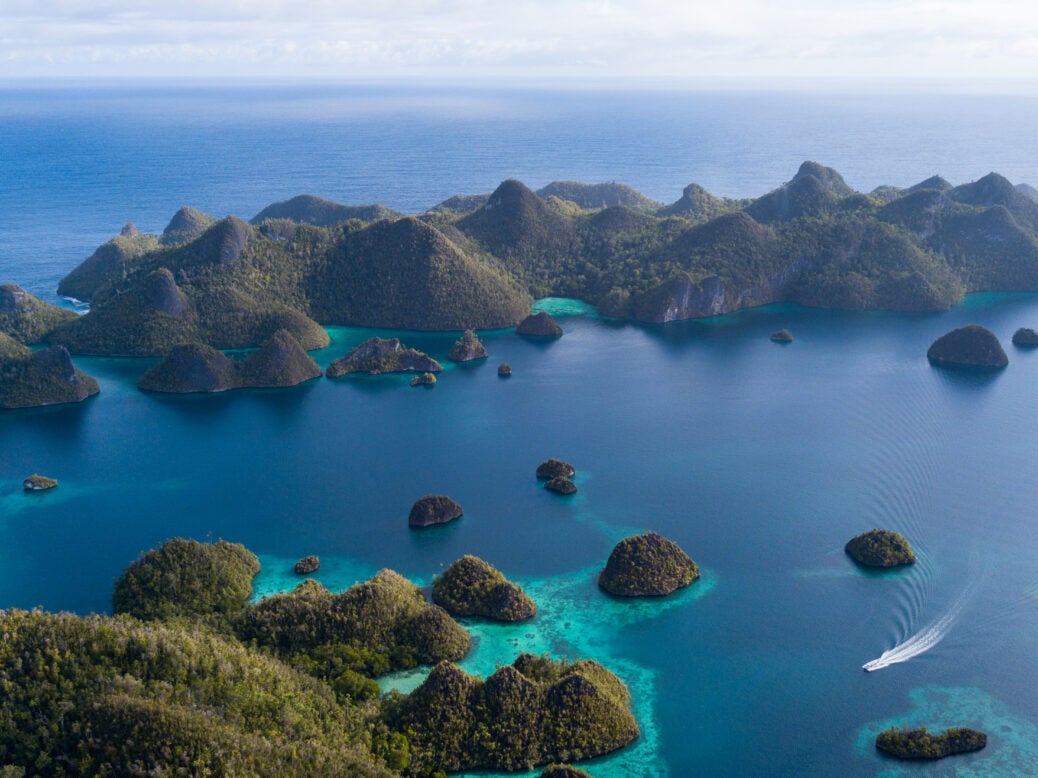 Christopher Silvester enjoys a diving adventure with a twist off the Indonesian coast in Raja Ampat
Sean Galleymore is a man on a mission. This South African diving expert is a visionary who wishes to transform the yacht chartering business worldwide. He hates the wastefulness of megayachts.
There are too many 'backpacker' deckhands, too many accidents in yachting. His passions are the extraordinary variety and fecundity of marine life and the cadet programme he has created for the purpose of training crew to a superlative level.
'They can't be specialists,' he says. 'They have to know everything.'
West Papua is the base for Meridian Adventure SAIL, a fleet of eco-friendly, 19.9-metre catamarans, which offer luxury accommodation for groups of travellers seeking a unique diving experience.
I am here with a group of travel writers and yacht brokers, as well as a Hong Kong billionaire and his wife. 'We are not a charter company, we are not a dive company, we are an adventure club,' Galleymore explains.
Guests can book a catamaran or up to all six vessels for a customised diving and sailing adventure around Raja Ampat, one of the last few pristine marine reserves – perfect for an entrepreneur's corporate jolly or, indeed, his multi-generational family holiday. 'We're not seeking cabin-based bookings,' says Galleymore.
'We prefer families who've already had megayacht experiences. Our fleet gives autonomy, it's independently anchored, and it creates a village effect.'
To reach Raja Ampat, an archipelago of four large islands and hundreds of tower karst islets, you must cross the Dampier Strait, a rough expanse of ocean, in a fast tender (which means getting wet) or a closed-cabin boat, a journey which takes 90 minutes. You don't need to have a PADI certificate or, indeed, any significant diving experience.
There are highly skilled divers on hand to teach you everything you need to know, and you can take your first dive with oxygen after about an hour's training.
However for those who prefer to snorkel there is plenty to see, and a couple of the cadets will lead you on guided outings while the hardcore divers head down beneath you ur first dive is in the Dampier Strait.
We spot a pilot whale rising briefly to the surface a few hundred yards away. While I am snorkelling, a turtle passes beneath me. Our second dive is at Yeban Shallows. Galleymore describes this as a pimple rising out of the sea with a long sand bank connecting it to other rocky outcrops.
There I see a black tip shark patrolling the reef below. Its presence doesn't alarm me, as I know it isn't dangerous to humans. At Pef, we go on a paddleboard safari, following narrow channels through the mangroves, skimming across corals while small fish jump up onto our paddleboards.
On another occasion we embark on a night-time paddleboard safari in the darkness, the only illumination being coloured LED lights underneath our paddleboards. We make our way through a low tunnel cave, which leads to an inlet, and we form ourselves into the circular shape of a flower head, with each board serving as a petal. Galleymore instructs us to lie back in silence and gaze up at the stars as he switches off all our LEDs with a single remote switch.
It is a moment of sublime rapture, an opportunity to fulfil his oft-repeated mantra about presence of mind. At an islet, we snorkel and swim through a gap in the reef to reach a beach where we gather in a circle for an aerial photo by drone.
At Waigeo island, we explore one of the conical tower karsts by trekking to its summit. Then there is swimming with sharks, and not in the metaphorical sense. We arrive at an island village where a ranger proceeds to feed a school of black tip sharks in the shallows while we swim among them.
Aside from wanting to improve the available pool of superyacht crews, Meridian's raison d'être is its slow-travel mandate. That means craft with low emissions and detoxification of waste. Local villages are important.
'We are in their back garden, at their request,' says Galleymore. 'People protect what they love. I believe in the power of the ocean to cleanse and challenge, to revitalise.'
The biggest threat to the marine reserve is the vast number of unregulated phinisi sailing junks, known as 'liveaboards'. The phinisis have deficient treatment systems, anchor near reefs and dump their waste on to reef systems. Nor does the local economy benefit from their presence.
Their crews are not locals, they don't buy their supplies locally, and they don't spend money in Raja Ampat. Meridian, on the other hand, assists the villages when it comes to electricity generation, water conservation and waste management.
At Friwen, Meridian supports the local village with homestays (whereby their guests can stay the night in a village dwelling and eat village food), and it pays for its guests to be on the beach, where they can drink coconut juice and use Seabobs or electric hydrofoil surfboards.
Indeed, Meridian is training numerous homestays to become hotels on their own terms, providing chefs who teach them how to enhance food. The Meridian DIVE resort at Waisai, where academy cadets do their eight days' PADI training, is a five-star facility, with the best compressors in the world.
'Private yachts should only anchor in specific places,' says Galleymore. 'Meridian employs Indonesians, educates them, but crucially it learns from their local knowledge. Our crown jewels are the diving experiences. We've even converted a fishing vessel into a cargo carrier.
'The superyacht industry is owned by 1,000 people who run the world,' he adds, therefore to give them self-actualisation experiences while educating them about marine conservation is 'a way of shaping minds and lives'.
And that brings me back to Galleymore's favourite phrase once again. In all things, cultivate presence of mind. It's good for the planet as well as good for the soul.
Meridian Adventure SAIL's all-inclusive, semi-private Raja Ampat voyage starts at $8,250 per day, per vessel (6-8 guests; one week minimum). Group expeditions with six vessels start at $49,500 per day, with up to 21 cabins available. sail.meridianadventures.com Qatar Airways offers flights from London to Jakarta from £533 return. (From Jakarta, Raja Ampat can be reached via a domestic flight to Sorong.) qatarairways.com
More travel from Spear's 
Max Johnson: 'I couldn't face having our social freedoms eroded, so I escaped to Bali'
La Mamounia hotel review: More than ready to saunter out into the post-covid sunshine