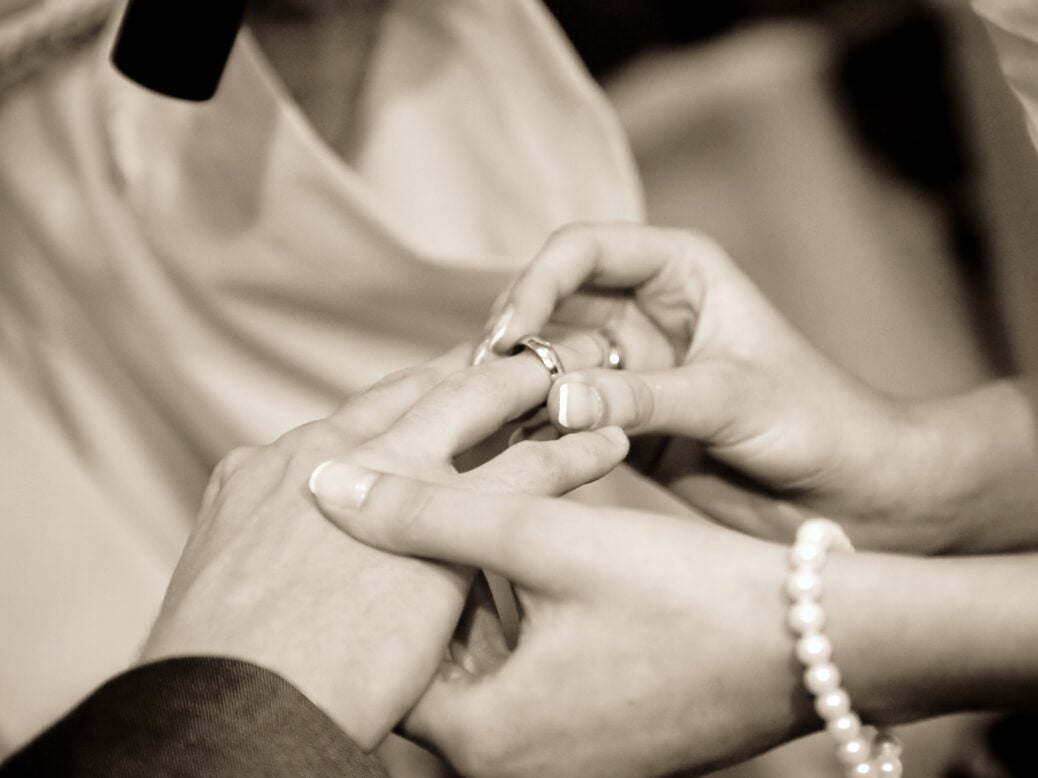 With entrepreneurial HNWs getting wealthier and marrying later in life, post-nuptial agreements are becoming increasingly valuable in the world of the wealthy, writes Hannah Field
There appears to be an increasing trend for wealthy business people entering into post-nuptial agreements – contracts entered into after a marriage or civil partnership. The idea behind them is to regularise what should happen to a couples finances in the event of a divorce or dissolution of a civil partnership. People often consider entering into these types of agreements when they are contemplating a divorce or dissolution of a civil partnership. In some circumstances people enter into these agreements where they have previously separated but then reconciled and want to formulate an arrangement in the event that their reconciliation doesn't continue.
Post-nuptial agreements like pre-nuptial agreements are not legally binding on the courts of England and Wales. However they are taken into consideration when determining how a couple's finances should be divided on divorce or dissolution. In order to ensure such agreements are afforded as much weight as possible by the court both parties should ensure that the agreement was freely entered into without any undue pressure or cohesion and that each party provided full and frank disclosure about their financial circumstances so that they could both make an informed decision about being bound by the agreement. The agreement must also not be manifestly unfair, including making provision for any dependent children. Both parties should also have taken independent legal advice.
Naturally, there are advantages and disadvantages of entering into these types of agreements. Let's face it – talking about money is never pleasant and may in fact accelerate the breakdown of a relationship as opposed to save it. Or worse still, it may put a relationship in difficulties if it wasn't before and question the longevity and commitment of the relationship. There may be circumstances where an individual's financial circumstances may not have be as the spouse had been previously led to believe. As a result, an individual may feel like a financial weaker party and may be put at a disadvantage.
If we can look past the disadvantages, there are plenty of benefits to consider. The agreement provides a clearer view of what would happen if the relationship broke down. When deciding how to divide assets a person's attitude to money may be different in circumstances when people are trying to stay together as opposed to definitely separating.
It can be helpful for both people to understand each other's financial obligations to one and other and formally regularise finances in the event that there is a separation. It could also reduce tension that may exist around your financial circumstances.
Furthermore, if entering into a second or third marriage individuals may want some security for children from a previous marriage or indeed safeguard property that has significant value either on a monetary basis of sentimental basis. With more people marrying later on in life, it makes sense for HNWs to protect the wealth and significant asset base they have already built up.
If you are considering a post nuptial agreement it would be most beneficial to discuss the agreement in a collaborative setting. This would mean that each party would instruct a solicitor who is collaboratively trained. Meaning their focus would be to resolve the issues altogether as a team as opposed to it being one side against another. Working through the agreement altogether and agreeing that it is fair in the circumstances would hopefully ensure that the agreement would be accepted by a judge as being reasonable and therefore the hard work and effort going into reaching that agreement would be worthwhile.
Whilst post nuptial agreements aren't romantic they are in essence a type of insurance policy that, as long as it is drafted correctly, would provide some security in the event of a breakdown of a relationship. You wouldn't risk going abroad without travel insurance so why should the same not apply to a marriage or civil partnership especially if some cracks are beginning to appear.
Hannah Field is a senior associate in the family team at Russell-Cooke