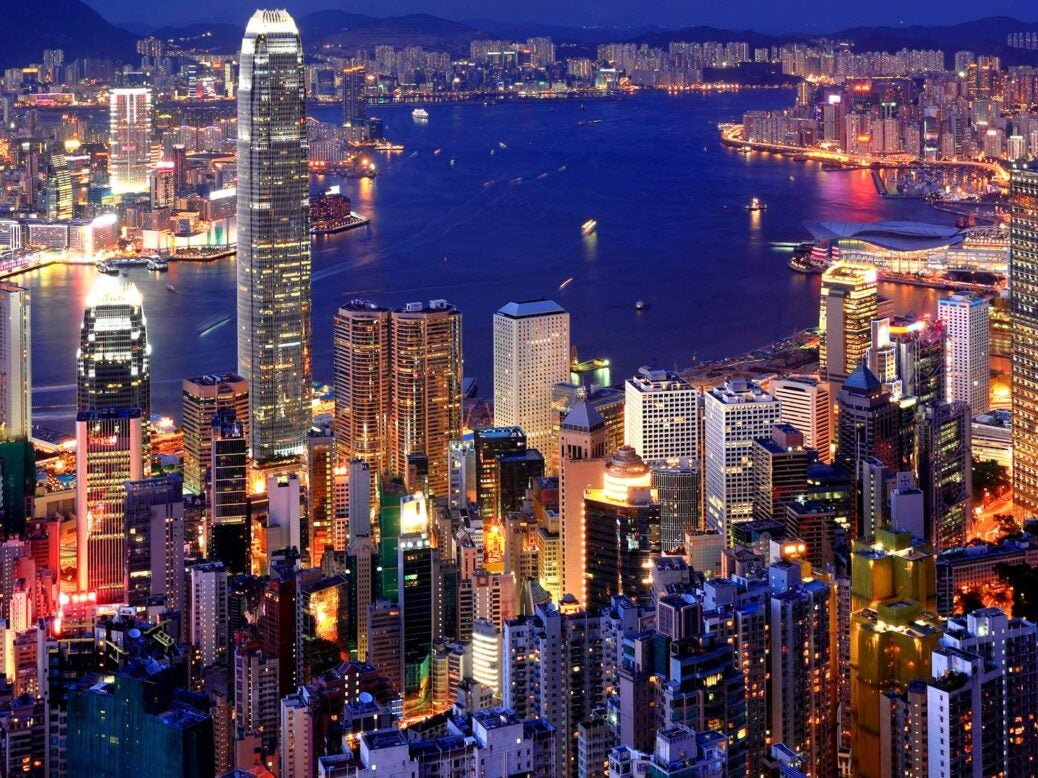 The Pearl of the Orient is thriving 20 years after the handover, making property even more sought-after, writes Catherine Moye
When Britain quite literally lost the plot at Hong Kong's handover to China 20 years ago, the most powerful and arresting pointer to that loss was property. Ceding that bustling South China Seas entrepôt crammed with skyscrapers to a Communist regime caught the public's imagination. It was like guiding an Olympian on to the gold medal podium, whereupon he abruptly switches sides.
Hong Kong still has the world's highest concentration of skyscrapers, and rather than the whole thing metaphorically coming crashing down after 1997, the city and its property market have thrived.
'In terms of the property market, we don't think about handover now, or even reference the UK very much,' says David Ji, head of research at Knight Frank's Hong Kong office. 'The Hong Kong dollar is pegged to the US dollar, so we're at the mercy of the [US Federal Reserve Bank's] interest rate, which is very low right now. The economy has also benefited from the Chinese economy, which has been growing at 6.5 per cent a year.'
As well as Hong Kong's historic economic significance as 'the gateway to China', Ji points also to its standing as the only truly international financial centre in the region (Tokyo, Singapore and Shanghai being more regional) as an ongoing reason people want to move there, swelling its domestic population to 7.5 million.
'We are a city with a limited land supply, so we know that house prices that have been going up on average between 5 and 10 per cent per year since handover won't come down, especially at the luxury end, where they are in even shorter supply,' says Ji.
The one thing that has largely remained unchanged since 1997 is where the top addresses are. 'The ultimate trophy property would be a house on the Peak or the south side
of Hong Kong island, notably along Deep Water Bay Road and in Shek O, where there are some very substantial mansions,' says Simon Smith, head of research at Savills Asia Pacific. 'For high-rise, the top addresses would be in the Central and Western Mid-Levels, centred around May Road.'
Such properties don't come cheap. Townhouses on the Peak typically cost HK$6,000 (around £600) per square foot, with detached houses in the seaside village of Shek O around HK$10,900 (£1,100).
Even shocks to the market, such as the Hong Kong government's 15 per cent hike in stamp duty on all residential transactions in 2016, have failed to curb soaring house prices. With land limited and many wealthy mainland Chinese investors regarding a Hong Kong apartment as de rigueur, the pressure on luxury housing looks set to grow.
'We estimated that the number of UHNWs in China will grow by 140 per cent in the next ten years, which is about 20,000 more people and on a par with the US,' says Ji. 'They will be coming in droves.'
According to Knight Frank's latest wealth index, the price per square metre of residential property in Hong Kong is now beaten only by Monaco, with US$1 million buying around 20 square metres (as opposed to 30 in London). It has the third largest concentration of wealth (after New York and London).
However, while Hong Kong's spacious penthouses offer panoramic city and seascapes, elsewhere things look increasingly cramped. Earlier this year, Hong Kong's secretary for development predicted that by 2018, 43.4 per cent of all new units in the city would be so-called class A flats (of less than 40 sq m/430 sq ft). That compares to 14.9 per cent in 2012 and 25.9 per cent in 2016 – a move that not only addresses land scarcity but also means younger buyers can conceivably get a foot on the ladder.
But if beds raised on wooden platforms over living areas and kitchens that segue into bathrooms sound fitting for a generation of ambitious digital natives who socialise, work, watch TV and play games using the same gadget, think again. New World Development (NWD), one of Hong Kong's biggest developers, appeals to young professionals in a language that sounds more Shoreditch hipster or even laid-back Sixties California than hyper-competitive Tiger economy.
'We can see our future customers demanding a slow-living lifestyle, more greenery, sustainability, as well as something spiritual, cultural and artistic,' Adrian Cheng Chi-kong, NWD's general manager, says of Mount Pavilia, the firm's scheme in Sai Kung. 'We are not doing anything flashy such as using gold or diamond as decorations. It's more of an attitude towards our future life.'
The development sits on a 720,000 sq ft site, of which 340,000 sq ft is public space, and comprises 27 tower blocks holding 680 flats. It boasts multiple sustainable features, including a pond where fish are fed recycled food waste, while the fish's own excreta is used to fertilise plants in the pond, making the water cleaner. One 1,800 sq ft apartment recently sold off-plan for HK$40.5 million (£4 million), a record high for the area.
Cheng promotes the 'Artisanal Movement' as his company's beating heart. For runaways from mainland China's horrendous pollution and packed multi-lane highways, the prospect of buying into a 'community of Bohemian Urbanites' and of expanding imaginations clearly strikes the right chord. It is also highly profitable for the NWD brand: on 31 December 2016, its total asset value was HK$420.4 billion.
While the flow of mainland Chinese looking to live in Hong Kong looks unstoppable, an equally strong driver of the Hong Kong property market's growth is the number of Chinese mainland developers now operating there. According to analysts JLL, mainland developers bid on more than half of all government residential land sales in 2015, winning 25 per cent of awarded tenders and elbowing aside local developers who had long enjoyed an entrenched position.
Around 119,000 new households are expected to be formed between 2016 and 2019. About one in ten of those buying primary homes could end up in properties built by mainland developers. Maybe their schemes will speak to the mores of a new generation whose residential property aspirations are increasingly linked with being grounded in something closer to nature and with original artisanal design. The next 20 years will tell.
Catherine Moye is a travel and property writer, novelist and screenwriter
This article appeared in the July/August edition of Spear's. To enjoy all this and more, go to your nearest WHSmiths travel store or independent news agent or visit www.spearswms.com/subscribe
Related