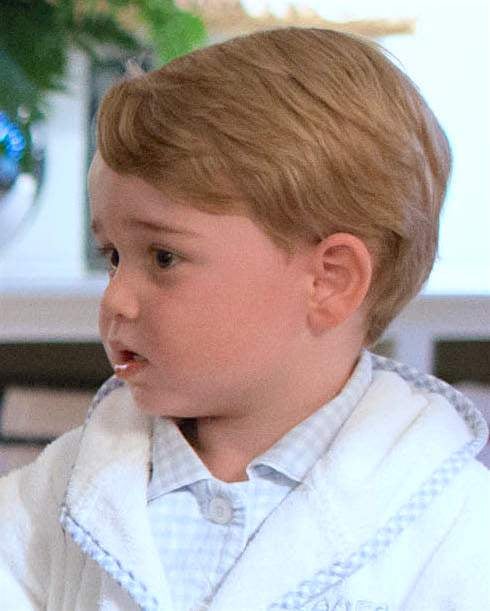 Heir to the British throne, Prince George of Cambridge, has estimated to be £2.4 billion.
Born on July 22, 2013, at St Mary's Hospital, London, Prince George (George Alexander Louis) is the first child and only son of Prince William, Duke of Cambridge, and Catherine, Duchess of Cambridge. He is third in line of succession to the British throne, after his paternal grandfather, and father.
Prince George was baptised by the Archbishop of Canterbury in the Chapel Royal at St James's Palace on 23 October 2013. The prince, with his parents, embarked on his first in April 2014, during which the Cambridges spent three weeks in New Zealand and Australia.
His first public engagement of the tour was on 9 April at a playdate at Government House, Wellington, organised by the New Zealand parenting organisation, Plunket.
On 2 May 2015, Prince George made his first public appearance in the United Kingdom, when he visited the hospital of his birth after the birth of his sister Princess Charlotte of Cambridge. He made his first public appearance on the balcony of Buckingham Palace following the Trooping the Colour parade on 13 June that year, to watch a flypast by the Red Arrows on the Queen's Official Birthday.
In August 2015, Kensington Palace expressed that they wanted all global media to quit taking unapproved photos of Prince George, as they trusted "a line has been crossed" in paparazzi techniques for finding and photographing him.
Prince George started his education at the Westacre Montessori School Nursery, in January 2016,. The nursery is located close to his family home at Anmer Hall in Norfolk. Later that year, in April, he was photographed for postage stamps to mark his great-grandmother's 90th birthday, alongside his father and grandfather.
On 22 April of that year, he met President of the United States Barack Obama.
On 20 May 2017, Prince George served as a page boy at the wedding of his aunt, Pippa Middleton, to James Matthews.
Prince George started primary school on September 7, 2017, at the private Thomas's School in Battersea.