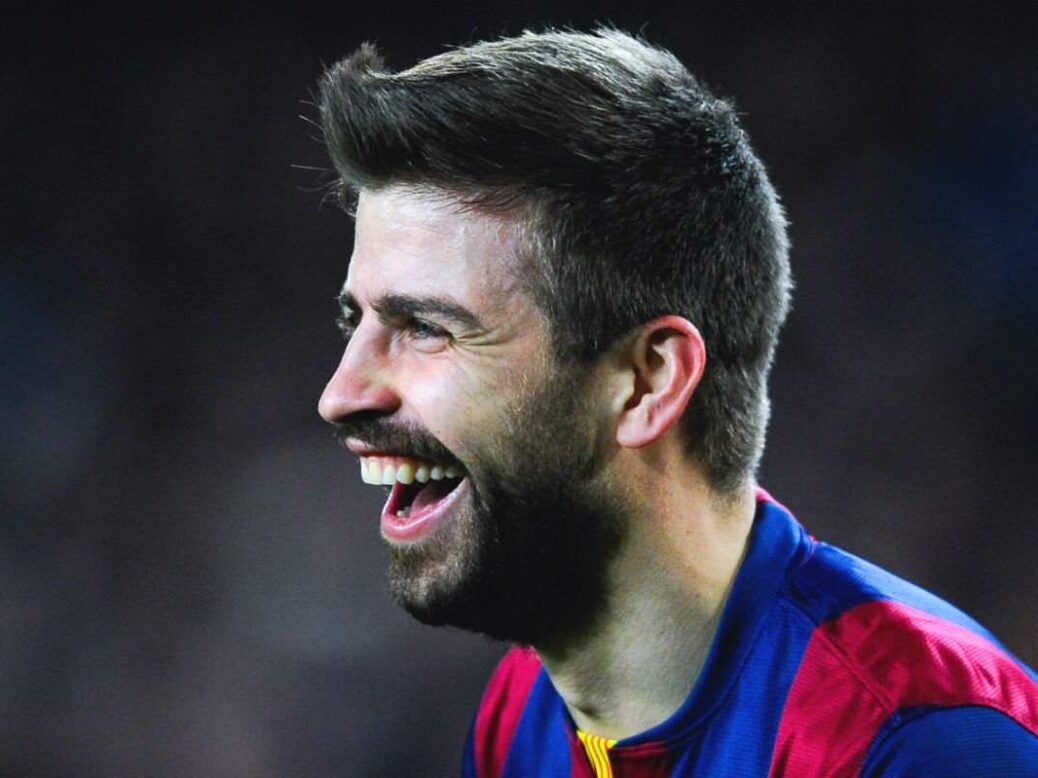 Having played over 250 games for Barcelona since 2008 and widely being regarded as one of the greatest defenders of his generation, we look at the numbers for Gerard Pique's net worth.
Gerard Piqué Bernabéu comes from a well-to-do Catalan family, his mother, Montserrat, is the director of a hospital related to spinal injuries in Barcelona and Joan, his father, is a businessman. His grandfather is Barcelona's erstwhile vice-president Amador Bernabeu.
Nurtured at Barcelona's La Masia Academy, Gerard Piqué began his footballing career as a defensive midfielder in FC Barcelona's youth team.
In 2004, he went on to play for Manchester United (ManU)—for free because he was not old enough for a professional contract. Although in the shadow of ManU's better known defensive stalwarts, Rio Ferdinand and Nemanja Vidic, Piqué scored twice in three matches during the 2007-08 UEFA Champions League.
Piqué then returned home, signing up professionally with Barcelona in May 2008 fora £5 million, four-year deal stuck to a €5 million buyout clause.
Piqué's footballing honours with ManU include: the Premier League (2007-08), FA Community Shield (2007) and UEFA Champions League (2007-08). With Barcelona the defender has won seven La Ligas (between 2008-2018), six Copa del Rey trophies (between 2008-18), five Supercopa de España trophies (2009, 2010, 2011, 2013 and 2016), three UEFA Champions Leagues (2008-09, 2010-11 and 2014-15), two UEFA Super Cups (2009 and 2015) and three FIFA Club World Cups (2009, 2011 and 2015).
Playing for Spain, Piqué won the 2006 UEFA U-19 European Championship, the 2010 FIFA World Cup and the 2012 UEFA European Championship . However in the recently concluded 2018 FIFA World Cup in Russia, Spain lost to the host nation in a penalty shootout in the Round of 16.
His individual accolades include La Liga Breakthrough Player of the Year (2008-09), La Liga Best Defender (2009-10), La Liga Team of the Season (2014-15 and 2015-16), UEFA Champions League Team of the Season (2014-15), UEFA La Liga Team of the Season (2016-17), UEFA Euro Team of the Tournament (2012), UEFA Team of the Year (2010, 2011, 2012, 2015 and 2016), FIFA FIFPro World XI (2010, 2011, 2012 and 2016), and ESM Team of the Year (2010-11, 2013-14, 2014-15 and 2015-16).
In 2011, he also received the Gold Medal of the Royal Order of Sporting Merit.
Barcelona were the first football club to win the treble twice—the domestic cup, domestic league cup and European Cup first in 2008-09 and then again in 2014-15. Piqué is one of the elite seven footballers (alongside Lionel Messi) to play in both treble-winning squads.
Piqué has been in a relationship with Colombian pop singer Shakira since early 2011 after they met during the 2010 FIFA World Cup when he appeared in the official song's music video, "Waka Waka (This Time for Africa)", which was sung by Shakira.
Although the pair share the same birthday, Shakira is ten years older than Piqué. They have two sons, Milan and Sasha.
After completing a post-graduate degree in Economics at the IESE Business School, Piqué established the business firm 'Kerad', which produced the successful online football game Golden Manager, in 2012. The game now has six million users.
Between 2011 and 2012, Piqué was the brand ambassador for Mango's men's line HE.
His screen forays include voice-acting as the Pirate King in the Catalan version of the 2012 film The Pirates! In an Adventure with Scientists!.
Pique and Shakira own a house in Esplugues de Llobregat, a town five miles from Barcelona and another in Avenida Pearson, Barcelona, which they bought for €5 million in 2015.
He also splurged on a £140,000 Aston Martin DB9 GT in March 2018.
His latest contract with Barca is up to 2022.