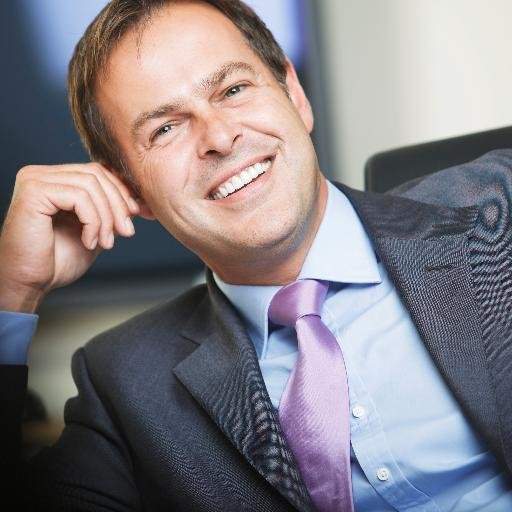 Dragon Den's panellist, entrepreneur and TV presenter Peter Jones has an estimated net worth of £500 million.
Born on March 18, 1966, Peter Jones is commonly known from his appearance on BBC television show Dragon's Den. Jones is a businessman interests in mobile phones, television, media, leisure and property.
Was Jones born into his wealth? How did he make his millions?

Jones grew up in Berkshire, England and attended Desborough School there and, subsequently, The Windsor Boys' School.
During his teenage years, Jones started a summer job working at a tennis school – which was run by his then English teacher, John Woodward, who also ran a summer tennis school. Over a few years of doing this Jones watched how Woodward ran his academy and learnt the mechanics of the business behind it. After completing the Lawn Tennis Association's coaching exams, Jones set up his own tennis coaching school.
Jones later set up a computer business where he made PCs under his own brand. Later, in his mid-twenties, he opened a cocktail bar in Windsor based on the Tom Cruise film Cocktail. However, he lost £200,000 after deciding to sell it.
After his computer business failed, Jones joined Siemens Nixdorf at the age of 28. Within one year at the company, Jones was runningthe business in the UK. Thereafter, he set up his next venture Phones International Group in April 1998. The company accounted for £14 million of sales in the first year of trading and £44 million by the end of the second.
Other related companies which grew within the group include Generation Telecom, which was sold to one of the world's largest companies for millions of pounds within two years of starting up.
In 2002, Jones was recognized as Emerging Entrepreneur of the Year by The Times/Ernst & Young. His telecoms group was identified as the 13th fastest growing business in The Sunday Times/Virgin Atlantic UK Fast Track League Table in 2003.
Jones founded other businesses between 2004 and 2008, including Wines4Business.com, an online retailer specialising in the sale of wine and champagne to corporate clients and Celsius, a specialist recruitment business.
Some of his investments in businesses include luxury lifestyle and culture Wonderland Magazine, Square Mile International, which provides data services for marinas and was later sold to BT, contemporary circus company The Generating Company, Concentrate Design, which makes products claimed to help pupils concentrate at school, iTeddy and Reggae Reggae Sauce.
Jones is one of the original Dragons on the BBC's Dragons' Den, which started in January 2005. That same year, alongside fellow Dragon's Den panellist, Theo Paphitis, Jones bought Red Letter Days out of admin making the twosome joint owners. The gift experience company was previously under ownership by another fellow panellist Rachel Elnaugh.
Jones also has his own TV production company called Peter Jones TV. He sold his television show idea called The Inventor to the American Broadcasting Company. 'American Inventor' aired in March 2006 and was co-produced by Fremantle, Simon Cowell and Jones' company, Peter Jones Television. The first episode of Inventor put ABC ahead of rival networks with a 7.8 average rating and a 13 share and became a number one show in America. Jones was also judge on the show, broadcast in 2007.
After signing a 'Golden Handcuffs' deal with ITV to appear as their new "face" of business programming, on September 21, 2006 Jones appeared on GMTV to talk about Dragons' Den and his new ITV show Tycoon, produced his company. The viewing figures hit a record 2.1 million viewers. The series returned on Monday, 9 July 2007 as a 30-minute format for the 10 pm slot.
In April 2008, Jones replaced Gordon Ramsay as the face of BT Business in April 2008.
In 2009, Jones founded the Peter Jones Enterprise Academy (PJEA, formerly NEA) to teach entrepreneurial capabilities within the UK. PJEA has several campuses throughout the UK including Amersham, Sheffield, Manchester and Oxford.
He was appointed Commander of the Order of the British Empire (CBE) in the 2009 New Year Honours.
In January 2010, Jones appeared alongside his Dragons' Den co-stars Duncan Bannatyne and Deborah Meaden in the fifth episode of the sixth series of Hustle. Jones appeared in ITV2's Celebrity Juice in May 2010 and James Corden's World Cup Live in June. In November 2010, Jones was a guest panellist in BBC Quiz Show Never Mind the Buzzcocks, and in The Magicians in January 2011. Jones has twice participated in the "Star in a Reasonably-Priced Car" segment of Top Gear, once on his own and once with fellow Dragons' Den judge Theo Paphitis.
Jones sold part of Phones International Group, Wireless Logic, for £38 million in 2011, while he kept the Data Select part.
In 2013, Jones became the owner and chief executive of Jessops in the United Kingdom.
Often referred to as a Dragon's Den original, Jones still appears on the show as a panellist, now in its 14th series.