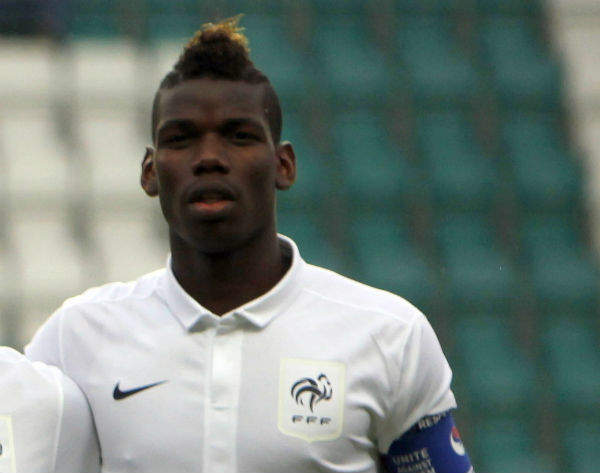 Author: Suren Prasad

Paul Pogba earns a reported £3.4 million.
He was born on March 15, 1993, in Lagny-sur-Marne, Paris. Pursuing a football career from the age of six, he joined the club US Roissy-en-Brie and then moved to US Torcy after seven seasons. Captaining Torcy's U-13 side for one season, he shifted to Le Havre to play professionally and captained their U-16 side to second place in the Championnat National des 16 ans.
In September 2008, Pogba made his youth international debut captaining France's U-16 squad in the Tournoi du Val-de-Marne. In January 2009, he helped the French U-16 team to an Aegean Cup triumph.
Purchased by Manchester United in October 2009, Pogba stayed until 2012, winning the U-18 Torneo Calcio Memorial Claudio Sassi-Sassuolo in 2010, while impressing everyone in the Premier League with his trademark 'piledriver' goals. Dubbed a "powerful and creative" player with "an eye for goal and a penchant for the spectacular", Pogba helped ManU lift its 10th FA Youth Cup. After a short stint with ManU's senior team (January-June 2012), Pogba signed up in August 2012 to play for Juventus for a fee of over £700,000 (or €1 million).
In 2010, Pogba represented France in the UEFA European U-17 Football Championship and the U-18 Tournio de Limoges. Playing for France in the 2012 UEFA European U-19 Football Championship, Pogba helped the team to a semi-final clash against Spain.
France then went on to win the FIFA U-20 World Cup in 2013 under Pogba's captaincy, where he was judged Best Player of the Tournament.
Participating in Juventus' triumph at the 2012 Supercoppa Italiana, 'Piledriver' Pogba's long-range shooting was exemplified with two spectacular goals against Udinese in the Serie A in January 2013. That year he helped Juventus win the Supercoppa Italiana and Serie A. In December 2013, Pogba was awarded the Golden Boy title for Best U-21 footballer in Europe.
A key player in 2013-14, he won his second Serie A with Juventus. As the best U-23 footballer playing in Europe, Pogba was given the Bravo Award by Italian sports magazine, Il Guerin Sportivo, in 2014. He then won his third consecutive Serie A with Juventus (the club's fourth consecutive title) in 2014-15 and then engineered the team's win in the 2015 Coppa Italia Final. In June 2015, Juventus lost the UEFA Champions League Final to Barcelona, but won the Supercoppa Italiana beating Lazio in August 2015.
He then earned a place in the senior French squad for the 2014 World Cup in Brazil. Although France lost to ultimate winners Germany in the quarter-finals, Pogba was voted Best Young Player of the World Cup.
Serie A's third top earner and Juventus' highest paid footballer, Pogba's yearly salary is £3.3 million or €4.5 million.
His two older twins play in the French and Scottish Premier Leagues respectively, while representing the Guinean national squad.