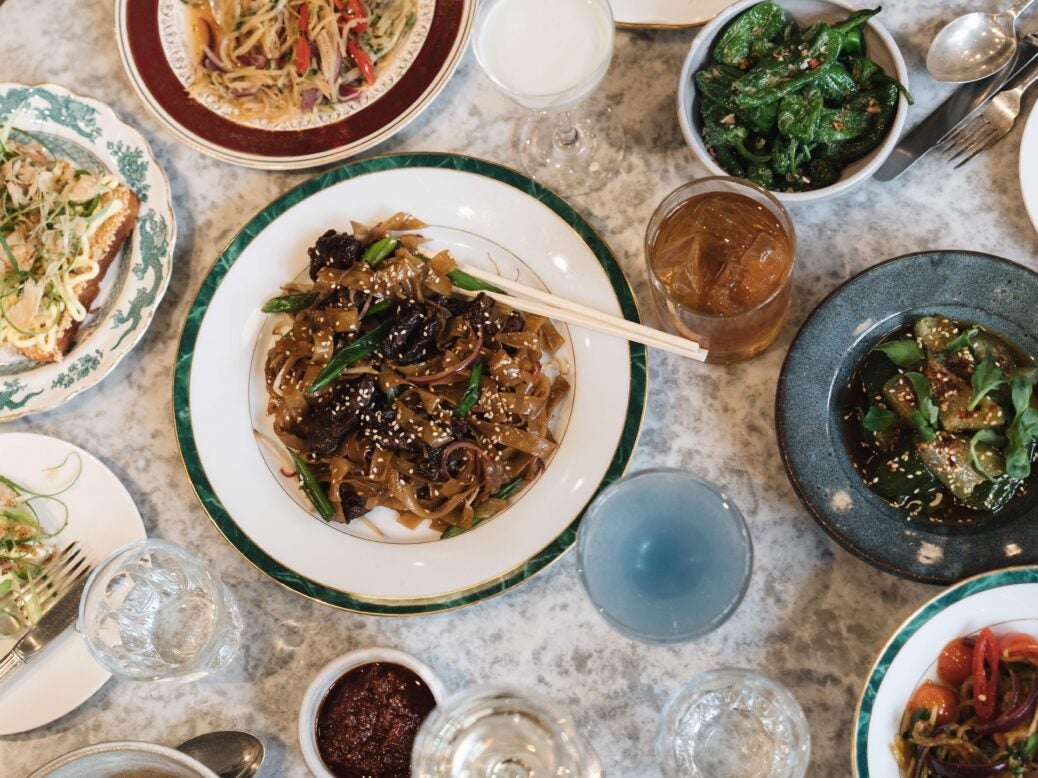 The Fitzrovia outlet's sister branch in East London is exciting, packed with variety, and a whole lot of fun writes Arun Kakar
Opinions are divided on Shoreditch these days, but conclusions are settled. We know this because everyone that thinks Shoreditch is overrated has to tell you that they think Shoreditch is overrated.
An area used to being pointed to as a symbol of London's cultural demise, Shoreditch often stands accused of representing hipsterdom at its most marketable and slick – all skinny jeans-and-beards, distressed wallpaper and so forth at the expense of anything authentic.
Look past this noise, however, and you'll find that Shoreditch is also a hub for a great many quality – and global – restaurants, spanning modern British to Burmese through to Vietnamese and Italian. Say it quietly, but those pesky Shoreditch detractors would do well to point out another district in town that can match its variety and culinary open-mindedness.
An eatery that sits firmly amid this buzzing milieu is Pachamama East, which sits on Great Eastern Street, that rotating carousel of restaurants between Old Street and Shoreditch. It's the sister branch of the much-fêted Pachamama Central, which opened to much fanfare in 2014 and resides in the similarly foodie-friendly location of Fitzrovia.
Pachamama specialises in 'Chifa' cuisine – a Peruvian Chinese fusion that came about when Chinese migrants came to work on Peruvian infrastructure in the 1920s and 30s. The menu covers more familiar Peruvian classics such a
s ceviche's, but also features some more intriguing inclusions like its hand-sliced rice noodles with shio kombu and celeriac. It's certainly a menu that invites curiosity for the uninitiated Spear's.
Our first cocktails, a devilish mescal and clarified sangrita concoction by the name of José Maria alongside a tequila and grapefruit 'Paloma' make for the perfect duo to get the ball rolling. Half our drinks downed, we're whisked over to our table to begin proceedings, with our waiter running down his favourite choices, which ends up sounds like most of the menu. Slightly confused but very excited, we let him conduct proceedings.
They might be running a new menu here, but you'd be forgiven that the staff here had been serving these dishes since it opened. They effortlessly quiz at our tastes and put forth dishes and drinks that make for a seamless (and stomach-bursting) evening.
Onto the dishes, then. The yellowfin tuna, with pickled potato, 'xo' and cucumber, is a highlight from an outstanding array of starters.  It's a tantalisingly small plate, all tangy and tender, but also delicate and refreshing – summery food too good for the cloudy night we arrive on.
It comes flanked by some of the best aubergines I can remember (no, seriously)  – rich, densely flavoured but perfectly balanced, its dish to savour, and one of those small plates that compliments everything else that's in play on the table.
That's not to mention an exciting twist on prawn toast, packing all of the richness and salty goodness of that takeaway staple; but with mercifully little of the grease and stodginess. There's a tasty pair of succulent lamb skewers too, accompanied by a deceptively hot sauce.
As if that wasn't enough, there's some baby corn and Hamachi. There is a lot of going on here, in flavour, presentation and style; but everything hangs together with remarkable coherence. Dishes are allowed to shine individually, yet the strength is in the sum of their parts.
It's a theme that carries into the proceeding dishes, which includes some pudgy rice noodles, duck and rice, as well as some baby corn and Hamachi.
The noodles, both my companion and I agree, constitute the sole disappointment in an otherwise glittering night – a little too on the dense side, it's the starchiness of the dish that perhaps sits at odds with the other dishes that makes it feel like an outlier. It's fortunate, then, that these other dishes are really quite something.
Our Peruvian Chocolate and signature 'roasted potato' (a pleasant surprise that's best not ruined here) desserts are each excellent. Full to the brim when approached for them, we yielded and polished them off once they arrived…A testament to a solid dessert if there ever was one. We conclude with two drinks: a straight pisco and mojito that might just be the best I've tasted in London.
It's a fitting end to a fantastic and filling night, another riposte against those that would write of Shoreditch as an area that still possesses vibrancy in abundance. As long as places like this still exist, there will always be a good time to be had.
Arun Kakar writes for Spear's