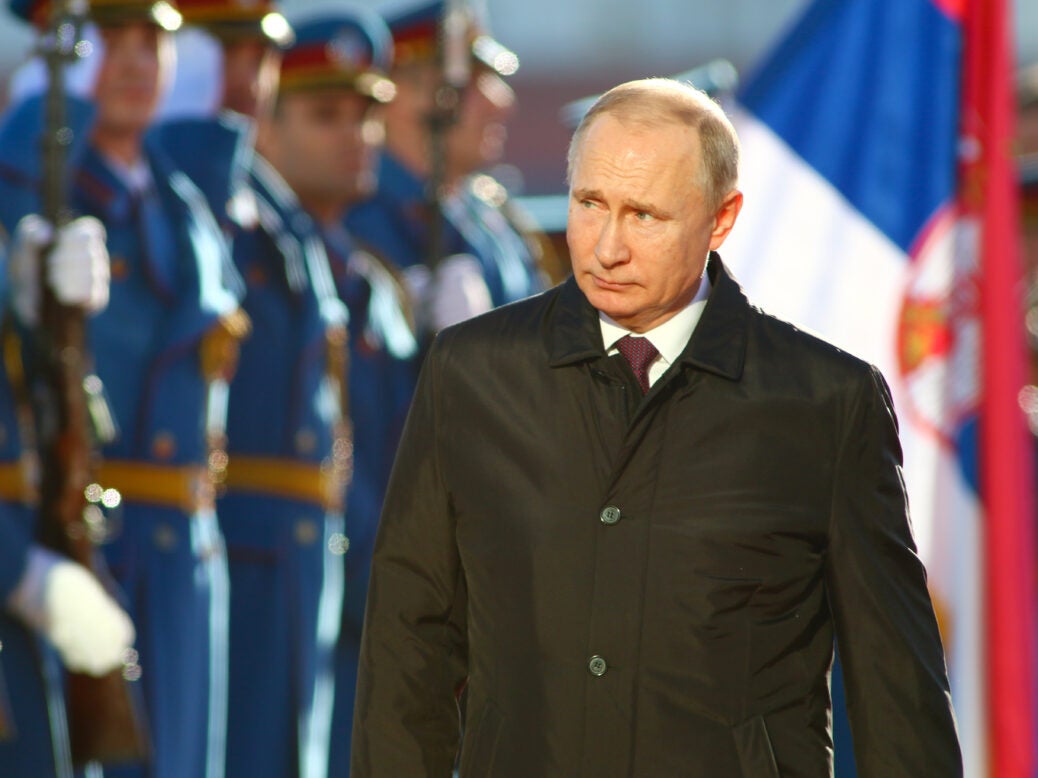 The eyes of much of the world are currently on the border of Russia and Ukraine, and many have a myriad of questions. Will Russia invade Ukraine? Will the West retaliate militarily? Should we expect war? Or more sanctions? How will the world change as a result? Former British diplomat David Landsman breaks down the conflict, and the most likely conclusion
Even to those who are seasoned in business negotiations, diplomatic negotiation can look opaque. Much takes place behind closed doors, and what the public learns about what's going on is obscured by a smokescreen of rhetoric and leaks. The language of treaties is very different from what you find in a commercial contract. And, when it comes to disputes between countries and leaders, it's easy to imagine that many of the participants are mad, bad or stupid (or all three).
When I first moved from diplomacy into business, I took the opportunity to join my sales colleagues on a negotiation course, because I was curious to see how what they were learning differed from my old job. My most powerful memory was of the charismatic tutor from Ohio who regularly moved away from the lectern and started heading for the door.  You can work out the rest. My conclusion was that there are real differences: in diplomacy, you often have a wider range of cards to play (or defend), and the trade-offs can be less obvious. But the big question is exactly the same, and it is, very simply, 'what does success look like?'
In business, we know that there isn't always a compromise number that brings the two sides together, and that it may be necessary to introduce other elements to get to an agreement. Listening and understanding motivations is vital. Can we see things from the other side's point of view? What do they really want? And what can they really not afford to lose?
When it comes to Russia and Ukraine, whatever side you're on, you need to understand the other side. And that means listening without prejudging.
Let's have a look at what success looks like on the border between Ukraine and Russia.
For Ukraine's leadership, which has already de facto lost parts of its territory to Russia (and so what's left is more pro-Western than before), success looks like avoiding Russian invasion and retaining its sovereignty including its right to choose a pro-Western orientation, right up to (eventually) joining both NATO and the EU. As Ukrainian leaders have made clear, success isn't having World War III taking place on your territory.
For Vladimir Putin's Russia, there's little evidence that success looks like invading Ukraine. It might come to that, but only as a result of a miscalculation — and even then it would be a means rather than an end. So, what is the real objective? Most experts would agree that it's to protect Russia's Western flank and ensure that Ukraine remains in the Russian 'sphere of influence,' at least a neutral buffer between Russia and NATO. This could be achieved by Ukraine remaining weak and the West being unwilling to bring Ukraine fully into its fold. A heavy Russian presence on the border can achieve all that at a much lower cost than a war. And if it keeps the West divided, that would be a big bonus.
There's of course a secondary objective that Putin desires: to ensure that Russia — and he himself — are treated with respect. I can't help thinking that Putin will feel that he's already achieved that one, with the number of Western leaders heading to Moscow these days and following his recent visit to Beijing.
And for the West? Well, of course, 'the West' is far from a single entity — and that's already a step in the direction of 'success' for Putin. The US and its European allies would be united in opposing a Russian invasion of Ukraine, if not with military force at least in imposing significant economic sanctions which would probably damage relations for years to come and push Russia closer to China. (Who would that be success for?)
Short of an invasion, the Western position will likely remain much more shaded, with the U.S., UK and some Eastern European countries taking a tougher line, and others including Germany and France — for political and economic reasons — seeking to engage with Russia.
So, the way I see it, an invasion is very unlikely, still less a war. What success looks like for Russia can best be achieved without one. The West has little appetite for conflict, and — though few in the U.S. or UK accept that Russia is entitled to a 'buffer' or a 'sphere of influence' — some in Europe are more sympathetic.
Most importantly, in the real world (my favourite place for doing diplomacy), the chance of Ukraine being invited to join NATO or the EU any time soon is infinitesimally small.
The diplomatic trick is to acknowledge this reality without losing face. With heightened tensions, the risk of miscalculation remains, which could lead to disaster in the name of defending Russia's or NATO's 'credibility' — or both.
We may not get away without more damaging sanctions and a fairly long-lasting souring of relations, but — if you take a realistic view of 'what success looks like' — it's fair to hope that the world will escape the worst.
Image: Shutterstock