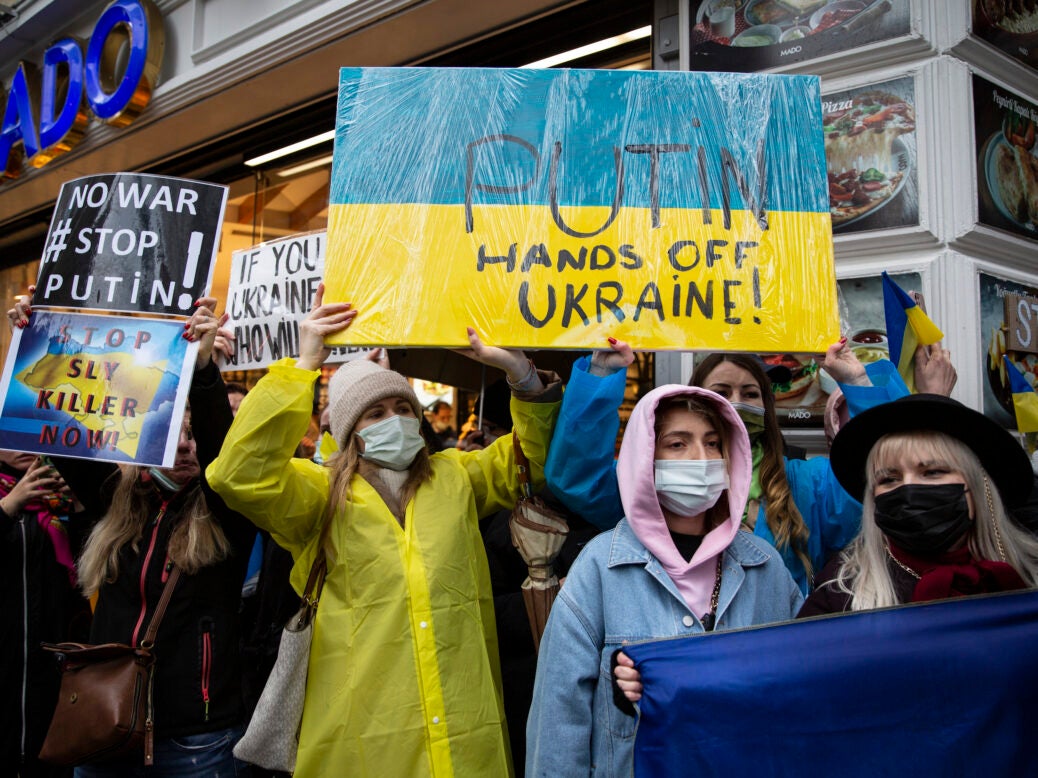 Former British diplomat David Landsman details how the Russian invasion of Ukraine threatens to rewrite the geopolitical order.

A week is a long time in geopolitics.
Earlier this month, I wrote a piece about the big question we need to ask when determining how the conflict between Russia and Ukraine would develop: What does Russian President Vladimir Putin want? Now just over two weeks later, we know that for Putin, success looks like taking at the very least a large part of Ukraine, if not all of the country — and that he appears to be prepared to pay quite a price for it. As in any transaction, how much he is prepared to pay depends on the market: in the geopolitical market, the price is determined by the other players (euphemistically described as the "international community") and their ability to enforce it.
But geopolitics isn't only about individual 'transactions'. The price can vary significantly depending on whether you focus on the short term or the longer term.
There is no doubt that Putin today is in a strong position, military and economically. His forces can beat Ukraine's, even if the latter receive some material and, more importantly, intelligence support from the West. Russia has plenty of economic cards: reserves built up to ensure resilience, gas which its customers can't afford to refuse and, unlike during the era of the Soviet Union, access to alternative sources of technology from China.
The West's response has perhaps been tougher than Putin might have expected, but what ultimately counts is action. The sanctions announced so far are certainly not trivial, and it's fashionable to argue that targeted sanctions will prompt Putin's key allies to jump ship.
But, I remember a well-connected official in Slobodan Milošević's Serbia in the '90s disabusing me of the idea that you can from outside turn a leader's closest allies. The context at the time was even more dramatic, as NATO was about to threaten Belgrade with military action. His words to me, almost verbatim, were that our 'Tomahawks may be more potent', but Milošević's 'batons are closer'. And so it was, for a while. In the end, Milošević fell as much because many of his key supporters deserted him as he did because the opposition won an election.
Putin has more cards than Milošević, so the longterm may be some time coming. As some Western commentators have pointed out, sanctions would have to be pretty devastating on the West if they are to have a big effect on Russia. And it's questionable if the West is really ready for that, for the long haul.
President Biden has certainly ruled out direct military action to defend Ukraine. This is no surprise, given that Russia is a nuclear power. We should remember from the Cold War that nuclear deterrence is about 'mutually assured destruction' — which meant that you stop short of going to war as it will destroy both countries completely, even at the expense of tolerating some pretty intolerable situations.
As a result, Ukrainians may now be regretting giving up their own Soviet-era nuclear weapons in return for post-Cold War security guarantees. And as the US and European allies try to persuade Iran to agree another nuclear deal, the case for global non-proliferation has received a heavy blow.
Underlying the calls for action, there's a risk that those in the West who are saying that 'we' must deal with Russia are forgetting that 'we' don't necessarily call the shots. We are certainly not powerless, but what can we do?
First, the West has to decide their, priorities and work out how they can achieve them in the short, medium and longer term. When governments have decided on their priorities, they need to quickly bring the public along with them, and prepare them for the costs. The challenge is that we all have more than one priority: climate change, energy security, democracy, not to mention growth and the increasing demands of emerging markets to enjoy the same living standards as the West. That's why expressions of horror and determination to react need to be matched by a strategy which takes account of the priorities — and costs.
Second, what are the costs? If we are cutting off major sources of supply, the first costs we feel will be in higher energy, food and other basic bills. There will be more pressures on public finances from demands for higher military spending. My guess, though, is that we'll hear a lot of demands, but not so much appetite for actual spending. If these costs are sustained for the long haul, parts of the West may be faced by a wider recession. If so, then we may see a return to worries about the stability of the more indebted Eurozone members, and therefore the Euro itself. More generally, there may be a switch back from interest rate rises, and a tapering of quantitative easing to a more accommodative monetary policy, which in turn would to another asset price spike. That's fine for those with assets, but will add palpably to the problems of many millions of Western citizens.
Or, perhaps we won't be prepared to live with all those costs for long — and for as long as his own people are prepared to live with Putin, Cold War 2.0 might after a while just seem more attractive. That's, at least, what the markets already seem to be hinting at.
Let's see. Another week could be another very long time in geopolitics.
Image: dia images/Getty Images Contributor