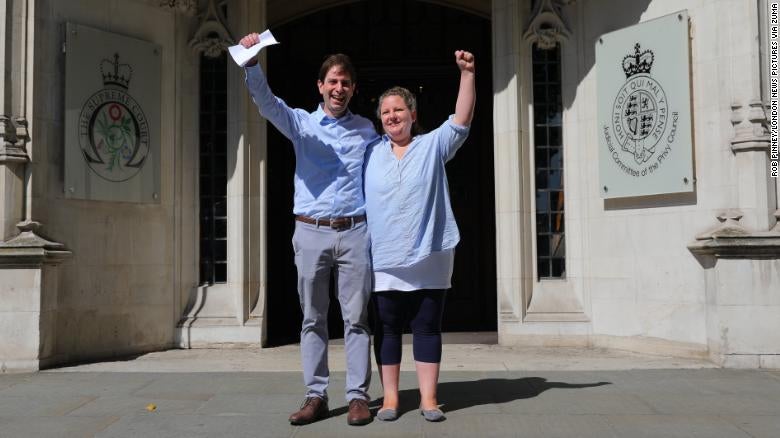 Britain's modern families may have been celebrating the landmark Supreme Court decision in vain, as the law is not seeing reform anytime soon, writes Jonathan Neumann
Last week, the Supreme Court sided with a heterosexual couple who argued that limiting civil partnerships to same-sex couples is discriminatory.
The claimant couple first attempted to enter into a civil partnership at the Chelsea Register Office on 1 October 2014. They were refused, on the grounds that the Civil Partnership Act 2004 defines a civil partnership as 'a relationship between two people of the same sex' and declares two people who 'are not of the same sex' to be ineligible. So they went to court.
The couple argued that they have principled objections to the 'legacy of marriage', which they believe 'treated women as property for centuries'. A civil partnership, which they described as 'a modern, symmetrical institution', would in their view set the best example for their two children.
Their legal action was timed to commence just as the Marriage (Same Sex Couples) Act 2013 was coming into force, meaning that same-sex couples now had not only the option of civil partnership but also marriage, whereas opposite-sex couples could only get married. Essentially, the couple claimed this was discrimination against heterosexual orientation.
The case was first heard in the High Court, which concluded that there was no evidence the couple had been treated in a derogatory way by being deprived of the option of civil partnership. The court also noted that the Government was considering the future of civil partnerships and was justified in not providing a timescale for a decision. Options for the Government included extending civil partnerships to heterosexual couples, abolishing them for everyone (with provision made for existing civil partners) or closing them to new entrants. The government wanted time to evaluate the effect of such measures on British society.
The claimants appealed and in February 2017 their case was heard in the Court of Appeal, which also ruled against them. This time, the court agreed that the different treatment was discriminatory but affirmed that the government was justified in taking time to consider the best way forward on civil partnerships. In the meantime, Tim Loughton MP had introduced a private members bill to extend civil partnerships to opposite-sex couples, and Justine Greening MP was also pushing for the change. Nevertheless, although the government anticipated that it would lose this case at some point, it was not ready to support legislation.
Finally, the case went to the Supreme Court, which was unimpressed by the Government's equivocation and sided unanimously with the couple, making a declaration of incompatibility. This means that in the court's view, the current legislative framework is not compatible with the European Convention on Human Rights. Although governments usually amend laws when the courts make such a declaration, the government is not legally required to do so. In other words, unless the government actually does something, this case changes nothing.
In practical terms, this case serves as a reminder about the importance of having your enduring relationship recognised in law. There is no such thing as a common law marriage in the UK, and when that sort of long-term cohabitation breaks down, it can take a messy and expensive court case to establish who owes what to whom. Dissolution of a marriage or civil partnership can also land in court, of course, but, unlike with mere cohabitations, judges are able to make certain assumptions about the relationship.
Then there are the existential questions about what marriage and civil partnership are. Legally, there is effectively no distinction. That said, there are calls to extend civil partnerships to unmarried elderly siblings who have lived together for a long time. When one of the siblings dies, the other may have to sell their shared house in order to pay inheritance tax, but if they are allowed to enter into a civil partnership, they can pass their share in the house to the surviving sibling free of inheritance tax, just like spouses or current civil partners. This seems like an odd way to solve a problem that could otherwise be overcome, for example, by providing an inheritance tax credit when two or more siblings share a property and live there together for a certain number of years, or by abolishing inheritance tax altogether for transfers on death between siblings. Regardless, the very idea that civil partnerships might be relevant to this scenario (notwithstanding laws against incest) indicates that some people see civil partnerships as nothing more than a tax break. It's doubtful the couple who went all the way to the Supreme Court feel the same way.
Jonathan Neumann works at boutique private wealth law firm MAURICE Turnor Gardner LLP