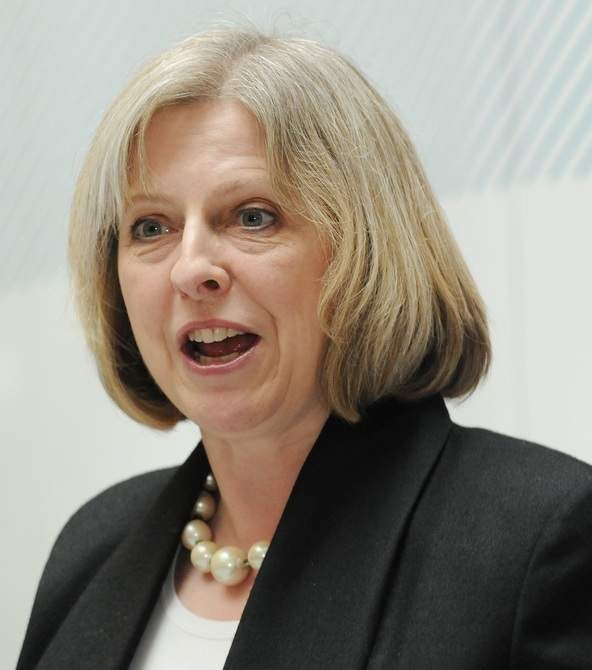 As Britain goes to the polls, William Cash reflects on an unusual election campaign 
I was out on the stump with Theresa May yesterday at the Longton Rugby Club in Stoke South. It was an unexpected audience with our PM.  She was impressive; there is a glint of ruthlessness about her. She spoke without notes dropping sharp upper cut blows against Diane Abbott and Jeremy Corbyn and was unruffled by the barrage of questioning by reporters trying to rattle her about failings of the MI5 over terrorist attack security and her own record as Home Secretary. She just swotted the questions away as if they were irritant flies.
I was helping out my father Bill Cash MP with some campaigning in the neighbouring constituency of Stone (the seats will merge after the new boundary changes are introduced) and we had been instructed that Bill Cash's team (that's me, my father, my mother and the battle wagon Ben, a St James's Place financial adviser/prize turkey breeder) were required 'across the border' for a final canvassing push with twenty-something Tory candidate Jack Brereton in the Stoke working class suburb of East Fenton in the driving rain.
In campaign talk, this help – when ground troops from a safe seat are dispatched to help a marginal – is known as 'Mutual Aid'. We duly obeyed and showed up in East Fenton around 12pm. Not a canvasser in sight. Not even a stray leaflet blowing along the street in the blustering rain. When I texted the local agent to ask where Jack and his canvassing team were – expecting to be directed to a local pub out of the rain – I got a text back saying 'Jack in with the PM down the road at the Rugby Club'. And hurry over.
This is how modern election campaigns are fought. It's peripatetic media management all designed around providing soundbites and fresh news for the lunch time and evening news bulletins. I was impressed that Theresa May knew every reporter and journalist by their first name when she picked them out after her speech to ask a question – with the exception of Laura Kuenssberg, who was very deliberately left until last to ask her question and then only referred to curtly as 'The BBC'.
In the old days party leaders were flown around the country on the final few days of an election – with a chopper donated by a donor like Anthony Bamford (now lord).  Now it's an armada of battle bus coaches painted in blue with 'Theresa May For Britain' splashed on the side (there is a convoy of two in case one breaks down). The buses also contain a small army of lobby journalists (although the BBC travel separately in their own van). The biggest nightmare of any political hack is being left behind in the rain as the PM's battle bus pulls out of the car park without them which nearly happened to the Telegraph's political editor.
The event was 'staged', of course, as most of this election has been, from the moment Tory MPs found out about the election and were told to clear their Commons desks and queue up like schoolboys outside the PM headmistress's study – in fact her Commons office – for a posed smiling photo of themselves sitting at a desk together in Theresa May's Commons Office. That's for their election literature.
I thought it was odd that at least four candidates I know had the same photo of themselves sitting by May with dark panelling in the background.  'There was a queue of us standing in the corridor outside her study' said one senior Tory MP.  'It brought back memories of being called into the headmaster's study'.
Only in this election, it has been the head Tory prefects at CCHQ who have been receiving the punishment. With some polls putting the Tory lead down to just one point, it looks as if the dream of a 150 seat majority – as Jeffrey Archer forecast – looks to be wildly optimistic. But then as Archer candidly admits, he was entirely wrong about the 2015 election, and wrong about the Brexit vote, so his skills as a political clairvoyant are limited.
* * *
The mood on the campaign trail never began well. After the terror attacks, the mood has only got worse with voter ennui and 'depression' being widely reported.  A shire Tory MP who I met on the campaign trail told me it was the 'weirdest' modern election he can recall, with campaigning being halted twice and voters being 'disoriented' as the election was meant to have been about the most important and profound political change perhaps since the war' – ie Brexit Britain and our terms for leaving the EU – but has been derailed into a national debate on firstly social care and then security and terror with people not so much interested in the 'Danegold' amount being demanded by the EU for Britain's exit fee, but rather how many armed police we want on the streets, and how to pay for them.
'The atrocities in Manchester and London Bridge have derailed voters,' adds another senior political figure I met yesterday. 'Instead of thinking about a government which is economically successful with unemployment at its lowest for a generation, we have confusion and compromise thanks to Jeremy Corbyn's exploitation of domestic issues such as the NHS, pensions and social care, which was a disaster as it threatens the idea that an Englishman's home is his castle. We keep hearing that they will vote Conservative but only because they have no other choice.' With the polls now showing Labour just a few points behind, expect heads to roll at CCHQ after the inquest as to how the Tories seemed to lose some of their famously iron discipline and brilliance at election campaigning.
* * *
One of the reporters at the Stoke Rugby club media circus asked the PM whether she was 'nervous' with just 48 hours to go before an election she didn't have to call. She replied that the last 48 hours were the fun bit – the final adrenaline furlong, and that you shouldn't enter politics if you didn't enjoy campaigning. She's right.
One of the things I enjoy about political campaigning and canvassing is that you get to see parts of the country, and off-piste parts of towns that you normally never pass through. Wherever you are in England, there is always a street or historic market town square that allows you to step into  (and educate yourself in) England's history.
Whilst campaigning with my father in the largely working class Staffordshire town of Cheadle – a former mining and pottery town – I spent half an hour in the exquisite church of St Giles, possibly the crowning achievement of Pugin who had been brought to this unlikely part of North Staffordshire by the Earl of Shrewsbury who had hired Pugin to design his nearby mansion at Alton Towers. The church is important as, following 19th century Catholic emancipation, it was the church which showed other Catholic churches (usually mean and ugly) how they could be fit for aesthetic purpose again.
The other thing I like about campaigning is the people you meet. Almost the first thing a fellow leaflet delivery colleague in Wolverhampton said to me on our rounds around Merry Hill was to announce that since being a member of Wolverhampton Conservatives Federation, she was yet to be invited to a 'wine and cheese'. The reason is that the wine and cheese is a dying social event species. I am reliably informed by a friend who chairs a Ward in Richmond that in urban areas the 'wine and cheese' association event has been replaced by the 'Pub and Pint'.
What this new trend doesn't factor in is that the whole point of wine and cheese parties – especially with younger Tories – was that before the era of internet dating, joining the local Tory association (as with young farmers) was how you often met your future wife. It's a shame that so many Conservative party associations are suffering a social death. After two divorces, I can assure any reader that one of the secrets to a successful marriage is not disagreeing on fundamental left/right or Leave/Remain politics.  Long live the Conservative wine and cheese party. If the Tories don't get at least an 100 seat majority, there may be a need for quite a lot of them over the next four years.
If British politics is a game of Snakes and Ladders then the last few weeks have reminded me how I am truly on the very bottom rung. Clearly I was out of form as a delivery worker. In a marginal Wolverhampton seat, as I struggled to get an A 4-size double-sided Tory leaflet through a tiny 'brush' letter box,  I heard the officious voice of an early twenty-something 'Ward Chairman' – I am guessing 23 by his wispy beard – who was my canvassing line manager telling me that 'if you fold the leaflet in two, you won't scrumple the election literature'.
After I stopped – just three minutes – to talk with an elderly female Labour voter who was furious that the local council would not move her from her leafy three bed house with a spacious garden – where she lived alone with various oxygen tanks – into a bungalow, I was told: 'We're not trying to convert voters. Waste of time. We are just delivering leaflets, unless it's a postal voter – then you can ask if they have sent off their vote.' So much for the political art of traditional canvassing, which is becoming something of a lost art. Now it's about social media presence and turning ground troops into delivery boys and girls.
* * *
My bank holiday Monday was spent walking for 20 miles in the Shropshire rain with a small rucksack on my back delivering Tory leaflets whilst also doing the Bridgnorth Walk.
The last time I did this charity walk was in May 2014 – and the front gardens (yes, you can tell how somebody votes from the state of their lawn) and windows of the villages around Ludlow, Brown Clee and Bridgnorth had been peppered with a rainbow of cross-party signs supporting four parties: Conservative, Lib Dem, Labour and UKIP. For this General Election, after tramping as a leafleter for six hours through rural villages, I did not see a single campaign board, sign or window sticker other than those supporting the Conservatives. Perhaps that's why I heard of one sitting Tory MP who was so sure of being returned with an increased majority – he had the luxury of no UKIP candidate standing against him – that he flew off to Greece for the bank holiday. If Labour do better than expected, let's hope he wasn't snapped pool side with a Pina Colada.
William Cash is editor-in-chief of Spear's