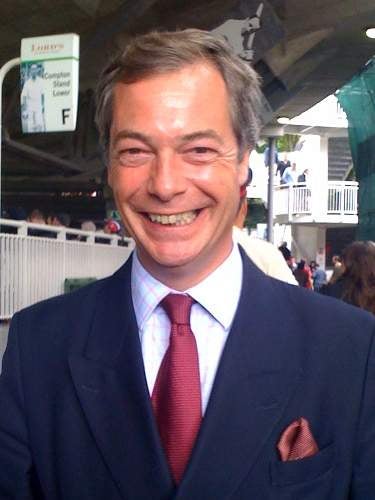 Politician, Broadcaster and Political Analyst Nigel Farage has an estimated net worth of £2.4 million.
Born on April 3, 1964, Farage was the leader of the UK Independence Party (UKIP) from 2006 to 2009 and again from 2010 to 2016. He has also been a MEP for South East England since 1999. In addition to that, he also co-chairs the Europe of Freedom and Direct Democracy group (formerly Europe of Freedom and Democracy').
Farage established UKIP, having left the Conservative Party in 1992 after the marking of the Maastricht Treaty. After unsuccessfully battling in European and Westminster parliamentary decisions for UKIP since 1994, he was chosen MEP for South East England in the 1999 European Parliament election. He was subsequently re-elected in 2004, 2009 and at the 2014 European parliament election.
In September 2006, Farage became the UKIP Leader and drove the party through the 2009 European Parliament Election, when it won the second most astounding share of the popular vote, beating Labor and the Liberal Democrats with more than two million votes.
He left in November 2009 to focus on challenging Buckingham, the supporters of the Speaker, John Bercow, at the 2010 general election, coming third. In November 2010, Farage effectively remained in the 2010 UKIP leadership contest, following the resignation of Lord Pearson of Rannoch.
Farage was positioned second in The Daily Telegraph's Top 100 most compelling right-wingers poll in October 2013, behind Prime Minister David Cameron. He was likewise named 'Briton of the Year' by The Times in 2014.
Farage announced his resignation as leader when he did not win the South Thanet seat in Kent at the 2015 general election, however, his resignation was rejected and he remained in his post. In June 2016, Farage was an unmistakable supporter of the successful campaign for a vote for leaving the EU in the UK EU membership referendum.
On 4 July 2016, Farage again announced his resignation as leader of UKIP, triggering a leadership election. Diane James was chosen to succeed him, however she surrendered as pioneer after only 18 days and Farage became interim leader on October 5, 2016. A second leadership election was held in November, which was won by Paul Nuttall, who hence succeeded Farage.