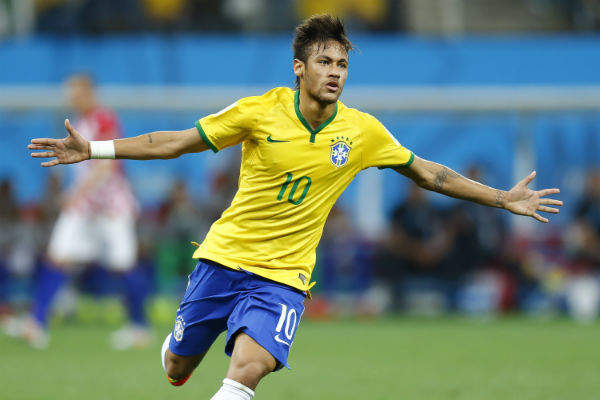 Author: Suren Prasad

Born on February 5, 1992 in São Paulo, Neymar Júnior's salary is reported to be £6.8 million.
He began playing for Portuguesa Santista in 2003, then moved to the Santos youth team soon drawing a salary of 10,000 reais/month, which rose to 125,000 reais/month in 2004. His debut for Santos' senior team in 2009 saw his earnings jump to around £786,400 p.a. with the addition of endorsements.
In March 2011, Neymar inked a £657,000 per annum deal with Nike for 11 years and a £1.6 million two-year deal with Panasonic. Neymar went on to win the 2011 Copa Libertadores along with Man of the Match in the finals. That November, Santos extended Neymar's contract until 2015, which saw his salary rise to approximately £2.63 million per annum. Neymar helped Santos into the final of the FIFA Club World Cup.
Helped by Neymar, Brazil achieved the Silver Medal at the London Olympics. In 2012, top-scoring at the Campeonato Paulista, he also joint top-scored in the Copa Libertadores and then won the Recopa Sudamericana with Santos in addition to the Golden Ball while remaining South American Footballer of the Year.
In February 2013, Neymar became the first Brazilian sportsman to be on the cover of Time magazine. Named the world's most marketable athlete for the second successive year by SportsPro, his market value was estimated at £25.5 million.
Neymar then moved to Barcelona in June 2013 for a period of five years for a transfer fee of £41.64 million, with a release clause set at £138.5 million.
Scoring his first goal for Barcelona in the win against Atlético Madrid in the 2013 Supercopa de España final, Neymar then scored in his first UEFA Champions League hat-trick against Celtic in October. The Guardian ranked him the planet's sixth best footballer with earnings in the range of £5.1 million p.a. at the end of that year.
In the 2014 FIFA World Cup in Brazil, Neymar won the Bronze Boot despite exiting the tournament in the quarter-finals due to a fractured spine. Neymar went on to win La Liga 2014-15, 2015 Copa del Rey and 2015 UEFA Champions League and the 2015 UEFA Super Cup with Barça. He became the first footballer to score as well as win in both Copa Libertadores and UEFA Champions League finals. Neymar ended up joint top-scorer alongside Lionel Messi and Cristiano Ronaldo with 10 goals in the UEFA Champions League. His salary estimate in June 2014 was £22.02 million per annum.
Since 2015 Copa América, Neymar has been captain of the Brazilian squad. With more sponsorships from Tenys Pé Baruel, Volkswagen, Ambev, Lupo, Claro and Unilever, Neymar's earnings in endorsements alone total around £11.1 million per annum.
Neymar owns a £5.24 million yacht and a car collection topped by a £260,000 Porsche Panamera Turbo.