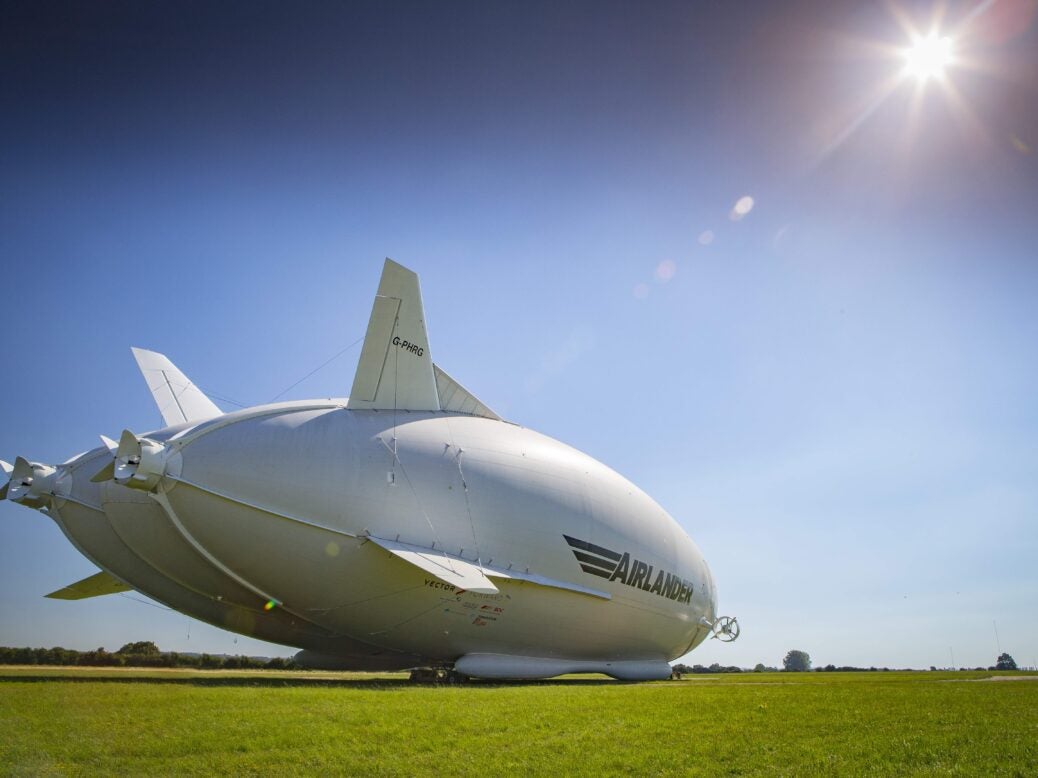 Airships are coming back into fashion, and their business case appears to be more than mere hot air, writes Tristan Rutherford
The round-the-world flight of the Graf Zeppelin in 1929 was a marketing coup. The airship circumnavigated the globe from Lakehurst Naval Air Station in New Jersey, via Friedrichshafen and Tokyo, with a flight time of just twelve days. Glamorous British journalist Lady Grace Drummond-Hay was one of twenty passengers in the luxurious gondola that hung under the zeppelin's vast structure. She provided telegraphic commentary and drank Champagne as Siberia and the Pacific slipped below.
The public's imagination was fired. A visit to Moscow's October Field one year later was mobbed by 100,000 people. The Graf flew an additional 600 flights over a million miles without a single injury or loss of life. The passenger airship was photographed above Cairo, Cannes, Rio and Budapest.
Nearly a century later, a new breed of lighter-than-air craft is taking to the skies. Independent aviation studies point to 600 commercial airships being sold over the coming decade. However, this time the drive is led not by Germany, but by Britain.
The Airlander 10 from Hybrid Air Vehicles (HAV) made several successful flights over the Bedfordshire countryside in 2016. As well as scaring unsuspecting locals, it also ushered in a new golden age of airships, where $500 million deals are already being signed. 'We aim to deliver our first commercial airships in early 2019,' explains HAV's CEO Stephen McGlennan. 'Through 2017 we will test the Airlander 10 with different payloads and different weather conditions, then operate further demonstrations with customers.' This sea change in aviation history seems alluringly tangible. 'Well, it's parked outside if you want to see it.'
The Airlander 10 is tethered to a mooring cable outside the vast Cardington airship hangar near Luton. It can stay aloft for a week or more and carry passengers to any part of the planet. What is currently the world's longest aircraft looks like a cross between a UFO and, well, two big white buttocks — hence the aircraft's nickname 'The Flying Bum'. Aesthetics aside, HAV hosted on average one prospective purchaser per week in 2016.
'Many of these potential buyers are from the ultra-luxury sector', says McGlennan, 'from a superyacht in the sky for a wealthy individual to integration with private jets or cruise liners coming into port.' The appeal is obvious, he says. 'Look, imagine visiting Machu Picchu or the Pyramids from the air, arriving directly from a marina and bypassing the traffic. We also envisage safaris from the skies and tie-ups with luxury hotel chains.' He cites Four Seasons as a working example: the luxury hotelier operates an all-business-class Boeing 757 for round-the-world tours priced at $135,000 per person.
'Our Airlander can be configured in a more bespoke manner than a jet,' adds McGlennan, 'including a dining room, individual cabins for twenty guests, viewing decks with telescopes and the rest.' As airships tour at relatively low altitudes, guests may open a window onboard and take in the Sahara, Maldives or Amazon air.
It's not an outlandish prediction. In fact, airship history took place in the Cardington hangar next door. After the success of the Graf Zeppelin, Britain's R101 airship — the world's longest aircraft at the time — was built here to service routes to India. But even that was dwarfed by the Hindenburg Zeppelin in 1936. At 245m long, it was three times the length of an Airbus A380 and far more luxurious. The lounge featured a grand piano made entirely of aluminium that weighed in at a paltry 162kg. After knocking out Joe Louis, German boxer Max Schmeling enjoyed silver service in the zeppelin's panoramic dining room as he flew home to a hero's welcome in Berlin. Like today's airships, the zeppelins of old were noiseless and serene, with a passage so smooth that a pencil could be balanced vertically without toppling over.
Then as now, only HNWs made up the airship clientele that McGlennan described earlier. In 1936 nearly 3,000 sportsmen, politicians and captains of industry flew the Hindenburg's 50-hour scheduled service from Friedrichshafen to New Jersey. A one-way ticket cost around £5,000 in today's money, a similar price to Concorde's London to New York route. Cash poured in.
But, like the supersonic jet, the tale ended when the first flight of the Hindenburg's 1937 transatlantic season caught fire. Although such tragedy could not occur today — the new breed of airships combine wing lift with inert gasses such as helium, not flammable hydrogen — it hobbled the industry for decades. (As an aside, new supersonic start-ups such as Virgin Galactic's Boom are also on the horizon. Test flights of the 45-seat jet will take place later in 2017.)
Passengers aside, HAV's sales leads include two other significant lines. 'Firstly, if you strip away the passenger gondola we can fly ten tons of cargo literally anywhere in the world,' says McGlennan. The aircraft's other application is as a frontline endurance vehicle. Fill the cargo space with fuel and the Airlander 10 can stay aloft for five days — or potentially far longer for an unmanned version, which would make the airship the world's largest drone.
'I recently spoke with the chief of the Scott Polar Research Institute about his need for an extreme Arctic weather and climate change surveillance craft that bristles with sensors,' says McGlennan. The Airlander 10 should use even less fuel in freezing conditions as the cool air that keeps it aloft is denser, providing more upthrust.
McGlennan claims that a speedier way to capitalise on the apparent airship boom would be to invest in HAV itself. Earlier this decade the US military sank well over $100 million into its Long Endurance Multi-intelligence Vehicle (LEMV) project, essentially a two-year test of the Airlander airship. Citing financial limitations imposed as a result of the drawdown from Afghanistan, American forces abruptly abandoned the project. HAV snapped up the project's remains — airship and all — for a mere $301,000. 'That means that selling just a few Airlanders this year would provide a positive return,' he says.
Iron Maiden frontman Bruce Dickinson is among the shareholders who stand to profit if sales take off. The Airlander 10 costs £25 million apiece, the price of a business jet — but with a quarter of the operating costs.
Alas, the airship deal that made headlines in 2016 belonged not to HAV, but to US defence behemoth Lockheed Martin. The P-791 aircraft, now known as the Hybrid Airship, was also entered into the US military's LEMV program. 'The P-791 tests successfully proved all technological and operational aspects of our Hybrid Airship when it first flew back in 2006,' says Bob Boyd, the program manager at Lockheed Martin's Skunk Works depot. The SR-71 Blackbird spy plane was also developed at this secretive workshop deep in the Californian countryside.
In March 2016, a $480 million letter of intent to deliver twelve Hybrid Airships was signed with the British-based Straightline Aviation (SLA). If the aircraft are successfully delivered to their Birmingham base in 2019, cargo, not commercial passengers, seems the way forward.
'Airships are ultra-efficient', says Boyd. They have low cost per delivery mile compared with trucks, planes, cars and planes. Coupled with extreme manoeuvrability, these modern aircraft would make dollar signs shine in the eyes of industrial CEOs. Airships need no runway or other infrastructure to take off, it's simply up and away.
'Two thirds of the world's surface is out of reach of a paved road,' says Boyd. 'For example, the Hybrid Airship can deliver twenty tons of oil or mining or industrial kit anywhere from mid-Ocean to Arctic tundra, efficiently and cheaply.'
The market for luxury airborne safaris and high-tonnage drone delivery remains uncharted. But later this year it will be clearer which airship dovetails with which industry's largest profit margin. The battle lines are drawn, but at least the winner will almost certainly be British.