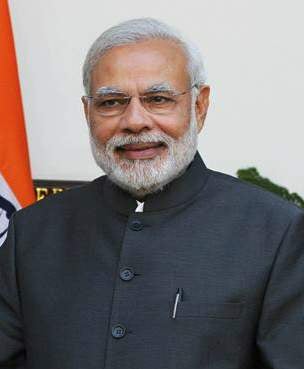 India's Prime Minister Narendra Modi has an estimated net worth of Rs 14 million ($20,605).
Modi was born on September 17, 1950 in the small town of Vadnagar, Mehsana, Gujarat, as the third of six children, to Damodardas Mulchand and Heeraben Modi. He started selling tea at Vadnagar railway station at a very young age, after which he set up a tea stall near a bus terminus with his brother.
How did Modi make his fortune?

After finishing school in Vadnagar in 1967, he left home and traveled across India. He returned home after two years and went to Ahmedabad to join Rashtriya Swayamsevak Sangh (RSS) as a fulltime pracharak (campaigner) in 1971.
In that same year, he became a full-time worker for the RSS. During the state of emergency imposed across the country in 1975, Modi was forced to go into hiding. The RSS assigned him to the BJP in 1985, and he held several positions within the party hierarchy until 2001, rising to the rank of general secretary.
He completed his graduation from Delhi University in political science through correspondence in 1978, and obtained a Masters degree in political science from Gujarat University in 1983.
He is now a leading Indian politician and the current Prime Minister of India. He is known for leading his party Bharatiya Janta Party (BJP) to a historic win in 2014 elections. He became the first Indian Prime Minister born after independence.
Modi was appointed Chief Minister of Gujarat in 2001, and was elected to the legislative assembly soon after. His administration has been considered complicit in the 2002 Gujarat riots, or otherwise criticised for its handling of it, although a court found no evidence to prosecute Modi.
His policies as chief minister, credited with encouraging economic growth, have received praise.
His administration has been criticised for failing to significantly improve health, poverty, and education indices in the state.
Modi led the BJP in the 2014 general election, which gave the party a majority in the Lok Sabha, the first time a single party had achieved this since 1984. He was elected to parliament from Varanasi. Since taking office, Modi's administration has tried to raise foreign direct investment in the Indian economy, increased spending on infrastructure, and reduced spending on healthcare and social welfare programmes. Modi has attempted to improve efficiency in the bureaucracy, and centralised power through the abolition of the planning commission. He has begun a high-profile sanitation campaign, and weakened or abolished environmental and labour laws. Credited with engineering a political realignment towards right-wing politics, Modi remains a figure of controversy domestically and internationally over his Hindu nationalist beliefs and his role during the 2002 Gujarat riots, cited as evidence of an exclusionary social agenda.
In 2016 Modi won the reader's poll as TIME's Person of the Year. In previous years, he had received top ranking as one of the most influential political figures in the world in both TIME and Forbes Magazine. He is only second to President Obama for having the most social media followers as a political figure. With high favorability ratings among Indian voters, Modi has a reputation for actively engaging citizens through social media and encouraging his own administration to stay active on its platforms.